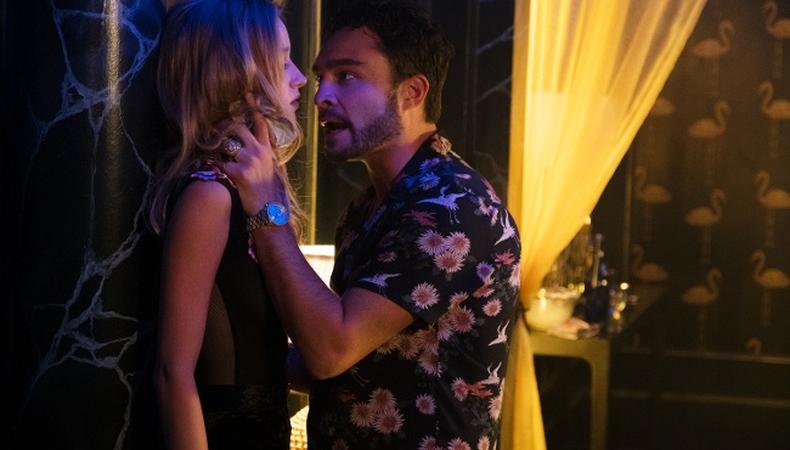 Phoebe Dynevor and Ed Westwick in 'Snatch' (above)
As an on-camera stunt performer, Adrian McGaw (Crackle's "Snatch," "Mad Max: Fury Road") helps actors realize the extent of their own physical capabilities.
Trust is vital.
"There has to be a lot of trust between the stunt team and the actors. Especially if you're a stunt double, you want the actor you're doubling to be confident in your abilities and help boost their confidence and try to teach them some stuff they don't know. Most people are very physically capable, they just don't realize they are. This job is to try and help them realize what they can do with their bodies."
READ: Thinking About Getting into Stunts? Here's What You Need to Know
The key is to communicate.
"As long as you feel comfortable that you can openly communicate any sort of questions or fears or doubts, we can encourage [you]. The more open we are with each other, the better the result. If any party is sort of reluctant to communicate anything, it can cause problems. If [actors] don't feel comfortable with something…we need to know that from the start so we can add it into the training regimen beforehand."
Hone your skills.
"If you want to be a stunt performer, start training a skill set you can use, whatever it is. You can either specialize in something or you can be an all-arounder; a good foundation is boxing or martial arts. The majority of stunt work revolves around fighting and training with actors and bringing their skills up to a level where they can do it for themselves."
Be ready to work.
"It's the stunt team's job to teach actors the basic control specific to the action they need to perform for the film, sometimes above and beyond that just so they're completely confident. If they need to fall over onto a mat, we might teach them basic martial arts [or] shoulder rolls, just to get them in physical shape."
'Power Rangers' can be a gateway.
"When I was a kid I did gymnastics…and I went back to one of my old gymnastics clubs as a teenager. I met a couple of guys who were training with some Japanese stuntmen who worked on 'Power Rangers,' and they said they were auditioning people for a new season. I was like, 'Can I come along to the audition?' Next thing I knew, I was in a Lycra outfit having fights with Power Rangers."
Want to hone your action skills on the small screen? Check out our TV audition listings!