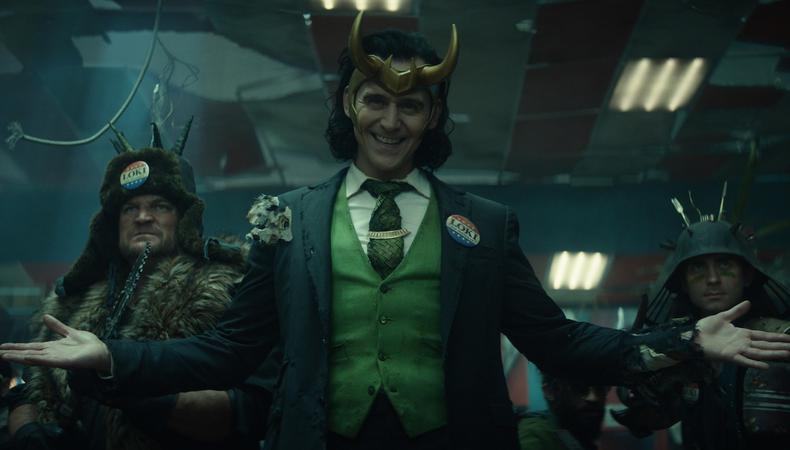 From historical dramas like Lee Daniels' "The Butler" to fantastical superhero films like "The Avengers," makeup artist Douglas Noe has done it all. His latest project, Disney+'s "Loki," brought him back together with the God of Mischief himself: His friend and colleague of over a decade, Tom Hiddleston. Here, Noe breaks down the makeup design process and how collaborative the field truly is.
Throughout your career, you've worked on everything from period pieces, like "The Birth of a Nation" to superhero movies, like "The Avengers," and now the superhero series "Loki." How different are those genres for you to work in?
They're worlds apart, very, very different. But because of my roots, and my desire to be a sponge at such an early age, and learn every aspect of makeup, including hair—they're all worlds apart, but easily embraced. Because that's how I learned. That's how I grew as a young man, I wanted to learn every aspect of every corner and every facet of makeup and hair.
You've worked with Tom for so long. Is there a certain trust that has been developed? How has that affected your working relationship?
Of course. There has to be a trust. It's not a switch that you're able to flick and suddenly you have this trust, it's earned. That's built through common rapport. And I think those relationships are very hard to make happen, they kind of have to happen organically. And in doing so, I've learned a lot about myself as an artist when I'm put in situations where that trust is going to be paramount. The fact that I'm able to keep my mouth closed and not be a party to things that don't involve me is a virtue. Outside of work, Tom and I go to dinner and I'm in the front seat, but at work, he's driving the machine and I, with the rest of the crew, am in the backseat, we're along for the ride. I think that part of the relationship is knowing where those lines are without having to be told.
How closely did you work with other departments on "Loki"?
I worked so closely [with other departments]. That's the beauty of these Marvel epics that are put together: The truth is, they really acquire the best of every field that they possibly can. So when we start these things, there's already an unspoken dialogue amongst all the creatives and moving forward, which is meetings and conversations and Zoom calls and emails. It's actually very easy and very collaborative. I work with the hair department, the director of photography, the lighting department.. And it's so fluid and wonderful. I just remember our first meeting, it [felt] like our third meeting. Because we're all creative, and we're all collaborative, we're in it together, and no one's territorial.
Do you typically go into a project with your own ideas? Or are you mainly there to hear what the creative team wants and work with that?
I always have ideas, but I promise you, I'm the last person to volunteer them unless I'm asked, because I think at a certain point, any artist learns to get out of their own way and put their ego aside. You can still inject your own artistic elements and aspects into a final look. But the wonderful part about being an artist is that doing our own art is one thing, but doing art that represents other ideas and opinions is a great and wonderful challenge. That's what inspires me to keep going, is not knowing. Just listening, and trying to put all of the ideas from all of the creatives into a package that I can present to the actor, take their ideas for it with what I like, and make everyone happy in the end.
You're known for your work with BIPOC actors specifically. Why is it important to have makeup artists who are specialized in different skin tones?
Simply put, for so long, there wasn't proper representation. It's not to say there wasn't proper talent. But there just wasn't proper representation. And now there is. To allow that artistic expression to take hold, it's an exciting time. This call for greater diversity and proper representation is long overdue. I have no problem with my experience and understanding, stepping aside and shining a light on someone who also shares that experience and understanding but has not been given the opportunity to shine.
What is the advice you would give to aspiring makeup artists?
Allow for opportunity to present itself. Don't be deterred by the large number of people that are pursuing the same career. I say that because, [thanks to] the explosion of content, there's room for everybody. And I would say be on your game. "Loki" came to me a year and a half ago and that was after 29 years of being in the business. And this is the brightest project and the biggest project I've done. So be patient, and be in it for the journey, not the destination. And again, this relationship with Tom Hiddleston developed, it wasn't forced. It wasn't coerced, it wasn't bought, it was just something that naturally happened over 10 years. And here we are, the best happening to me now after 31 years.
Looking for remote work? Backstage has got you covered! Click here for auditions you can do from home!