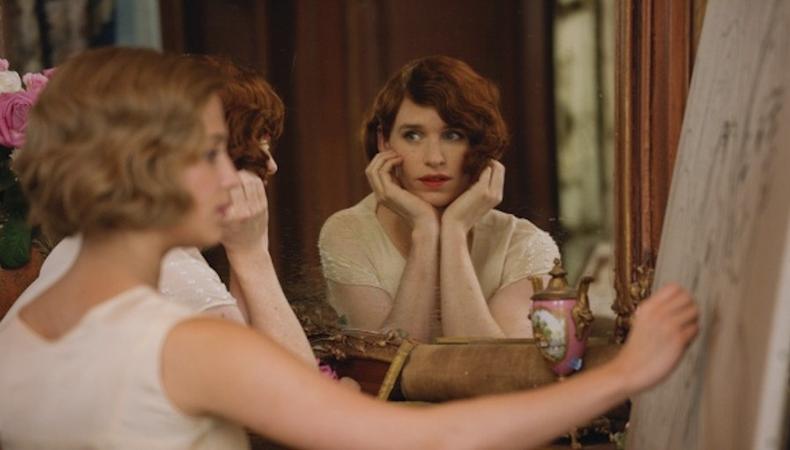 The director of "The King's Speech" and "Les Misérables" knows a thing or two about shooting a period piece—but even so, "The Danish Girl" is a remarkable achievement for Tom Hooper.
The story of pioneering transgender woman Lili Elbe (Eddie Redmayne), the film charts her course from life as married Einar Wegener in 1920s Copenhagen, Denmark, living with wife and painter Gerda Wegener (Alicia Vikander), to becoming one of the first recipients of gender reassignment surgery—a procedure that had tragic consequences.
Not even a year after winning an Academy Award for his performance as Stephen Hawking in "The Theory of Everything," Redmayne returns with another complete physical transformation as Lili. Never before has a film so adroitly used Redmayne's particular androgynous beauty to such thrilling effect.
"I first had the instinct to cast Eddie way back in 2008," Hooper says. The two had already worked together on "Elizabeth I," when Redmayne was just 22 years old, and Hooper remembers being struck by how emotionally raw the young actor was in a scene in which he is sent to death. That "emotional translucency" reappeared for Hooper when he directed Redmayne in "Les Miz" opposite Hugh Jackman, prompting the director to say, "He has this contact with his emotional self that's so vivid. You almost see through his skin and into his heart. And I knew he'd bring that gift to bear and we'd feel compassion and go with Lili. It was inevitable."
Trickier to cast was Gerda. A who's who of leading ladies had flirted with the role over the years, from Gwyneth Paltrow to Rachel Weisz. But it was Vikander who ultimately landed the role during an audition that brought tears to Hooper's eyes and caused Redmayne to give Hooper an approving, admiring glance during their chemistry read.
Also integral to the film's story is free-spirited ballerina Ulla (Amber Heard) and Einar's former childhood friend Hans (Matthias Schoenaerts), who befriends Lili and Gerda together in Paris. "I had this vision early on that Gerda and Einar would run backstage [at the ballet] amid the tutus of the costume shop, the idealized version of the feminine," Hooper says. "And if you want idealized beauty, you need to look no further than Amber Heard. She was cheeky and energetic and not what you expect, and brought such surprising energy to the film."
As for Schoenaerts, Hooper recalls asking his casting director, Nina Gold, "Do you think he'd ever do it?" Her reply? "Probably not." But before that, Hooper happened upon Vikander celebrating her casting with her friend Schoenaerts. The thought that they would make an interesting couple briefly entered his mind, then he promptly forgot about it. "And when we finally asked him and he said yes and we were stunned, I realized it had been presented to me on the day I cast Alicia," Hooper says.
When telling the story of two artists such as Lili and Gerda, the look of the film is just as integral as the content, and Hooper and his longtime crew carefully constructed interiors to be both gorgeous and subtextual. Copenhagen is all austere blues and grays; Paris, meanwhile, is an explosion of Art Deco that rejects the rectilinear just as Lili finally rejects life as a man. Or, as Hooper puts it simply, in Paris, "Lili becomes possible."
Inspired by this post? Check out our film audition listings!