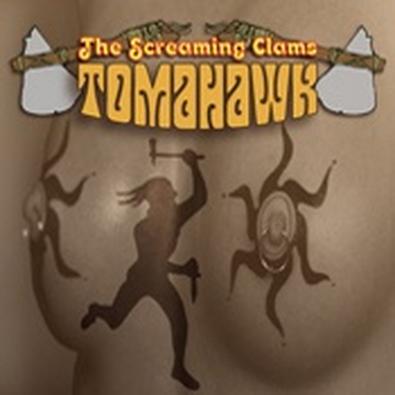 Author-director-composer James Domine offers little more than a list of personal annoyances in this world premiere, born of the Screaming Clams, a San Fernando Valley garage band. A host of one-dimensional characters, provided by a universally sophomoric cast, spout philosophically obtuse gobbledygook supplemented with banal musical numbers. One can't help but wonder if a healthy dosage of preshow hallucinogens might showcase this jawdroppingly awful three hours of theatrical drivel in a more palatable light.
Domine seems to have thrown in everything but the kitchen sink, and not one bit of it works effectively to convey whatever trite messages he has chosen to highlight. Alcohol and drug usage are supposedly funny. Police officers are brutal, homoerotic oafs. God doesn't exist, but extraterrestrials do. The government is out to destroy all civil liberties. Domine's direction is amateurish even by sitcom standards. The uncredited choreography with but one exception involves characters laying out a cue line, often in inexplicably rhymed couplets, then stepping downstage to present -- the term "sing" cannot be truthfully used here -- often teeth-grittingly out-of-tune numbers.
Production values are equally as hideous. The cast, herein granted the favor of anonymity, peoples a scenic design hardly worthy of a junior high school production. A dorm-room-sized refrigerator isn't even plugged into a fake electrical outlet. Posters for the show distractingly litter the set, one presumes as some sort of misguided Brechtian statement of life's theatricality. Three "fantasy dancers" push through openings in the walls to ---provide backup as belly dancers and hula girls.
Domi---ne's personal résumé lists a lifelong devotion to music -- classical and contemporary. His guitar accompaniment, along with uncredited musicians on bass and keyboard, bespeaks a definite level of talent. The thought of enjoying an adult beverage while listening to their nonvocal stylings in the comfort of a small club is appealing. Shoehorn it into an unfocused, longwinded script like this, and the result would be better served were it retitled Sledgehammer.
Presented by and at Actors Forum Theatre,
10655 Magnolia Blvd., North Hollywood.
Fri.-Sat. 8 p.m., Sun. 2 p.m. May 16-Jun. 14.
(818) 347-4807. www.screamingclams.com.