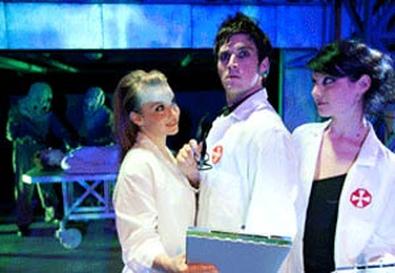 The music and narrative for this hard-driving rock opera originated in 1969 as a concept album by Pete Townshend and the Who. The album inspired two highly successful adaptations: Ken Russell's kitsch-filled 1975 film version—widely remembered as the movie in which Ann-Margret swam in a torrent of baked beans—and Des McAnuff and Townshend's Tony-winning 1993 Broadway show. Some of the subsequent regional stage revivals have tried to emulate the film and/or McAnuff's staging, seldom coming close to the visceral or emotional power of either. Director Oanh Nguyen's inspired take on the material captures the spiritual subtext of this moving fable while enhancing the experience with aural and visual panache.
Nguyen's ambitious rendition refuses to let the expected limitations of a small, modestly equipped performing space blunt the impact. Bolstered by equipment and expertise loaned from Disneyland Services and the theatrical lighting company Elation, the intimate Chance auditorium bursts into psychedelic life. Designed by KC Wilkerson, awe-inspiring projected images and dazzling conglomerations of moving lights augment scenic designer Christopher Scott Murillo's skeletal but well-conceived set in identifying the story locales and reflecting the turbulent psychological lives of the characters. Erika C. Miller's costumes and Julie Wilkins' hair and makeup designs add to the triumph of atmosphere. Mike Wilkins' music direction and Casey Long's sound design ensure that the superb score satisfies its high-octane rock-concert pizzazz, further bolstered by Allison Bibicoff's galvanizing choreography.
Yet the show can't thrive on technology alone, and the production is blessed with a shattering performance by Mark Bartlett as the grown-up Tommy, who surmounts psychosomatic deafness, dumbness, and blindness to become a pinball champion and a cult leader before learning the true values of life. Bartlett sings with passion and great force, earning our empathy for this beleaguered hero, giving added breadth to the minimal narrative. Young actors Cameron McIntyre (Tommy, age 4) and Seth Dusky (Tommy, age 10), give poignant portrayals. As Tommy's misguiding and misguided parents, Wendi Ann Hammock and Kevin Cordova are in fine voice and deliver compelling characterizations. Paul Hovannes is deliciously despicable as Tommy's bullying Cousin Kevin; likewise for Beach Vickers as the smarmy Uncle Ernie. Clarissa Barton has a splendid turn as the brassy Gypsy ("Acid Queen"), and Brynne McManimie is affecting in the small but interesting role of Tommy's devoted disciple Sally.

Presented by and at the Chance Theater, 5552 E. La Palma Ave., Anaheim Hills.
July 3–Aug. 8. Fri., 8 p.m.; Sat., 3 and 8 p.m.; Sun., 2 and 7 p.m. (714) 777-3033. www.chancetheater.com.