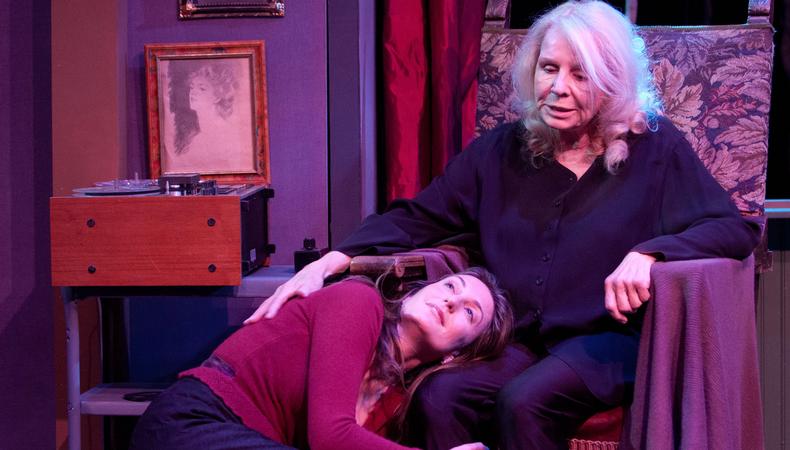 "Tomorrow" is a treat, with a script by Donald Freed containing elegant dialogue and characters that are rich and fascinating. The story concerns three extraordinary actors and explores a singular form of teacher-student relationship along with the devotion of actors to their art, all permeated with a sense of secrecy and an expectation of impending revelations.
As the play begins, Laura Keating (Jenn Robbins), a rising young star, has been offered the part of Lady Macbeth and comes to the Hollywood home of Abigail Booth (Salome Jens), a 100-year-old member of the celebrated acting family, hoping to persuade the doyenne of the stage to coach her in the role. Laura offers Abigail her house, but Abigail says, "I want your soul." After much entreaty Abigail agrees to work with Laura every other day for a week, the intervening days to include coaching by James Booth (Geoffrey Forward), purportedly Abigail's nephew, though Abigail sometimes calls him "son."
What follows is the expert integration of the main scenario with speeches from "Macbeth." Freed very skillfully has the characters reveal their deepest emotions through Shakespeare's text during the coaching sessions. He also manages to slip in some political statements. "Tomorrow" is set in December of 2000, and we hear news reports in the background about the presidential election and the Supreme Court decision in favor of George Bush. Freed draws a subtle parallel between Macbeth's stealing of the throne by murdering the king and Bush's "theft" of the election.
The audience also gets an opportunity to witness two different approaches to performance. The coaching by James is technical, focusing on voice, diction, breathing, physicality, etc. Abigail concentrates on the character's background, motivations, and subtext. The message seems to be that, for the great roles at least, the two avenues must be combined. As they work together on "Macbeth," Laura and her teachers begin to bond, and at one point, with her head in Abigail's lap, Laura suddenly calls Abigail "mama." Secrets are uncovered, and at the end Laura is left with affirmation, a legacy of sorts, and the charge to carry on a great tradition.
Damian Cruden's direction is brilliant. He plumbs the characters to their depths and brings the audience into a timeless realm. The performances are uniformly excellent, and all three actors handle Shakespeare superbly. Jens is blessed with an imposing stage presence. She is every inch the theatrical legend and also conveys Abigail's vulnerability, great inner fire, sense of conviction, and awareness that she is at the end of her life. Robbins, who makes a wonderful Lady Macbeth, imbues Laura with an admirable earnestness, an innate sense of self, and a winning spunkiness. We watch her character grow and develop with admiration. Forward draws the spectator in with his enigmatic air of secrecy and the suggestion of deep anguish underneath his reserved exterior
Though this outstanding show will speak particularly to theater people, audiences of every stripe are sure to be enthralled.
Presented by Skylight Theatre Company, Rogue Machine, and York Theatre Royal at the Skylight Theatre, 1816 ½ N. Vermont Ave., L.A. March 16–April 21. (702) 582-8587 or www.katselastheatre.com.
Critic's Score: A+