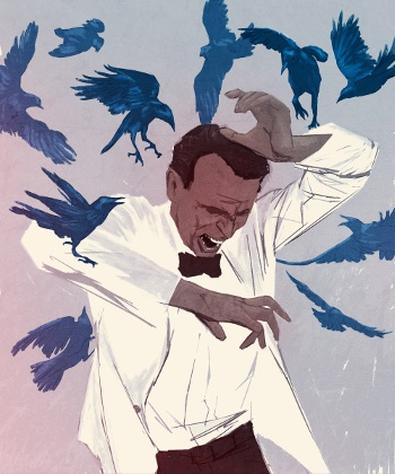 "If/Then" was not nominated for "the" Tony. Most likely, you did not get nominated for a Tony either. That is why the first week of June sucks major ball sack for 99.9 percent of anyone involved in this masochistic career choice. I want you to take this time to properly prepare yourself for the great annual social media bloodbath battle of self-congratulatory/forced industry love versus bitter snark. #ILoveBroadway!
You have two choices this Tony season: to tweet or not to tweet.
IF you tweet, THEN WHAT do you tweet? Social media is a virtual party during live events—unless those live events have to do with us. There was a time when it was acceptable to complain or make jokes at Broadway's expense, and then "The Sound of Music Live!" happened. Don't get me wrong; during that live event we were all pretty much bombed out of our minds and making cracks at every questionable moment. Then we experienced the horrific aftermath, when the majority of our social media circle flipped in favor of Broadway on television and chastised all of us for our behavior the night before like they had never breathed a negative word about "Smash." As if a hangover wasn't enough!
Backstage at the Tonys used to be a sacred place. Phones were frowned upon until last year, when we were all encouraged to use hashtags. The Tony Awards want you to tweet. They need you to Facebook. The Tonys don't give a shit that they don't even air live across the country. They seduce you into talking about the show online because it's the only time Broadway trends, outside of the Macy's Thanksgiving Day Parade. But there are consequences for how you present your opinion about what is nominated—and what gets the awards.
IF you show wit and sarcasm, THEN you'll suffer the consequences of sanctimonious friends looking down on your behavior with an ambiguous status update that's obviously about you. IF you pull sunshine and rainbows out of your ass and rub them all over social media, THEN you'll risk a screen capture of your statements going viral within the texting circuit of your friends. WHAT option is better? I mean this is like Sophie's Fucking Choice here.
Unless you can be truly funny on social media (and I mean Laura Benanti funny), I suggest keeping a low Internet profile June 8. Otherwise, you're bound to offend one of your more serious friends who forgot this awards show once literally put a cruise ship performance onstage. It's not that I don't believe in being positive about the Tonys. It's our night and we should be supportive—but without looking desperate to prove something. Remember, we weren't nominated.
You know what? Fuck it. I take it back. Whatever you do on social media during the Tonys isn't going to get half as much attention as whatever James Franco does. Just remember there's no apostrophe in "Tonys."
Stay #blessed and always #grateful.
Read more articles written about and by Annoying Actor Friend here!