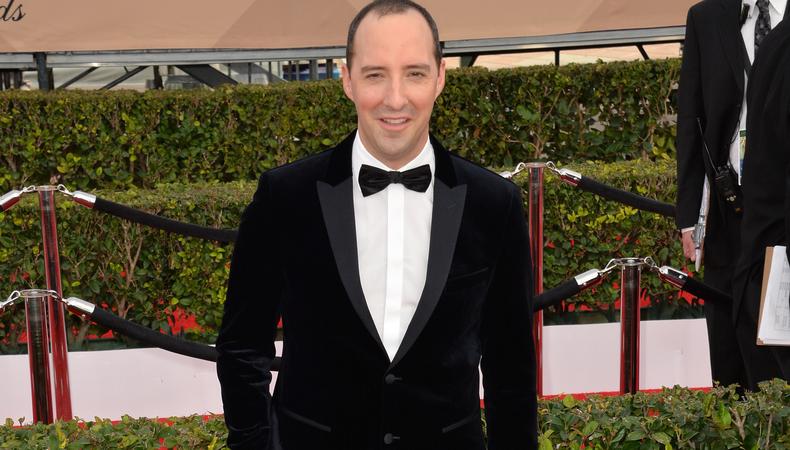 Celebrities and storytellers hit the red—or rather, teal—carpet at New York City's Playstation Theater April 23, coming together to celebrate the 9th annual Shorty Awards.
The Shortys honor the best of social media, including work produced by actors, dancers, YouTube stars, and even media icons like "Doug the Pug." Backstage spoke to performers at the event who gave the inside scoop on acting, storytelling, building a network of support, and finding inspiration. Check out the advice Mara Wilson, Taryn Manning, and this year's Shortys host Tony Hale have for aspiring stars.
Mara Wilson
As a child actor Wilson rose to fame with "Matilda" and "Mrs. Doubtfire," but the performer-turned-author is now working on different forms of storytelling. Wilson, who won the Shorty Award in the author category, said she was initially attracted to the acting industry—at the age of five—because it was one way she could share stories.
"I sort of naturally went into acting. I didn't know how to write or tell stories yet, and I grew up in southern California where acting is like T-ball," Wilson said. "So now I think I can tell my own stories. And I think I can perform in that way."
Wilson added that she draws writerly inspiration from funny, weird, and humiliating personal anecdotes.
"Pay attention to those details; take note of that," she advised. "That's where a lot of my things come from: horribly embarrassing moments."
Taryn Manning
Manning is best known for her role as Tiffany "Pennsatucky" Doggett on Netflix's "Orange Is the New Black," which won a Shorty Award in the TV show category. She told Backstage it's important for actors to know what they want.
"Go for it, and don't let anybody tell you can't," Manning said. "Study, study, and hone your craft." Performers, she added, should keep striving—no matter what medium they're working in or what they're creating.
READ: How to Use Social Media Wisely
Collins Key
Actor, magician, and YouTube star Key said aspiring performers should figure out their passions and then pursue those passions with determination.
"Find what you love to do, and then go for it," he said. "You'll find a community; you'll find people who are also into the same things."
Key, who was a finalist on "America's Got Talent," is the co-creator of "The Disappearing Girl," in which he also starred. The interactive drama played out in real-time on social media, an achievement that earned the creative team behind the show the YouTube Shorty Award.
Taylor Hatala
The 13-year-old Hatala, nominated for a dance award at the Shortys, told Backstage that performers should remember to "stay humble, stay hungry, and stay honest."
"If you love something as much as I do—dance—you should put your every last breath into it," Hatala said. She believes performers should work hard but always remember who they are and where they come from.
"Take criticism, and learn new things," she advised. "Do what makes you happy. Do what makes you proud of yourself."
READ: 10 Ways Actors Can Grow Their Following on Twitter, Instagram, and Snapchat
Tony Hale
The 2017 Shorty Awards host, best known for his roles on Netflix's "Arrested Development" and HBO's "Veep," spoke to Backstage about being grounded as an artist. Actors, he said, should remember to "stay present.... It's not always about the next thing. It's about where you are."
And artists of all stripes, the Emmy-winning actor added, can benefit greatly by making connections. Whether you're creating content on social media or using those platforms to share other work, take note: "There's a lot of advantage to finding a good support system."
For a complete list of Shorty Award winners, click here!
Ready to tell your story? Browse the Backstage talent database!