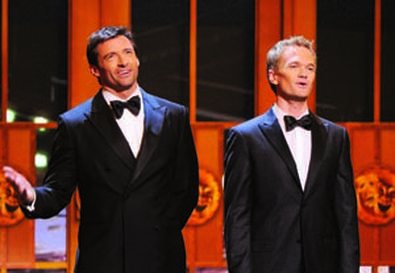 The Tony Awards Administration Committee announced on Friday the Nominating Committee for the 2011-2012 Broadway season.
This committee attends all productions during the upcoming season and meets on the designated date determined by the Administration Committee to vote on the Tony nominees.
The committee has been expanded to 35 members for this season and includes the following:
John Arnone – Scenic Designer*
Victoria Bailey – Executive Director, Theatre Development Fund
David Caddick – Music Supervisor
Kathleen Chalfant – Actor
Hope Clarke – Stage Director/Choreographer/Actor
Douglas J. Cohen – Composer/Lyricist/Playwright*
André de Shields - Actor
Edgar Dobie –Managing Director, Arena Stage Washington, DC
Gordon Edelstein – Artistic Director of Long Wharf Theatre
Beverly Emmons – Lighting Designer
Bert Fink – Senior Vice President/Communications, Rodgers & Hammerstein*
Boyd Gaines – Actor*
Michael Greif – Director
Kathryn Grody – Actor/Writer*
Paulette Haupt – Director of the Music Theatre Conference at The O'Neill Center
Susan Hilferty – Costume Designer*
Mark Hollmann – Composer/Lyricist
Abe Jacob – Sound Designer*
Robert Kamlot – Retired General Manager
Anne Kauffman – Director*
Moises Kaufman – Director/Playwright/Artistic Director, Tectonic Theater
Pia Lindström – Former Reporter/Theatre Critic
Todd London – Artistic Director, New Dramatists
Pam MacKinnon – Director*
Donna McKechnie – Actor/Choreographer
Susan Rice – Playwright/Screenwriter*
Mervyn Rothstein – Retired Writer & Editor, The New York Times*
Susan H. Schulman – Director
Tobie S. Stein – Director, Graduate Program in Performing Arts and Management, Brooklyn College*
Rosemarie Tichler – Theatre Educator/Author
Robert Viagas – Playbill Program Director/Editor*
Kevin Wade – Playwright/Screenwriter
Tony Walton – Scenic/Costume Designer, Director*
Carol Waaser – Retired AEA Official/Company & Stage Manager*
Chay Yew – Playwright/Director*
*Denotes new Nominating Committee members
The Tony Awards are presented by the American Theatre Wing and The Broadway League.