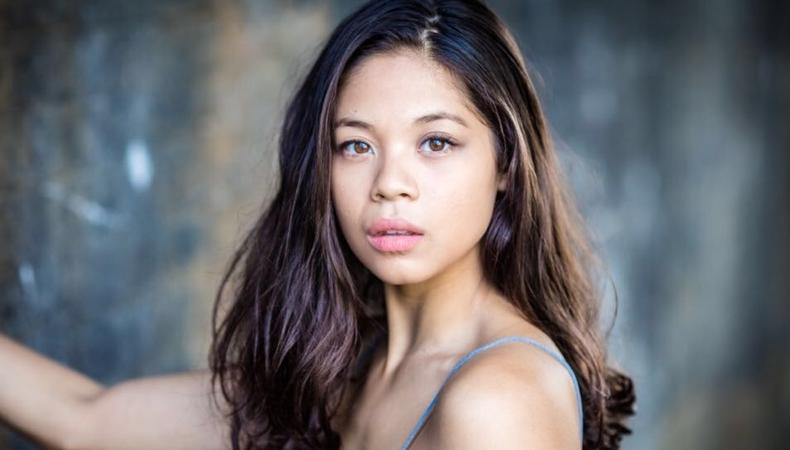 At age 21, Eva Noblezada has accomplished what most thespians her age dream of: a Tony Award nomination! For her stunning work as Kim in this spring's West-End-to-Broadway production of "Miss Saigon," Alain Boublil and Claude-Michel Schönberg's Vietnam War epic, Noblezada joins the ranks of musical theater leading ladies before her—including Lea Salonga, the original, award-winning Kim.
Not long after a casting director saw the North Carolina–based Noblezada perform at New York City's 2013 National High School Musical Theatre Awards (a.k.a. the Jimmy Awards), she auditioned for and booked the London revival of "Miss Saigon." At age 17, having never left the country, she found herself headlining a West End hit. As she put it, "Crazy how things end up turning out!"
The actor (and blogger!) also pointed out that "insecurity will always peek through the door." Backstage chatted with Noblezada about dealing with those self-esteem issues while in the limelight, growing up while playing Kim, and the pressures and joys of being a Tony nominee.
Congratulations on your Tony nomination! How does it feel?
"There's not one word to describe it, it's overwhelming in the best way. I get to meet amazing people. I'm still pinching myself. It's really more of an experience than a one-off feeling, I think."
What was it initially like, being the lead of this huge show at such a young age?
"My perspective on theater changed while I was in London obviously.... It definitely prepared me, I became a young woman, I became independent, a professional actor at 17. Of course you have to learn a lot, you either go with it or sink. And I definitely had my moments! But it toughened me up and made me feel more confident in being here now. Just because you're an actor doesn't mean you're not going to have the same insecurities as everyone else. If anything, it's magnified. I didn't have the physical fitness of a professional actor, the technical training for my voice, I didn't know anything. So you can only imagine what it was like for a 17-year-old girl who already has self-esteem issues to be pushed in the limelight, then told, 'You need to change.' 'You need to be better.' 'You need to lose weight.' All that BS. That's really difficult and I'm glad I did go through that because it made me be the woman I am today.... I always say, don't compare yourself to anyone else because they will never be like you, you will never be like them, and that is the biggest blessing, your biggest strength. Once you stop giving a shit about anybody else you're going to enjoy your life so much more."
Has Kim changed as you've played her from age 17 to 21?
"[Transferring to Broadway,] I knew my performance was going to change: I've learned new things as a woman. I've learned things that Kim understands that I didn't at 17. The only things I brought with me then were my acting instincts. Being maternal—I don't have a child but I have a younger brother and sister so I can be empathetic with that. Obviously a performance is going to get better as you age. As actors we have to kind of be water, and mold to the environment we're in. The production hasn't changed, but little things, little subtleties have."
Would you recommend young thespians compete at the Jimmy Awards?
"When I did the Jimmys that summer in 2013, it was an incredible experience. People should really do their research if they're interested and their high school is able to participate in that, as it's such an amazing experience to be a part of. It's supposed to be a competition but students don't see it like that! You enjoy your time there, enjoy being with people your age who love theater as much as you do. And you learn so much working with incredible teachers and performers who have so many Broadway credits. It was really nice to go back last year and sing. The same look on their faces was the look I had when I was there. It's really special and it really came full circle."
What's your top piece of advice on surviving six strenuous performances a week?
"Don't pretend you're a doctor. I did it all the time, going, 'Oh, I have this.' Like, why the hell would you do that? You don't know, you're making it up. I really, really hate it too when people limit themselves. You can enjoy things in moderation—you can't tell me I'm not allowed to drink. Sorry, people's bodies work differently. You can't tell me if you're a singer you're not supposed to drink, have dairy, chocolate, or else you're a terrible singer. I've heard it all before and it doesn't make sense. Everybody works differently.
"If I'm doing a show and my energy is maybe at 70 percent I'll do my best to have some vitamin C backstage, take a B12 shot. But I'm not going to force my voice. I'll make adjustments; last night was a real struggle for me with the extra press and gigs I'm doing during the day, it's taking a toll on my voice. As frustrating as that is, I can't complain. I had to choose some alternative notes to hit yesterday because there's no way I'm going to force my instrument to do things it's just not prepared to do in the moment. Know your body and take care of it as much as you can."
READ: Which Vocal Remedies and Recipes Do Broadway Actors Use?
Any other acting advice?
"There's no need to be sitting on your butt, always be pushing yourself. Just because I'm in a Broadway show and nominated for a Tony does not mean I'm going to sit back and pretend I know everything. I'm not going to pretend I'm the best actress in the world—I'm not. I'm not going to pretend I'm the best singer in the world—absolutely not. There are things I'm always, always working on. You always have to work and perfect your craft. Not only is it your money maker, if you love something so much, are you just going to settle for it? It's just like a person. If you love someone you're going to go out of your way to care about them, make sure they're healthy. So it's being really smart and loving yourself. I should write a book about it!"
Ready to star on the Great White Way? Check out Backstage's Broadway audition listings!