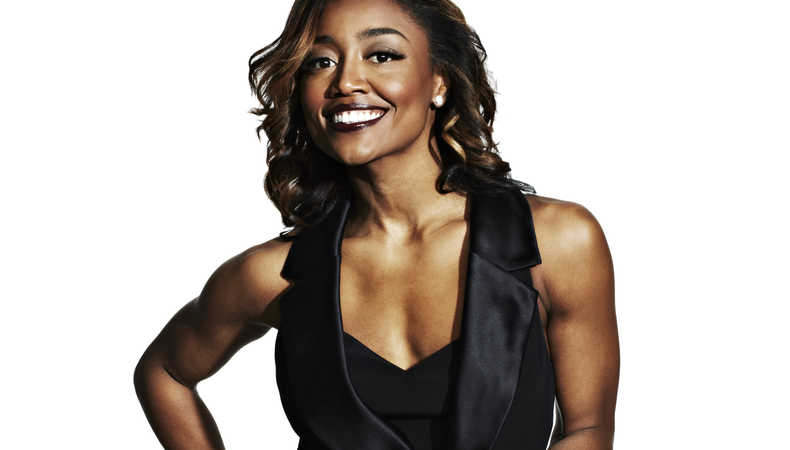 Patina Miller is two for two. Two Broadway shows. Two leading roles. Two Tony nominations. Oh, and she became engaged to the love of her life on her opening night. If she were a ballplayer, she'd be batting 1.000.
So how does it feel to be Patina Miller right now?
"You couldn't ask for a better time in your life," says the luminous actor, resting in her dressing room on the third floor of the Music Box Theatre, where she is starring as the Leading Player in "Pippin." "I happen to be one of the luckiest people on earth right now."
It's Sunday afternoon, and Miller is relaxing in jeans and an oversize cardigan after completing another eight-show week. A surprising sense of calm permeates the space, considering she's in the midst of one of the most critical times in her career. The next day, she'll win the Outer Critics Circle Award for leading actress in a musical, bringing her one step closer to a Tony on June 9.
As Miller unwinds from the performance, her director Diane Paulus drops by to deliver some notes and encouragement for the weeks to come. The pair worked together on "Hair" at the Delacorte in 2008, but Miller chose to go to London to star in "Sister Act" instead of moving with the show to Broadway. She later made her Broadway debut when "Sister Act" came to New York, earning her first Tony nod. When Paulus started thinking about reviving "Pippin," Miller was the first person who came to mind.
"She has such an appetite for working hard and conquering any challenge that is put in front of her," Paulus says. "She's always game. She's always willing to try new things."
That first challenge came in her audition. Miller was not familiar with "Pippin," and although Paulus wanted her for the role, she went through a huge casting process, seeing men and women of all ethnicities and types. However, there was one thing everyone needed to be able to do: dance.
"Literally, I walk into my audition, and they're like, 'Actually, you're going to go into another room, and you're going to learn the "Manson Trio." You only have 30 minutes,' " Miller remembers, adding that it was the first time she'd been asked to dance at an audition. "I was like, 'Oh, my God, really?' I literally had a moment where I was like, 'Is this really about to happen to me?' "
The Fosse choreography is one of the most difficult parts of the show, and Ben Vereen, who originated the role (and won a Tony for the 1972 production), helped make the movements iconic. Miller had a tall order to fill.
"Then I said, 'You know what? There's nothing to lose,' " she says. "I just went in there and wanted to sell it as best as I could. And as long as I was having fun—because sometimes in auditions you forget to have fun. And the thing you forget about it is they want you to be good. No one's wanting you to fail."
For Paulus, this was the moment she knew.
"When she came in and showed us the 'Manson Trio,' it was a revelation," says Paulus. "I had never seen her do movement like that. And the way it felt on her body and her attack and her precision, that was kind of the clincher."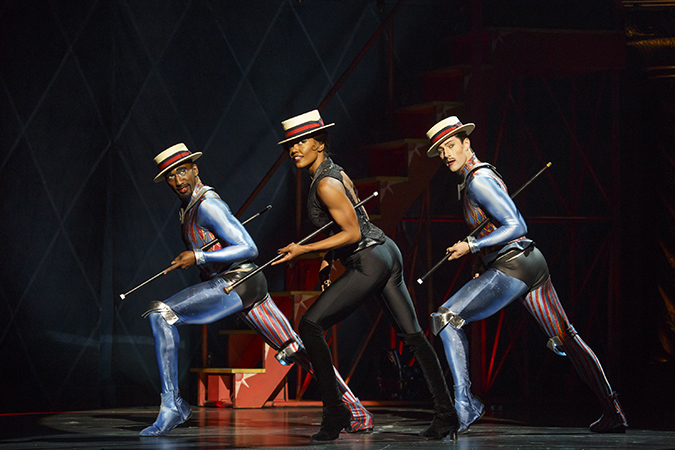 Vereen may have created the character, but Miller's re-invention makes the character feel brand-new, fitting her as tightly as her spandex suit and knee-high boots. Her inviting eyes speak a language all her own, and when she starts singing, the result is, as the opening number says, magic.
Paulus set this revival in the world of the circus, and Miller opens the show performing tricks on a trapeze 17 feet above the stage. You'd never know she's terrified of heights.
"They asked me, 'Are you afraid?' and I was like, 'No, course not,' because in your audition you're going to say I can do everything, even if you can't. Sure, I'm not afraid. Why not? I'll go take some lessons," Miller says. But the first time she went up, "I was scared out of my mind," she says. "Sometimes in this business, you'll be asked to do things that you're not completely sure of or not in your comfort zone, but you just do it."
That's the mindset that has taken Miller to where she is today. And even though she was determined to be a performer from a young age, she had terrible stage fright.
"I'd dance in front of mirrors with my mom's curling iron like a fool," she says. "But when anyone asked me to do anything, I froze." Her mother encouraged her to sing in church, and in her preteen years she attended a performing arts camp. One summer she played Miss Hannigan in "Annie"—"I sang 'Little Girls' like it was my jam!" she says—and that was when she knew. She went on to attend a performing arts boarding school and earned a full ride to Carnegie Mellon for musical theater.
"Pippin" poses the question, "How far will you go to be extraordinary?" For Miller, there are no limits.
"I've worked a lot. For me, it's always like I can't afford to not work," she says. She calls the Leading Player a "Goliath of a role," and she trains at Mark Fisher Fitness and takes voice lessons and trapeze classes to stay in shape. "I never stop. I'm one of those people," she says. "I'm always trying to be learning because that's the only way you can do this. Some people think, 'Why? You get to be in a show; why are you doing all these things?' A runner doesn't stop running. I'm an athlete. This is what I love to do. So I'm always constantly trying to be better at what I do."
Her incredible work ethic sets the bar for the cast, which includes acrobats, dancers, and singers, and Paulus says she is a huge leader for the company.
"She has so much to carry in this show, and I think for everyone in the company to just watch her handle all of that with such dignity and calm and grace sets the tone," Paulus says. "She's fierce. She likes to say, 'That's fierce,' but we all call her fierce."
Though Miller has her sights set on stardom, the message of "Pippin" has brought out something new in her. She reflects on one of the show's lyrics—"It's time to start living" —and considers what it means for her.
"I'd be laser-focused. Like Pippin, I want to be extraordinary. I want to be a star. That's always been my thing. Nothing matters but getting on Broadway," she says, adjusting the glittering diamond on her left hand. "And then I was lucky, when you least expect it, to fall in love and to realize there's actually another side of that, and maybe just being with the person you love is enough. It doesn't have to be extraordinary. If I'm never a star, that'll be fine.
"This show is totally all of our journeys," she continues. "We all want to be these amazing things, and you strive to do these things, and you think that's all that there is. I want to be famous. I want to do this. Especially actors, we want to do this. But sometimes just doing great work, like I'm getting to do now, and having a fiancé and having two dogs and being in New York City and living my life, that's enough for me."
"Pippin" photo by Joan Marcus
Hair: Nicola Augustine
Makeup: Kai Pritchard for Roy Teeluck Salon
Stylist: Chelsea Hayes
Clothing: Theia
Jewelry: Judith Ripka