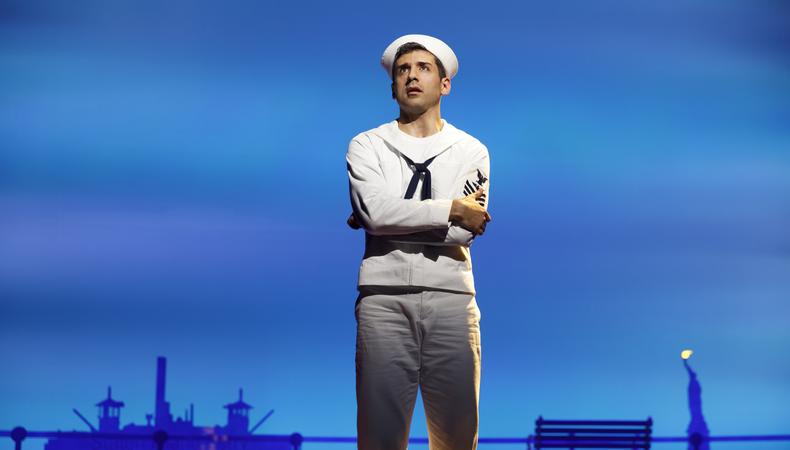 Gabey, the light-footed sailor at the center of "On the Town," has only 24 hours of shore leave in which to experience the Big Apple. Tony Yazbeck, the Broadway actor who plays him, knows what those brief, magical city visits are like.
"I've been in and out of the city since I was 11 years old," the actor says. "I remember when I first started in college wanting to come to New York, I took bus trips from Pittsburgh and I'd come and audition for shows: 'Footloose,' 'Saturday Night Fever.' "
In those early auditioning days, Yazbeck had a very helpful resource pointing him in the right direction. "I had the Backstage paper in my hand," he continues. "It was a big deal. Everybody opened those pages and read the listings."
Asked whether those auditions were just for practice or to catch his big break, Yazbeck says with a laugh, "I think I was probably hoping to nail something and have a really hard decision of staying in school or going to Broadway." But he was always aware of how challenging it would be. "The work ethic it takes to just get into this business and land a Broadway show is just ridiculously hard. But I had some great parents who were disciplinarians when it came to being in class and practicing two and a half hours a day every day.... It's been a lot of work but it sure as hell has paid off."
Now that he's a Tony Award nominee for best leading actor in a musical, what advice would Yazbeck give his younger self sneaking off to NYC? "Stop worrying so much. It's such a waste of time. I worried myself so much coming into the city. It wastes all your creative artistic ability to create something new. I think the worrying really takes its toll after a while. But, you know, we all do it. I'd probably go back in time and give myself a shoulder rub."
Inspired by this post? Check out our Broadway audition listings!