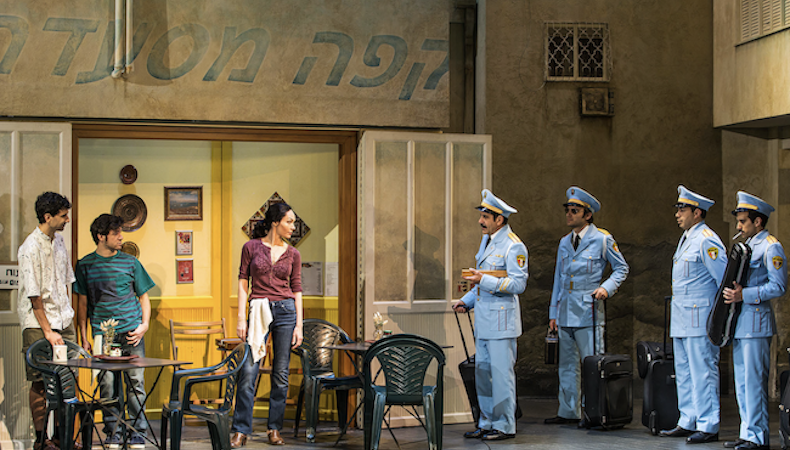 This year's Tony Award acting nominees represent a cross-section of the 2017–18 Broadway season, a season full of magic, spectacle, and good old-fashioned entertainment. New York theater veterans (welcome back, Jessie Mueller, Denzel Washington, and Nathan Lane!) and thrillingly talented newcomers (Hailey Kilgore! Ethan Slater! Anthony Boyle!) can be found on the list below. Want to learn more about the performances nominated for theater's highest honor? Read on for a comprehensive guide—and tune in June 10 to see who wins!
LEADING ACTOR IN A MUSICAL
Harry Hadden-Paton, "My Fair Lady"
Hadden-Paton remains thoughtful and engaging in the role that could easily become a simple foil; Henry Higgins presents a comedic feast for an actor, but the role must be balanced alongside Eliza Doolittle's antics. This role made Rex Harrison a star back in the day and could well do the same for Hadden-Paton now.
Joshua Henry, "Carousel"
He takes a breath to power that astonishing voice, and we all hold our breath with him. Henry's ability to chart, midsong, a character's emotional arc has never been on grander display than in Jack O'Brien's staging of this Rodgers and Hammerstein classic. And unusually for a principal player, this Billy Bigelow also dances his socks off.
Tony Shalhoub, "The Band's Visit"
A four-time Tony nominee who has proven time and again his talent at doing seemingly little yet tugging at his audience's heartstrings, Shalhoub has found the role of a lifetime in Tewfiq, the painstakingly reserved leader of this musical's titular band. The music—both heard and not heard—that he creates with Katrina Lenk represents the very best of theater.
Ethan Slater, "SpongeBob SquarePants: The Broadway Musical"
Slater flips and slides and catapults himself all over the stage as SpongeBob, somehow capturing the elastic mannerisms of the original cartoon yet reinventing him as a flesh-and-blood funnyman (or funnysponge?). That all of this is happening in his Broadway debut means that Slater is nothing less than a star.
LEADING ACTRESS IN A MUSICAL
Lauren Ambrose, "My Fair Lady"
Delightful front to back, this Lincoln Center Theater revival is anchored by an astounding performance from Ambrose, who takes the storied and oft-performed role of Eliza Doolittle and gives it new charm and effervescence—and, miraculously, more substance. Her Eliza fits right into the 2018 cultural landscape.
Hailey Kilgore, "Once on This Island"
A new leading lady is born. At just 19, Kilgore's fresh-faced vibrancy is misleading—she gives a layered and beyond-her-years performance as Ti Moune, who in this ravishing revival feels simultaneously naive and like an old soul. Kilgore's Broadway debut ensures a long and healthy career is in store.
LaChanze, "Summer: The Donna Summer Musical"
To play a music legend on Broadway, you need a musical theater legend. This Tony winner blends heartfelt nuance with to-the-rafters exuberance as the Queen of Disco, narrating the musician's difficult yet extraordinary life and never failing to bring audiences to their feet.
Katrina Lenk, "The Band's Visit"
Lenk's portrayal of Dina, the café owner who exudes sensuality yet whose humor is drier than the Israeli desert, can't even qualify as acting; it's something else, a new art form, like synesthetic poetry that can only be understood through her acting, singing, movement, and yearning.
Taylor Louderman, "Mean Girls"
Among Tina Fey's many accomplishments in turning her cult classic film into a Broadway musical was transforming high school queen bee Regina George from heartless bloodsucker into feminist icon. But don't worry, the perfectly manicured and clarion-voiced Louderman is still plenty heartless—fabulously so.
Jessie Mueller, "Carousel"
Is there anything Mueller can't do? Her latest dazzling turn on the Great White Way turns the beaten-down and stoic Julie Jordan into a three-dimensional woman reckoning with that trickiest of phenomenons: being in love. Her singing, as usual, stuns.
FEATURED ACTOR IN A MUSICAL
Norbert Leo Butz, "My Fair Lady"
Showstopper, thy name is Butz. Grin-inducing every moment he prowls onstage as Alfred, Butz and his tirelessness never fail to impress. It's nice to be reminded every couple of years on Broadway of this man's extraordinary charisma.
Alexander Gemignani, "Carousel"
The trick in a "Carousel" revival is to blend classic vocal technique with modern comedic sensibilities. The talented Gemignani wows with that booming tenor, but also charms with his innate lovability.
Grey Henson, "Mean Girls"
Henson carries far more on his shoulders than it appears in this raucous musical. Not only does his fabulous Damian effortlessly lead tap numbers and sing some of the show's funniest lyrics, he also brings a winking self-awareness to the role, daring to cross into meta-narrative and bring this show's message into 2018.
Gavin Lee, "SpongeBob SquarePants: The Broadway Musical"
Speaking of tap dance, there was no better example this season than Lee's utter showstopper of an Act 2 number. The eternally sour Squidward seems particularly difficult to adapt to live performance, but Lee (and his nifty set of extra legs) creates a distinctly memorable character who feels both familiar and new.
Ari'el Stachel, "The Band's Visit"
Suaveness is difficult to perform—it can so often tip into cheesiness or read as aloofness. As the womanizing Haled, Stachel manages to harness both extremes, mining comedy gold one minute and hinting at ennui the next. So much of this show's sensual sorrow comes from his performance.
FEATURED ACTRESS IN A MUSICAL
Ariana DeBose, "Summer: The Donna Summer Musical"
As one of three Donna Summers, the magnetic DeBose handles a lot of this show's movement and powerhouse vocals. Her standout moment comes when she is attacked by, and ruthlessly retaliates against, her abusive partner.
Renée Fleming, "Carousel"
We're so lucky to have such a legendary voice performing on Broadway, and performing two of the most iconic tunes in the musical theater canon, no less. Turns out Fleming can also command a stage with her sheer presence, making her Nettie Fowler a crucial supporting character.
Lindsay Mendez, "Carousel"
With a varied career full of stellar performances, Mendez is long overdue for this first Tony nod. Her infectiously charming Carrie Pipperidge threatens to run away with the show in its first 15 minutes. And Mendez can be counted on to bring laughs to the story's darker moments.
Ashley Park, "Mean Girls"
Another star overdue for Tony recognition, Park makes a meal out of Gretchen Wieners, a high school gossip desperate enough to grovel before her social superiors but smart enough to know she deserves better. Her lamenting "What's Wrong With Me?" is funny but genuinely poignant.
Diana Rigg, "My Fair Lady"
Henry Higgins' formidable mother is here played by one of the most formidable actors out there. Rigg conveys a lot by doing very little, including underlining this production's feminist bent by suggesting a sisterhood with poor Eliza—a role Rigg once played herself.
Want to work onstage? Check out Backstage's Broadway audition listings!