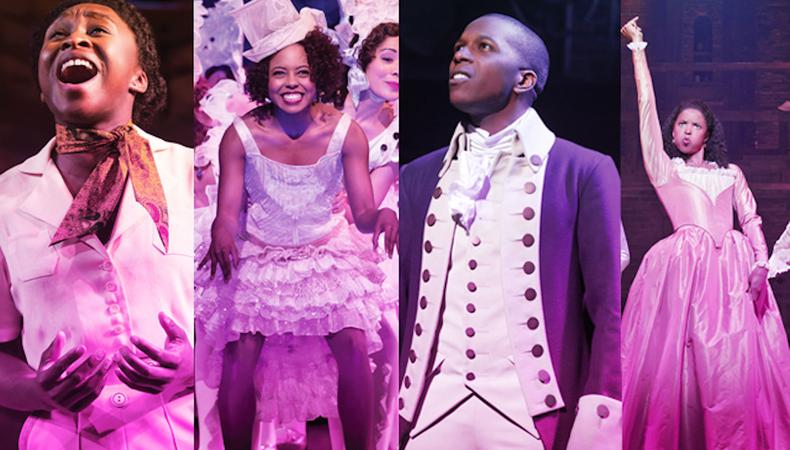 Sure, the Tony Awards' musical categories are always competitive. But for the 2015–16 season, the four acting categories seem more crowded with brilliant contenders than usual. Get to know the 20 nominated actors in this year's Broadway musicals below.
And be sure to check out the nominees from this year's plays!
LEADING ACTRESS IN A MUSICAL
Laura Benanti, "She Loves Me"
Benanti usually excels at playing tough, from Gypsy Rose Lee to the resilient Candela in "Women on the Verge," so it was as wonderful a surprise to find her as good at playing heart-meltingly sweet as it was delightful to hear her wrap her voice around those gorgeous Bock-Harnick songs. Now, who wants a scoop of vanilla ice cream?
Carmen Cusack, "Bright Star"
Plenty of this year's nominees made smashing Broadway debuts, but Cusack stands out—and not just because she's a relative unknown. The clarity she brings to Alice as both idealistic teenager and aching adult, her sensational singing voice, and her uncanny ability to emote even in the middle of the highest notes all make Cusack shine bright.
Cynthia Erivo, "The Color Purple"
Within moments of Erivo's first solo, it's clear a new leading lady has arrived on Broadway. She takes Celie, the beating heart of Alice Walker's story of tenacity, from timid girl to empowered woman using only rapt stillness and her clarion voice, an instrument so astonishing it's a wonder she doesn't blow the roof off the theater.
Jessie Mueller, "Waitress"
She won a Tony for "Beautiful," but "Waitress" is the show that really reveals what Mueller is capable of. Fulfilling every promise from her performance in "On a Clear Day You Can See Forever," Mueller sings, acts, and emotes—usually all at the same time—with such purity of strength and purpose that all memories of previous roles are forgotten. Performances like these are why we fell in love with live theater to begin with.
Phillipa Soo, "Hamilton"
As Eliza Hamilton née Schuyler, Soo gives voice to a little-known aspect of the American narrative: our founding mothers. With charismatic dignity and the most impassioned of vocal performances, the actor lends Eliza as much strength as heart while avoiding melodrama, sentimentality, and the clichés of the worrying wife. You'll get scorched during her intimate ballad "Burn."
LEADING ACTOR IN A MUSICAL
Alex Brightman, "School of Rock"
Nobody can stick it to the man better than Brightman. Watching him get laughs, play guitar, and wail—even while jumping from insane heights—as wannabe rock star-turned-schoolteacher Dewey Finn is exhausting. Or it would be if he weren't giving such an electric performance.
Danny Burstein, "Fiddler on the Roof"
Leave it to a seasoned, decorated pro like Burstein to ignite "Fiddler on the Roof" with new life. Fittingly, stage characters don't come much livelier than the six-time Tony nominee's Tevye. Life's far from easy, but Tevye finds riches in his wife, his daughters, his faith, and his tradition. Burstein, with a smile—and, at times, tears—performs to the back of the theater, and is simply transporting.
Zachary Levi, "She Loves Me"
Levi has a couple of classic showstoppers in "She Loves Me," and he sings them for all they're worth over the course of this candy-colored production. From fretting about his impending date with his pen pal to marveling that contentious co-worker Amalia might indeed love him, Levi proves himself a bona fide Broadway leading man working with an excess of talent and charm.
Lin-Manuel Miranda, "Hamilton"
Nobody has more fun onstage than Miranda as the titular "10-dollar Founding Father." Even when resolving to publicize his way out of America's first sex scandal or rap battling with his adversary, Thomas Jefferson, in a Cabinet meeting, the composer-lyricist-star of Broadway's most revolutionary musical makes the world turn upside down by suffusing Alexander Hamilton with infectious joy.
Leslie Odom Jr., "Hamilton"
In becoming Aaron Burr, Hamilton's archrival and therefore our nation's villain, Odom upends history itself. His Burr is conniving, sure—the silky-smooth vocals assure it—but there's so much more: tenderness, desperate ambition, heart-wrenching repentance. Amid the audiovisual fireworks of "Hamilton," Odom elevates the dynamics onstage with almost Chekhovian nuance, making Burr the show's highlight.
FEATURED ACTRESS IN A MUSICAL
Danielle Brooks, "The Color Purple"
Such towering talents as Oprah Winfrey and Felicia P. Fields have taken on the formidable Sofia, but it's a role Brooks seems born to play. The actor makes the crowd-pleasing "Hell No!" her own, all brawny bluster and fabulous fury, but it's the surprising intimacy she brings to Sofia's more helpless moments that solidifies the actor's stellar reputation.
Renée Elise Goldsberry, "Hamilton"
Is there anything Goldsberry can't do? In her staggering showstopper "Satisfied," the diva alternates between belting, operatic singing, and the sickest rap verses in the show, all while keeping the emphasis on Angelica Schuyler's inner ache. Given less material than her co-stars, Goldsberry nevertheless turns Hamilton's whip-smart sister-in-law into a feminist icon. We might need to change the term to "herstory."
Jane Krakowski, "She Loves Me"
A triple threat with a knack for coquettishness, Krakowski plays the daffy Ilona with just the right amount of tongue-in-cheek camp. Her legs alone make this (third!) nomination deserved: She prances, high kicks, and is dragged in a full split across the stage like it's no big deal, all while singing Sheldon Harnick's lyrics with masterly charm.
Jennifer Simard, "Disaster!"
"Jesus." With one ill-placed emphasis, Simard's Sister Mary Downy reveals herself as somewhat tenuously familiar with the basic tenets of Christianity—and her portrayer as a bona fide comedic genius who gleefully runs, leaps, and flies away with the disaster movie spoof as the nun with a seriously troubled background—and a very urgent fetish for "Hawaii Five-0" slot machines.
Adrienne Warren, "Shuffle Along, or the Making of the Musical Sensation of 1921 and All That Followed"
Warren has that intangible quality other performers would kill for: Wherever she's standing is center stage. The magnetic actor gives life to both the peppy Gertrude Saunders and the shyly seductive Florence Mills—all while dancing up a storm and capturing the distinct vocal patterns that made both women stars.
FEATURED ACTOR IN A MUSICAL
Daveed Diggs, "Hamilton"
Who could have imagined Thomas Jefferson as a swaggering, narcissistic rapper? Surely least of all Diggs, an experimental hip-hop artist making his New York theater debut this season. The preternatural confidence he brings to the Founding Father—and to the sweeter Marquis de Lafayette, who spits the show's most rapid lyrics—has no precedent on the Great White Way.
Brandon Victor Dixon, "Shuffle Along, or the Making of the Musical Sensation of 1921 and All That Followed"
In George C. Wolfe's retelling of the musical revue sensation "Shuffle Along," the stage is crowded with history's black vaudeville legends, as portrayed by a great assembly of today's Broadway talents. Dixon makes Eubie Blake a standout by demonstrating the composer's brilliance, playing his tunes with inimitable charm, and making us feel like we know the man himself.
Christopher Fitzgerald, "Waitress"
No one who sees Fitzgerald's performance as crazy-in-love Ogie could ever want to get rid of him, to paraphrase his Act 1 showstopper. He sings, he dances, he performs magic! And he does a mean Paul Revere impression—is it any wonder that shy waitress Dawn and the audience go crazy for him? In a musical overflowing with heart, Fitzgerald is a happy dose of manic id.
Jonathan Groff, "Hamilton"
An arched eyebrow. A pouty pursing of the lips. Groff's King George III gets the biggest laughs in "Hamilton" because he reins in the theatrics and reigns over his "loyal, royal subjects"—the putty-in-his-hands audience hanging on his every decree. The hint of crazed danger bubbling underneath it all makes the scene-stealing performance a study in impeccable comic timing.
Christopher Jackson, "Hamilton"
Jackson's turn as the father of our country sneaks up on you. It's obvious the actor has pipes and can command respect just by stepping out onto the stage. But when articulating the emotion behind George Washington's decision to step down after eight years as president, he exudes a touching humanity seldom associated with such a distinguished historical figure.
Inspired by this post? Check out our Broadway audition listings!