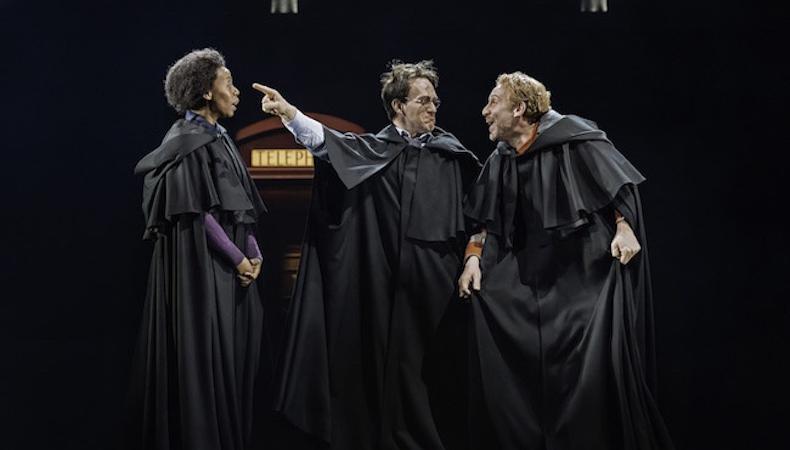 This year's Tony Award acting nominees represent a cross-section of the 2017–18 Broadway season, a season full of magic, spectacle, and good old-fashioned entertainment. New York theater veterans (welcome back, Jessie Mueller, Denzel Washington, and Nathan Lane!) and thrillingly talented newcomers (Hailey Kilgore! Ethan Slater! Anthony Boyle!) can be found on the list below. Want to learn more about the performances nominated for theater's highest honor? Read on for a comprehensive guide—and tune in June 10 to see who wins!
LEADING ACTOR IN A PLAY
Andrew Garfield, "Angels in America"
In Marianne Elliott's stunning revival, among a cast giving the performances of their careers, Garfield carries most of this epic's exquisite suffering on his delicate shoulders. Another actor could coast on the sheer arduousness of the role, but Garfield imbues Prior with warmth, sadness, and surprising humor. It's as joyous to watch as it is devastating.
Tom Hollander, "Travesties"
Tom Stoppard's mash-up of Dada, Joyce, and Lenin is matched by a tricky challenge for its performers: intellectual rigor mixed with quixotic quirk. It helps if you're as charming as Hollander, who proves masterful at tickling our highbrow funny bone before pulling the rug out with moments of haunting existentialism.
Jamie Parker, "Harry Potter and the Cursed Child"
Taking on one of the most beloved literary and cinematic characters in the history of pop culture, Parker rises to the challenge by relying on his chops as a Shakespearean classicist and playing Harry Potter's trials and tribulations with unabashed commitment. Parker can convey fatherly warmth and regret as well as he performs unnerving trauma.
Mark Rylance, "Farinelli and the King"
The three-time Tony-winning master returned to Broadway earlier this season to give life to an insomniac, insane, and romantic King Philippe V of Spain. Each time he takes the stage, we see a new side of Rylance, who this time toed the line between his natural restraint and an utter lack of inhibition.
Denzel Washington, "The Iceman Cometh"
It seems Washington must always contend with the high bar set by his own performances onstage and onscreen. But audiences going into this O'Neill revival with high hopes will not be disappointed by the Tony winner's magnetic, miserable Hickey, who delivers one particularly epic monologue with an astonishing range of emotion.
LEADING ACTRESS IN A PLAY
Glenda Jackson, "Three Tall Women"
It doesn't get much more riveting than this. Every line of dialogue and look exchanged between Jackson, Laurie Metcalf, and Alison Pill is enough to provide a full master class in acting and reacting. Watching Jackson spit Albee's words feels like a singular, lucky-we-go-to-the-theater experience.
Condola Rashad, "Saint Joan"
Rashad lends her Joan, Shaw's symbol of Biblical oppression and feminist heroism, an unexpected mischief. The actor's naturally open-hearted, alluring style imbues this production with a welcome sense of mystery; rather than leading us to an inevitable tragedy, Rashad keeps us guessing.
Lauren Ridloff, "Children of a Lesser God"
Very few actors, if any, can do what Ridloff does in this revival of Mark Medoff's romantic drama—and not only because she's deaf. She exists and expresses herself onstage in a way that can't be taught or copied; her proud stubbornness is loud and clear, her anguish reaching the back of the house.
Amy Schumer, "Meteor Shower"
When Steve Martin's jokey living room comedy needs Schumer to dial up the zaniness, she does so with aplomb. Few can take an obvious joke in an unexpected direction like the Emmy-winning comedian. But she's also adept enough to play a convincing straight woman when necessary, making her descent into hilarity dramatically delicious.
FEATURED ACTOR IN A PLAY
Anthony Boyle, "Harry Potter and the Cursed Child"
Boyle paints such a poignant portrait of a social outcast with a heart of gold that he has the audience in the palm of his hand impressively early in this two-part Potter saga. His often-hysterical Scorpius Malfoy has more than a few screws loose, making him all the more endearing.
Michael Cera, "Lobby Hero"
Cera delivers Kenneth Lonergan's specific brand of dissatisfied world-weariness with a brilliantly calibrated physicality; the actor's slight hunch and tentative speech tell us everything we need to know about this play's idea of a hero. You get the sense that even if his work uniform were perfectly fitted, he'd look askew.
Brian Tyree Henry, "Lobby Hero"
Henry's William faces an impossible choice: loyalty or honesty? It's an unenviable position for a character, but a meaty one for an actor. Henry lives in that crisis of faith, his increasingly nuanced performance creating a heart-wrenching relationship with his equally torn audience.
Nathan Lane, "Angels in America"
One of the greatest stage performers alive once again rises to the occasion, in a colossus of a role that, in his hands, feels written for him. Lane establishes Roy Cohn's menacing charm before humanizing a monster as he's slowly and surely covered in lesions, one of the most masterful transformations seen on Broadway this season.
David Morse, "The Iceman Cometh"
By his own painful admission, Larry Slade is a "weak fool." But he also serves as a stand-in for the audience, struck by Hickey's destruction of these broken barflies' fantasies and recognizing its seismic effect. Watching Morse, hunched and ragged, barely survive the ordeal proves searing.
FEATURED ACTRESS IN A PLAY
Susan Brown, "Angels in America"
Who knew Hannah, the play's prim and judgmental Mormon mother, could be such a scene stealer? Brown, like this production, strips her characters down to their honest essence, imbuing her heartbreaking scenes opposite Garfield with riveting humanity.
Noma Dumezweni, "Harry Potter and the Cursed Child"
Hermione Granger may still be the perfectionist overachiever in this decades-later sequel, but Dumezweni has added new layers to a familiar character: effortless confidence, imperiousness, at times even a certain carefree abandon. She doesn't need effects to come off as magical.
Deborah Findlay, "The Children"
Findlay deserves credit not only for unveiling tantalizing layers of ever-darker fear in Lucy Kirkwood's superb new play last fall, but for working so seamlessly within an ensemble of three alongside Francesca Annis and Ron Cook. The devastating quality of her Hazel's phone calls to distant children lingers.
Denise Gough, "Angels in America"
Emerging as one of the most exciting and multifaceted performers working today, Gough captures this production's wide-eyed wonder and worry. There's something indescribable about her voice, which conveys in Tony Kushner's final monologue for Harper a fragile desperation mixed with a kind of hope.
Laurie Metcalf, "Three Tall Women"
Last year's Tony winner (who then picked up an Oscar nod for "Lady Bird") returns to the stage in a production that feels like the Wimbledon of acting. Few can serve a lob, or a backhand, or an ace—depending on precisely what's needed in each moment—like Metcalf.
Want to work onstage? Check out Backstage's Broadway audition listings!