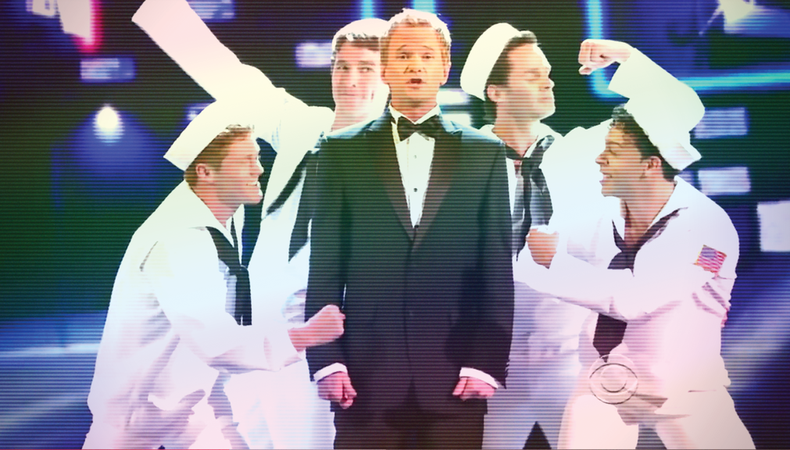 Every year there is a Tony Awards performance that becomes iconic. Before Sunday's broadcast, we asked five of this year's nominees (one of which ended up becoming a winner...!) for their personal favorite moments from Tony telecasts past. What's yours?
Joshua Bergasse, Best Choreography, "On the Town"
"I loved the [2013] 'Pippin' performance because of the mix of the fantasy and the acrobats; I thought it was really well done. One performance a little further back I really enjoyed was 'Spring Awakening.' I thought it was really powerful. I was such a huge fan of that show and that music that I just got goosebumps watching them perform."
Christian Borle, Best Featured Actor in a Musical, "Something Rotten!"
"I am in awe of the 'Dreamgirls' performance; the fact that it exists as a whole piece, that it didn't get cut down—we just can't do that anymore. You understand the full context of that number and it's just astonishing and towering work. But personally, I'll never forget when I was just doing theater as a hobby and I didn't realize you could do it for a living, my mom called me in to watch the tambourine hat number from 'Will Rogers' Follies.' That was my first glimpse of Broadway on television. Being blown away by a production number, I'll never forget it."
Geneva Carr, Best Actress in a Leading Role in a Play, "Hand to God"
"Neil Patrick Harris is my celebrity crush. I realize he doesn't even play on my team, but I think he's the most gifted performer. He was amazing when he hosted the Tonys. He's the guy who made it young again; he made it new. I think he attracted a whole new audience. When I saw [his opening musical number] I was like, Jesus, Doogie Howser is amazing. He pays homage to everything! I just think he's astounding."
Max von Essen, Best Featured Actor in a Musical, "An American in Paris"
"There are two. One is, because I grew up around the time 'Dreamgirls' was out, that was one of the first I ever saw. So I mean, come on, Jennifer Holliday. And this one, I don't know how obscure it is but I just love it: Liza Minnelli and Lorna Luft did this whole medley. It was like those old-school medleys from variety shows. Liza was hosting, and it was the big opening number or something; she and Lorna sang 'Sisters,' 'If Mama Was Married' from 'Gypsy,' 'Not While I'm Around'—it's wild. They both have such incredible voices and they were just nailing it. It's really fun."
Julie White, Best Featured Actress in a Play, "Airline Highway"
"Has everyone said Jennifer Holliday singing 'And I Am Telling You'? Oh my God. You go back and watch it because you're like, What is happening?! What is happening? That clawing! It looks like she's going to bite him. She's eating him. I mean, I just got goosebumps a little bit. So crazy. Also, Bernadette Peters doing 'Rose's Turn.' Also, Bob Fosse's last musical was called 'The Big Deal.' There was a group dance number at the end of the first act that was so unbelievable that people would stand up, applaud, and make them do it again. They performed that number at the Tonys. And it's grainy, it's bad quality, but it's unbelievable to see it."
Inspired by this post? Of course you are! Check out our Broadway audition listings!