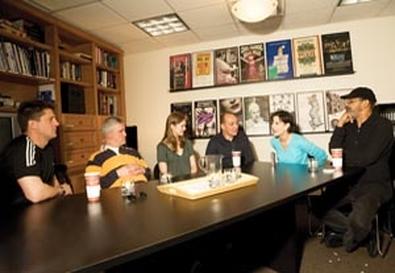 "They keep waiting for that magic moment, that big break, believing that from that point on, everything will be easy," says Tony Award nominee Marin Ireland about many actors. "It's not like that. It's actually a continuum, and it gets harder in different ways. Actors have to reframe their ideas of what their career will be or should be."
Ireland is making her Broadway debut in
Reasons to Be Pretty
. Zach Grenier, a Broadway veteran who earned his first Tony nod for his performance as Beethoven in
33 Variations
, adds that actors are often unfairly dismissive of low-profile jobs, feeling that if it's not Broadway, it's not valid. "Have respect for everything you do, even if it's in a little theater somewhere," he says. "Embrace everything you do."
Ireland and Grenier recently sat down with four other Tony nominees to discuss the craft, the career, and, of course, the significance of the Tonys. Roger Robinson, a Broadway veteran, plays an almost mystical figure in
Joe Turner's Come and Gone
. Harriet Walter, a respected British actor, portrays Queen Elizabeth in
Mary Stuart
. Gregory Jbara, another longtime Broadway performer, plays the beleaguered working-class father in
Billy Elliot
. And Christopher Sieber, perhaps best known for
Monty Python's Spamalot
, plays Lord Farquaad in
Shrek
, a character he describes as "an evil human puppet."
Back Stage:
Has a Tony nomination raised the stakes, creating greater pressure for you when you perform?
Roger Robinson:
This is my second nomination. The first was really nerve-racking. Now I'm 13 years older. I'm appreciative. But I look at it as merchandizing for the production. I want to get people into the seats. And if a Tony nomination does that—we got six nominations—that will be the prize.
Harriet Walter:
I don't like the whole "Who is best?" thing when you're doing an ensemble piece. Has it raised the stakes? You make a lot more fuss over people who are nominated than we do in Britain, where it's more or less forgotten. As for the show, I don't want to sound sanctimonious, but I put the stakes up high every night.
Zach Grenier:
I have to admit, it was my first nomination, and that first night, I was wondering if there was someone out there going, "Oh, a Tony nominee." I got over that quickly and, unfortunately, our show is closing, but I saw it as a wonderful affirmation.
Marin Ireland:
I feel like our little show is such an underdog, and the stakes have been so high every night not knowing how long we'd get to do this. So I honestly don't know that the stakes could have felt higher than before the nominations. But it's still an overwhelming honor.
Gregory Jbara:
I thought it would feel different. I've been acting for 25 years, so you think there's going to be a DNA shift and you can climb walls with your bare hands, and I'm surprised to find I feel exactly the same as a human being and even as an actor. But I'm really full with a profound gratitude that this is happening in my career. This recognition from peers and colleagues makes me very proud.
Christopher Sieber:
I was nominated once before, for
Spamalot
, and I learned a lot from that experience. You know people are going to be judging you. But I've calmed down and just do the show. And if they like me, fine, and if they don't, that's not my problem.
Back Stage:
How is performing on Broadway different from Off-Broadway, regional, or London theater?
Sieber:
Broadway is the pinnacle. So your professionalism has to be bigger and better than anywhere else.

Jbara:
What's different for me is that you can support yourself working on Broadway. I've done some gratifying theater in Los Angeles, but you do it for free. It's a privilege to be able to make a living doing stage work. And that's the difference for me.

Ireland:
It's the scale of the thing. Not just financially. But there are so many more people involved, this producer and that producer, and you feel you should know their names. And it starts day one. Coming from Off-Broadway, that's a huge change.
Grenier:
It's the scale and investment of people's hard-earned cash. It takes years sometimes to get a Broadway show up, and that can be a little daunting. You feel a responsibility. But also, in a Broadway house you feel the tradition and that you're in an ancient place where a lot of people have done some incredible things on these boards. There's something sacred about that.
Walter:
I haven't got much to compare it with in America, but [compared to acting in Britain] there's just more tangible, palpable good will. We have good will in Britain, but we just don't show it. The response in a Broadway audience is just so uplifting. It's a bit dour in England.
Robinson:
I disagree with you, Harriet. I was at the Royal National doing
Jitney
and we got standing ovations, and we also won the Olivier in 2002. I love working in England. I envy people who work at the Royal National.

Walter:
The National is a totally different story. It's subsidized and its audiences are real theater lovers. It's the best place to work on earth. But I was comparing Broadway to the West End.
Back Stage:
How do you approach a role? What is your acting method?

Sieber:
Depends what it is, of course. But I start with the voice and then find the character's physicality, and then just get up on my feet and move around with it and see how it feels.
Jbara:
My method is just honesty. Honesty is my policy.
Ireland:
For me it's the text, looking for every possible clue in the way it's written, the way the words are strung together, and the structure of the scenes and play. I try to get as deep as I can into the words before I step into the room.
Grenier:
I find the character's passion. I then find my passion and see where the two passions mesh.
Walter:
I have a little mantra. I say, "This could be me." If the circumstances were different, if my needs were different, if I were living in another century, "This could be me." It's very hard to make the jump from me to Queen Elizabeth, who ruled the world. But there are things we have in common, though I won't go into them. And because I did this character three years ago, I can now push the button and get into the physical state I need to go on stage. Then it's all about being in the right receptive frame of mind so that I can listen. It's all about being alive in the moment.

Robinson:
Everyone has articulated how I feel, so I want to move on.

Back Stage:
Was there ever an artistic turning point when you saw the approach to acting in a new light?

Robinson:
It was in 1967 and I was doing a play called
Slow Dance on the Killing Ground
. And I couldn't break through the character I was playing. Then the stage manager brought his mother and stepfather to the rehearsal, and suddenly I felt, "This character has a right to live and has a right to say whatever he has to say." And it freed me forever. The stage manager's parents represented the audience, and that was the catalyst for me.
Walter:
One of the moments that unlocked something for me was a production of
All's Well That Ends Well
. In England I did it with Peggy Ashcroft. She was in her 70s, and I was in my late 20s, early 30s. It was a difficult part for me and I was working myself up to tears and torment—the right state to be in for that character—while Peggy Ashcroft would be sitting calmly in her chair, getting the little details right, like where her bag was going to be placed. Her performance was so simple and so immediately direct and there was no fuss. And I remember her saying, "The audience doesn't really know if
you're
crying. Just get to that moment in the play, and you'll reach it when you reach it. You're taking yourself out of the time of the play if you're trying to cook yourself up into something." She started that lesson that I'm learning every night: that I just sit and receive and exist in the moment. But it takes 30 years to get there. It was a lesson of peeling away, simplifying, and not putting yourself and your angst in the way of communicating.
Grenier:
There were stages of revelation. But I think it all has to do with an underanding that silence is okay. You have a lot of young actors who are afraid of silence, afraid of themselves. It's just relaxing and letting go.
Jbara:
An acting teacher at the Juilliard School gave us the singing exercise, and that was the turning point where I learned what an actor's imagination was. He said imagine a fictional moment about the loss of a sibling and sing a song that's related to him, and imagine yourself in a place where you and your brother hang out and just sing the song and be there. I was completely overwhelmed with the emotion that I didn't have to work at. I just did the task. It was the first time I understood that the tool of imagination was available to me as an actor.

Sieber:
You have aha moments in every production. But in
Spamalot
, I learned you really don't have to do that much to make people laugh.
Back Stage:
If you could redo your career, what would you do differently?

Grenier:
Be a little less nervous and trust myself more.
Robinson:
I was under contract to Universal for four years, and I always wanted to be a good actor, and I started out that way. Then I got to Hollywood and was hanging out with Richard Pryor and other bigwigs, and then I changed and it stopped being fun. I wish I'd had the guts to come back to New York sooner.
Back Stage:
What would you say to actors who are doing everything they're supposed to be doing and they're just not getting anywhere in their careers?

Robinson:
I tell actors to try to get into regional theater. It's important to get on those boards. That's what helped me. Get as much experience as you can.
Walter:
Have faith; don't lose yourself. You feel that when you're not working, you're not you. If someone is not giving you the opportunity to perform, you feel, "Who am I?" You are a citizen and a human being, and everything you're storing up will be used when you next get to work.
Grenier:
Also, be good to yourself. Take care of your body. Take care of your soul. If you're in a destructive relationship, get out of it. You're preserving yourself to be a spokesperson for humanity. You need all of your physical and emotional strengths to do it.
Ireland:
Learn who else is coming up in this generation and spend time with the new struggling writers and directors at places like New Dramatists and find your community, because that's what will sustain you. Also, those will be the people you'll be working with in the next few years.

Sieber:
Be nice to people. That person at the audition you were cross with might just be the next big Broadway director who won't hire you. Keep going and don't give up, because if you give up your passion, you've given up a huge part of you.
Jbara:
Just immerse yourself, and if ever you wake up one day and go, "You know, I'm not sure," then be honest with yourself. Find out what it is that will make you happy. This business doesn't set out to make us happy. You have to really know that this is what you must do to be alive every day.