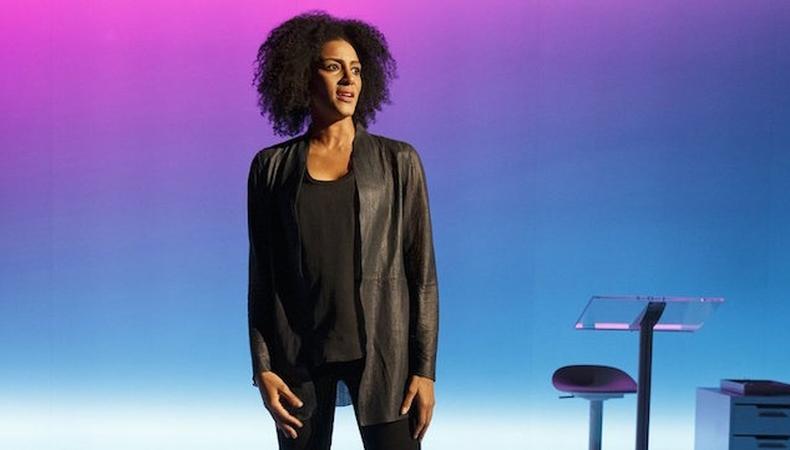 When Sarah Jones began writing her latest one-woman show, "Sell/Buy/Date," back in 2013 to tackle issues of women's rights and sex workers, she never could've predicted the reality of living in 2018 today and just how timely her performance piece would become after its New York run in 2016. "Right now I feel like, 'Hey Trump, stop imitating my play. Stop ripping your political scandals from my imagination,' " says the Tony award winner. "I actually excised him from the script because I didn't even want to dignify him with a presence. Well, he one-upped me there."
Her show, which is directed by Carolyn Cantor and wraps its Los Angeles run at the Geffen Playhouse April 15, is an 85-minute powerhouse from Jones, who easily slips in and out of a variety of different characters as they delve into varying perspectives discussing women in the sex industry. Jones also projects us into a future that is jarring in its timeliness.
"Everybody's life is touched by this topic," she says. Case in point: Stormy Daniels. Twenty-two million Americans were glued to her "60 Minutes" last month interview discussing her relations with POTUS. "I think she's a fascinating example. Our culture is saturated with this kind of conversation about sex and empowerment that nobody wants to have out in the open, and I wanted to bring it center stage."
The way "Sell/Buy/Date" predicts this moment in our cultural conversation is almost eerie. Meryl Streep, a mentor to Jones and a producer on her 2006 Broadway one-woman show "Bridge & Tunnel," was among the women having conversations about sexism in the industry prior to the #MeToo movement today. "There are women who have been talking about these issues forever, but the moment for a mainstream, nuanced and honest conversation that includes male allies—I had no idea this was coming. Part of me wants to write a play about everything being great and we all end up with equality and amazing lives, and see if that comes true," she jokes.
In preparing for playing so many characters throughout one performance, the most important thing for Jones is to create a sense of calm and quiet beforehand. "Clearing myself out of the way, I actually have to do a little ritual before the show so the characters can come in and populate the space," she says. Meditation is also key for her to find that quiet before each time she steps in front of an audience.
Beyond the stage, Jones is also a producer and writer on Showtime's Golden Globe–nominated "SMILF," where she learned on the job what she likes about writing for somebody else. "I have such a deep dive approach to my characters that I could disappear into them for days at a time. It's wonderful to not have the responsibility of both creating and embodying a character," she admits. Another project that's switching things up for Jones? An upcoming Noah Baumbach film she's acting in; there, she's in service completely to another writer-director's work and words. "Giving myself to that character as best I can without having created it, that's another really fascinating place to play for me because it's not the way I've always worked."
Jones has enjoyed a varied and spanning career, which includes numerous TED Talks and a performance at the White House at the invitation of Michelle Obama. She's also a UNICEF Goodwill Ambassador performing for audiences around the world raising awareness of human rights issues like those found in "Sell/Buy/Date."
"Don't worry about your trajectory too much," she says regarding finding career success as a performer. "It's this paradox of balancing having a long-term vision with allowing for spontaneity, allowing for what looks like hideous mistakes, embarrassing missteps, poor judgment—it's all useful. Every speck becomes part of your repertoire. There are no mistakes; there's only more information. Trust your process."
Want to work in L.A. theater? Check out Backstage's Los Angeles audition listings!