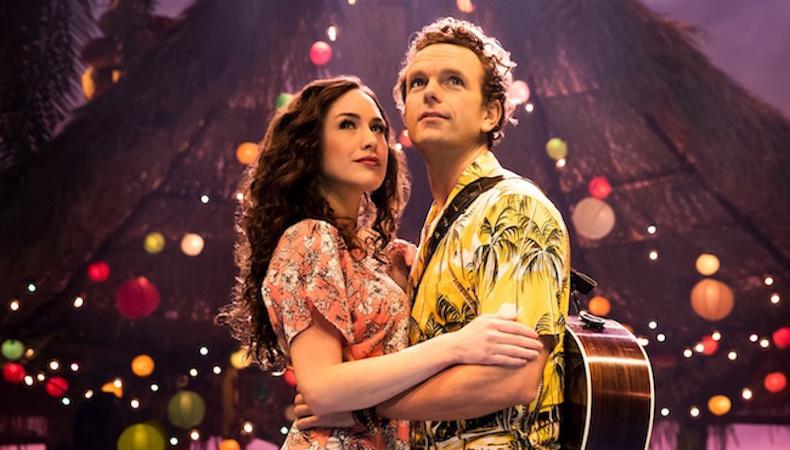 "New musicals are always in some ways like creating art and in some ways like going to war," Christopher Ashley says with a laugh. He would know.
Ashley won a 2017 Tony Award for his direction of "Come From Away," the Celtic-style tuner set in a small Canadian town in the days immediately following Sept. 11, 2001, that went on to become the surprise hit of the last theater season. Just as that show celebrates one year on Broadway, Ashley has descended again into the trenches of battle at the helm of the new Jimmy Buffett–inspired and –scored musical, "Escape to Margaritaville."
"When a new musical works, it's as exciting as it's possible for theater to be," Ashley says. "Directorially, you're always trying to create a unified story in song, in word, in dance, in sets. All of that is hard to get right, [but] when it's firing on all cylinders, there is a discovery in the audience, there's a joy."
"Come From Away" is an ensemble piece in the truest sense, with a 12-person cast that is utilitarian and entwined with the 100-minute plot. "And then 'Margaritaville' has, like, huge dance numbers," Ashley says, chuckling again. In style and form, the two musicals could not seem more disparate; however, speaking on the morning of the first day of tech rehearsals for the new production, Ashley makes clear they have more in common than meets the eye.
For starters, despite their differences in movement style, both pieces share the same choreographer, Kelly Devine, with whom Ashley has finessed a relationship integral to the developmental process. Choreography and direction are often so tightly wound in musicals that they're indistinguishable from one another.
"Working on these two shows back to back with her, we have built so much trust [and] I really believe that when she takes the cast or ensemble into another room, what she comes out with will be better than what I had imagined," Ashley says. "They're very different choreographic assignments, but because Kelly is always focusing on the story, whether it's full-on dance or the smallest gesture, it's about telling the truth of these people in that moment."
Also true of both pieces: Each is the product of contributions from and collaboration between their actors. "There is not a role in either show for which the actors did not help inspire new writing, didn't ask smart questions, didn't bring to light new features of the character," the director says. "The actors were very much the muse for both scripts."
With that in mind, Ashley encourages actors to approach new musicals with an open mind, particularly during the audition process. "With new material, the people sitting behind the table have a less formed or locked-in idea about what that role's going to be," he insists. "One of the great things about walking in the door [as an actor] is you could help them discover, 'This could be like me.' They don't already think the role has to be 5-foot-4 and blond with a mezzosoprano. Everybody is still exploring in that room."
Ultimately, Ashley says, that's what seals the deal when seeing actors for new work: pliability. "The ones who show me an adventurous spirit, who, if I give them an adjustment, can toss away some prethinking they've done and show me they are gonna bring joy and adventurousness into the process."
Finally, in tabulating their shared virtues, both "Come From Away" and "Escape to Margaritaville" possess one more that is, discouragingly, more and more uncommon in commercial theater ventures: They are wholly original stories, not derived from pre-existing source material. That limitless possibility for storytelling, to Ashley, epitomizes why new musicals are worth their arduous pursuit.
"The world is so split and divisive at this point in our history," he says. "That's one reason I was attracted to both [musicals]. It's a great time to be telling a story about community."
Want to book your own stage gig? Check out Backstage's theater audition listings!