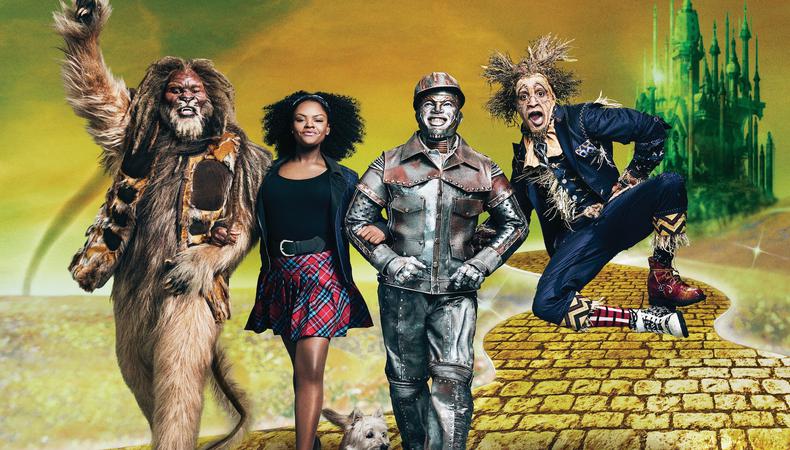 Every few weeks, Kenny Leon pulls up a video on his cellphone that reminds him of the importance of his current project. In the midst of rehearsals with a star-studded cast, the Tony-winning director grounds himself with a clip of hundreds of women lined up on the streets of New York City to audition for the role of Dorothy for NBC's Dec. 3 musical telecast of "The Wiz Live!"
"The girls got in line at 10 o'clock Friday night and they spent the night because we didn't start auditions until the next day at 10 a.m.," Leon recalls. "I got there at maybe 9 o'clock in the morning. Oh my God! [The line] wrapped down 43rd and down Eighth and back around. I couldn't believe it, so I took my cellphone and I just went down the line."
He talked to a group who had traveled from Spelman College in Atlanta; another woman came up from Missouri; and another was a housewife who booked a flight from L.A. to audition.
"Shanice won that role," he says of his lead actor, Shanice Williams, "but all those hundreds and hundreds of women are an inspiration for me—to know our Dorothy came out of that group. She represents all those girls who stood in line with her, and she'll stand in for a lot of girls in our country; for the girls up in Harlem, girls in the Bronx, and for all people who have lost their way and don't believe in themselves anymore."
Williams, culled from a nationwide search, was cast for the 2015 reboot of one of the most significant cornerstones of black American culture. The telecast will serve as a throwback to the original Broadway production, and Leon's Dorothy—younger, sassier, and more outspoken—is a stark contrast to Diana Ross' older portrayal in the film version, released three years after the play's Broadway debut in 1975. Casting a teenager to play a foster kid struck a truer chord for the director.
"There are a lot of kids who live with their foster parents or live with their aunts or their stepdads; I wanted this to be the kind of retelling of 'The Wizard of Oz' that hits them dead in their hearts," says Leon. "It doesn't matter who your parents are, what kind of nontraditional makeup is in your family—it matters who loves you."
Gunning for a Broadway revival after the telecast, Leon is giving "The Wiz" a modern twist with contemporary choreography from Fatima Robinson; the casting of Queen Latifah as the Wiz, a part originally played by Richard Pryor in the film, in addition to Uzo Aduba as Glinda the Good and singer-songwriter Mary J. Blige as Evillene; plus, a new track from R&B singer Ne-Yo, who's playing Tin Man alongside Elijah Kelley as Scarecrow and David Alan Grier as the Cowardly Lion.
"I always wanted David for the Lion," Leon admits. "[For his audition,] he came in straight from working on something in L.A., did the scene, did the song—we were all in tears with laughter—and he just walked out and I loved that. I said to the producers, 'If that's not the Lion, then I don't know what the Lion is.' "
The confidence to leave it all in the room is also Leon's advice to auditioning actors. "Do your thing, audition, and walk out—there's power in that. Drop the mic," he says.
As for what he hopes audiences will take from his spin on the beloved "Wiz," above all, he wants Dec. 3 to be a family affair. "The grandparents who were drawn to this 40 years ago, whether they saw it onstage or they saw it on television; people like me, my generation, [who saw] the Broadway play; and then you've got the young people now who haven't seen it [live] and just saw the movie. We can create this for a new generation with music and the movement of 2015."
Inspired by this post? Check out our theater audition listings!