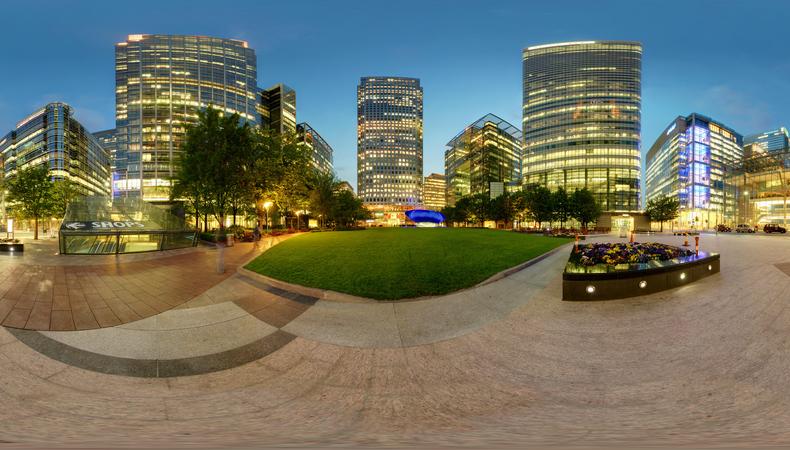 It took a while, but Galileo convinced the human race that the world was round in the 17th century. It took several more centuries to develop the technology to prove images can be round too! 360-degree photography and videography are becoming quite the popular new audiovisual fad these days.
Panoramic photography has been around a while. Some of the first panoramic photos ever taken date back to the mid-1800s. But the technique has suddenly become wider (in angle) and more mainstream recently, thanks in large part to the popularity of Google Street View. Launched in 2007, it helped open the world's eyes to the practical applications and artistic possibilities of 360-degree photography. Google took to the streets in an often spotted vehicle with a spherical camera rigged to the roof. And now, if you want to scout a location without having to actually go there, you can hop online and get a pretty accurate view!
The idea behind basic panoramic photography is pretty simple. Most cameras are only capable of capturing an angle of a fixed width (and that depends on what type of camera and what type of lens you are using, but this angle on average would be less than 100 degrees). To create a wider angle, you have to fake it a little—that is, take rapid-fire photos while you're panning your camera, and string together the resulting images to form one long, aggregate photo. You most likely already have a panoramic function on your smartphone camera that allows you to snap some pretty great photos.
Video is another story. With panoramic, or spherical, video, viewers can watch live action footage from any angle. It's like being able to stick your head right into the screen and turn around to see what's behind the point of view. In the last few months, the digital tech world has been buzzing about several funky new cameras designed specifically to take enhanced 360-degree video footage. Camera-makers have already shared some impressive video—like this breathtaking view of Manhattan—that suggests the future may lie in breaking that 180-degree rule!
Here are a few of the most buzzed-about 360-degree cameras these days.
Bublcam
We've written about the Bublcam before, but it bears mentioning again here. It's a nifty little camera roughly the shape and size of a baseball that's was developed through a Kickstarter campaign. It is made up of four cameras in one that capture 190 degrees each while shooting, whose output combines to form a 360-degree photo or video experience. It's a little on the expensive side ($579), but if you pre-order one, you're guaranteed to be one of the first in the world to have and use it, tentatively by June 2014.
Panono
This device looks more like a dog toy than a camera, but it is definitely a camera—36 cameras, actually, packaged into one plastic ball that is designed to be thrown in the air by a photographer. Once it peaks in the air, the Panono fires all of the fixed focus cameras within to capture a 360-degree image from above. It creates a unique image that captures a world of motion. All you need to do is practice your throwing skills. The makers of the Panono camera are currently crowd-sourcing funds on Indiegogo to bring it to the market.
Eye Mirror
This little gadget isn't a camera—it's an attachment for your camera, designed to assist you in shooting spherical panoramas. It looks kind of like a blender, and attaches to your camera (be it DSLR, GoPro or other camcorder). Using a spherical mirror, it reflects a subject back in 360-degrees. It's a Kickstarter project at the moment and it's expected to ship to those who pledge (about $195) by March 2014.
GoPano
GoPano.com offers camera attachments similar to the Eye Mirror, but it also offers a space for 360-degree video enthusiasts to share their projects and footage. If you're looking for a little creative inspiration for a 360-degree video, this is a great place to start.