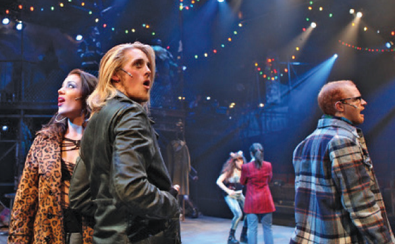 Training is important. As an actor, even if you disagree with the teachings of your professor, at least you know what won't work for you. But as any struggling thespian will tell you, experience counts for a lot too. For enterprising, driven students looking to climb the ladder in double time, consider attending one of these five colleges. Each has excellent theater programs, and each is near (and often works with) important local theater companies and renowned talent.
Augsburg College, Minneapolis, Minn.
Program: Augsburg offers three concentrations for theater majors: performance, directing/dramaturgy/playwriting, and design/technical. Among the courses offered are acting for the camera, script analysis, skills of musical theater, and readings in world drama; Tuition: $31,292; Professional opportunities: Located near the legendary Guthrie Theater, Augsburg gives students the chance to listen to arts professionals ranging from stage managers to casting directors speak in the school's Theatre Artist Series, as well as the chance to intern at the theater. Also, most of the Guthrie's casting is done locally, so students already have a leg up.
Georgetown University, Washington, D.C.
Programs: As a theatre and performance studies major, undergraduates must take 12 courses designed to broaden their knowledge of the theater, social justice, cultural criticism, and civic engagement by stressing the creation of new work, dramaturgy, and the history of performing arts. Courses include improvisation for social change, adaptation and performance of literature, and deaf performance culture; Tuition: $39,060; Notable alumni: Mike Birbiglia, Bradley Cooper, Brit Marling, John Mulaney; Professional opportunities: A partnership with D.C.'s Arena Stage allows students to intern at the theater and take classes with Arena's visiting artists and staff members.
Northwestern University, Evanston, Ill.
Programs: Whatever your focus in the theater as an undergraduate, Northwestern expects you to leave its program with a deep understanding of everything that goes into creating a performance. Courses include dialects for the stage, theater for young audiences, and theater sound. Bonuses of attending Northwestern include the Northwestern University Entertainment Alliance, a networking club for alums looking to work in the entertainment field; Tuition: $61,240; Notable alumni: Zooey Deschanel, Zach Braff, Nicole Sullivan; Professional opportunities: Northwestern students are just outside Chicago, which is second only to New York City in terms of a vibrant theater scene. Chances to ply one's trade—either in performance or via internships—are plentiful.
Mason Gross School of the Arts, Rutgers University, New Brunswick, N.J.
Programs: Theater majors are expected to pull their own weight, both academically and in terms of productions. Boasting an astounding 15 to 18 productions a year, the department also holds classes in global theater, clothing and culture, and the 20th-century avant-garde; Tuition: Non–New Jersey residents, $37,805; Notable alumni: Andrea Anders, Roger Bart, Michael Esper, Jane Krakowski, Tom Pelphrey; Professional opportunities: Half an hour outside New York City, Rutgers students have plenty of chances to attend (and audition for) NYC theater. In addition, graduating B.F.A. and M.F.A. students are presented to the casting community each year.
University of San Diego, San Diego, Calif.
Programs: Performance studies, theater history, modern drama, voice and speech, movement for actors; Tuition: $39,486; Notable alumni: Jim Parsons; Professional opportunities: The Old Globe Theatre, one of the best regional theaters in the country, is in San Diego and partners with USD for the school's M.F.A. in dramatic arts, for which seven students are chosen to perform in Old Globe productions.
Check out Backstage's TV audition listings!