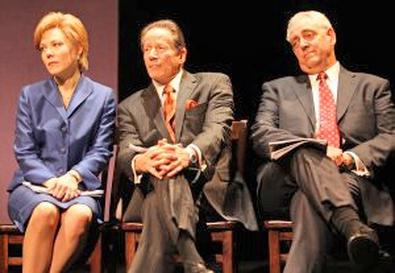 Geoffrey Cowan and Leroy Aarons' "Top Secret: The Battle for the Pentagon Papers" carries the subtitle "A Radio Play." And that's how it began life back in 1990, as a production of L.A. Theatre Works, a company that specializes in the genre. In 2007, the group decided to put the piece on stage, retaining the radio drama concept. As a result, at New York Theatre Workshop we have actors standing at an array of microphones, scripts in hand, while a Foley artist behind them creates sound effects. Alas, in the hands of director John Rubinstein, the conceit only proves distancing and annoying. The undeniably dramatic true story of a great struggle for American freedom of the press seems awfully dry, coming across as theater that's good for you rather than good theater.
The text is drawn from trial transcripts, interviews, and Richard Nixon's infamous White House tapes, among other sources. Act 1 fills us in on government official Daniel Ellsberg's decision, in the spring of 1971, to release to the press top-secret documents showing how the American government lied its way into the Vietnam War. The New York Times published excerpts, and the Nixon White House promptly went to court, obtaining an injunction preventing the paper from publishing more of them until the case was resolved. The Washington Post's editor, Ben Bradlee, furious at being scooped by the Times, managed to obtain his own copy of the papers. He then needed publisher Katherine Graham's permission to publish. She grants it right before intermission. Act 2 details the bloody legal aftermath, with Graham and Bradlee hauled into court, charges of treason being flung about, and the entire future of the Post suddenly at stake. Famously, of course, judges ruled in favor of the Times and the Post, and Americans were soon made privy to their government's shenanigans, changing forever the level of trust they would place in their elected officials. That, of course, proved crucial to the resolution of an upcoming little scandal called Watergate.
The 11-person cast is not the problem. The charismatic Kathryn Meisle is Graham, who serves as narrator. Saddled with long and ungainly expositional speeches, Meisle delivers them as clearly and compellingly as she can. She fares better when allowed to play scenes and makes the most out of Graham's dramatic, under-the-gun decision to publish. As Bradlee, the dapper Peter Strauss makes a welcome return to the stage and is adept at capturing his character's surging ambition and restless charm. Jack Gilpin does well as the Post's skeptical lawyer. There's a sharp Nixon from Larry Pine, a droll Henry Kissinger from Peter van Norden, and a properly phlegmatic John Mitchell from Larry Bryggman. John Getz differentiates nicely between a driving reporter and a dour government attorney.
But all the good acting in the world can't undo the shackles of the staging concept. Too many scenes are played out to the house rather than between the characters. Nor does it help that some actors seem to have memorized their parts, while others sometimes refer to their scripts. There's just no compelling reason for this story to be told in this format, except perhaps that it makes the bare-bones staging easy to tour. This inspiring tale deserves a more inspiring presentation.

Presented by New York Theatre Workshop, L.A. Theatre Works, and Affinity Collaborative Theater at New York Theatre Workshop, 79 E. Fourth St., NYC. March 9–28. Tue., 7 p.m.; Wed.–Fri., 8 p.m.; Sat., 3 and 8 p.m.; Sun., 2 and 7 p.m. (212) 279-4200 or www.ticketcentral.com. Casting by Jack Doulin.