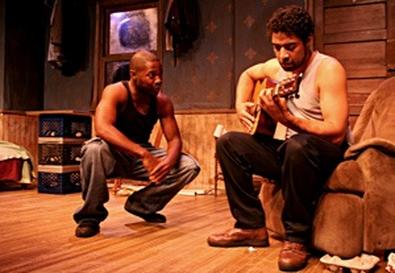 It's a challenge for a small company: Can you play with the big dogs? Apparently the time is now for Suzan-Lori Parks' 2002 Pulitzer Prize winner, the story of African-American brothers battling their inner demons and inner-city legacies, to make the rounds on local stages. "Topdog/Underdog" is an almost epic two-hander, which means that there's a lot on the shoulders of the actors playing the larger-than-life siblings. But even without the star power that shot this work to the top, the script still hits home.
James Reynolds directs his son Jed Reynolds and Stephen Rider in this scrappy, honest production; Jed Reynolds plays the somewhat resigned Lincoln—who's got a job portraying the president in a very creepy arcade attraction—and Rider, his fiery kid brother, Booth. Yes, their names are unfortunate, and that's not the only cruel twist in their personal histories. For the time being, they're both living in one room of a dilapidated boarding house. Lincoln pays the bills and Booth contributes by boosting what makes it all bearable: snappy new suits, niceties to impress his would-be fiancée, and whiskey, Lincoln's preferred escape route. But what's ever-present in this seedy room, and in the brothers' lives, is the competition embodied in the card game of Three Card Monty, a street hustle that Lincoln abandoned and Booth aspires to.
As Booth, Rider has an appealing intensity that bounces nicely off of Jed Reynolds' low-key Lincoln. James Reynolds' simple staging is clear and clean, and the young actors own the play's many comic moments. They have more difficulty mining the complexity of the material—reaching the depths it demands—and at times handling the heightened language. Rider is somewhat uneven but manages to sustain an energized performance. As Lincoln—which is certainly the more difficult role—Jed Reynolds is less assured. But it's tough. After all, "people like they historical shit in a certain way."
Presented by and at the Fremont Centre Theatre, 1000 Fremont Ave., South Pasadena. Aug. 21–Sept. 18. Fri.–Sat., 8 p.m.; Sun., 3 p.m. (866) 811-4111.
www.fremontcentretheatre.com
.