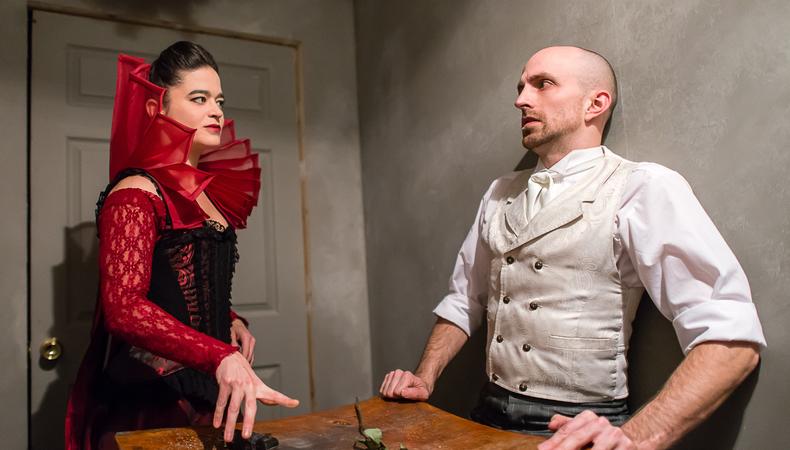 "Is it better to do what you're told or to do what you want?" asks a coy young woman (Rachel I. Berman) from behind a closed bathroom door. I answer. She laughs. Pause. "Hand me my blouse." This playfully heated exchange encapsulates the experience of "Then She Fell," the immersive theater work by Third Rail Projects that recently reopened in Williamsburg after being cut short in 2012 by Hurricane Sandy. The piece combines Lewis Carroll's "Through the Looking Glass" with the ambulatory exploration of a 19th-century hospital (conveniently housed in an actual old hospital, the century-old Kingsland Ward at St. Johns). Locked in the building's seemingly endless rooms, floors, corners, and crevices is an evening that is as total and topsy-turvy as it is satisfying and magical.
As in the similar but more commercially famous "Sleep No More," spectators are instructed not to speak or open any closed doors but are otherwise free to look, touch, smell, and even taste (thanks to a few shots of bitter wine). The lusciously and meticulously designed world, full of strange knickknacks and worn furniture, teases every nerve at the imagination's disposal. But rather than freeing us to choose what to visit and when, cast members quietly but forcefully dictate spectators' paths through the building, often isolating them, sometimes telling them stories or playing games with them, other times locking them in rooms with much to explore but no way out. One's engagement is thus made all the more titillating by how little control one can have at any given moment.
Everyone's experience will necessarily be different, but my own was divided into roughly two parts. In the first I was either reading through a pile of impassioned love letters or staring through a series of mirrors at danced encounters among tumultuous lovers. The creepy ambiance convinced me that something was about to jump out of a corner or that the love duets were swiftly to turn murderous. Neither was the case, but the expectation of a dark side of passion, aided by the moody music (by Sean Hagerty) and continuous sound of distant voices, was an impressive effect.
In the second half I was brought upstairs to the hospital rooms, where I spent time with, among others, the Mad Hatter (given three dimensions in 10 minutes by Elizabeth Carena), the Red Queen (an imperious Rebekah Morin), and Lewis Carroll himself (played so despondently by Alberto Denis that I wanted to stop the proceedings to console him).
The thesis that ultimately coalesces is that Carroll's mad, funhouse world not only reflects a child's perception of an adult world; it also reflects an adult's perception under the spell of love. The novels, then, are encrypted records of Carroll's capitulation to desire. "Then She Fell" resurrects the ghost of that unrequited heart, and so ours, both trapped in a world that is tantalizingly available even as it is cruelly denied. I don't remember the last time a theatrical event has gotten such mileage out of the medium's most essential rule: Look but don't touch.
Presented by Third Rail Projects at the Kingsland Ward at St. Johns, 195 Maujer St., Brooklyn, N.Y. Opened March 9 for an open run. www.thenshefell.com.
Critic's Score: A-