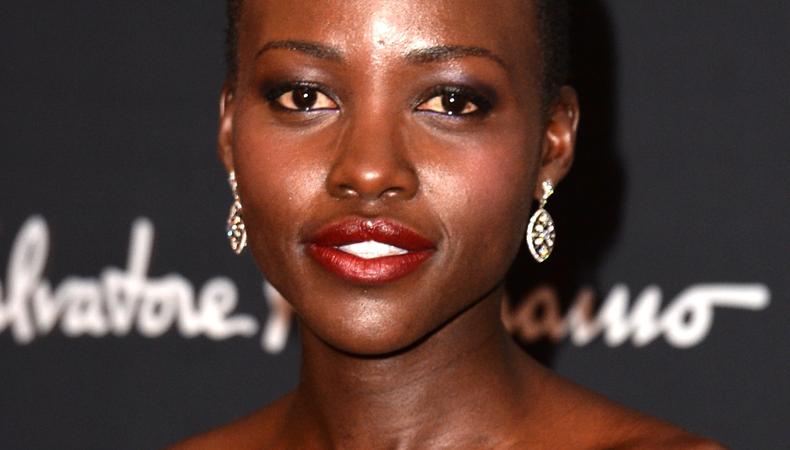 For her first film role, Lupita Nyong'o found herself starring alongside the likes of Brad Pitt, Chewitel Ejifor, and Michael Fassbender in Steve McQueen's epic "12 Years a Slave." Not only does Nyong'o hold her own against the heavyweights, she shines in the role of Patsey, a slave who attracts the unwanted obsession of her owner (Fassbender). Though Nyong'o is no stranger to movie sets—she was a production assistant on "The Constant Gardner"—stepping in front of the camera was new for the actor, who had just graduated from the Yale School of Drama when she landed the role for which she's already earning Oscar buzz.
How did you land the role of Patsey?
I was just about to graduate from the Yale School of Drama and was about to do our school's showcase, which is when you can start auditioning for other things. My manager had another client in the film, Garret Dillahunt, and she suggested I put myself on tape for it. Which was the first time I'd ever done that. It just so happened I was going to be in L.A. the next week, so the casting director asked to see me and I auditioned for Francine Maisler. After that, I was invited to Louisiana to audition for Steve.
Were you familiar with Steve's work?
I'd heard of him, but I hadn't yet seen his work. After my first audition, I took the time and watched his work and was so blown away. I fell in love with his aesthetic, his vision, his voice. It finally dawned on me what kind of project I would be involved with. I'm actually glad I didn't know before I met him. I was able to focus on the work. But after that, I truly I knew I was in the right hands and I wanted to do it even more.
But I've heard you say you never thought you would actually get the part.
That's true. Even when I found out who was behind it, I was like, OK, this is just a chance for me to work on some lofty material and give it my all. But I'm not going to get it. Even as we went along and I got the callback, as badly as I wanted it, I thought it was so far out of reach. Which was kind of a relief. I had nothing to lose. When I got it, I was certain I was going to get a call saying they made a mistake. Thankfully, that call never came.
What was the most difficult part of making the film?
You know, the whole thing was all so hard, but it was so wonderful. It might have been managing my "Imposter Syndrome." That feeling that we get so often that we are imposters and they're going to find out shortly. Especially when you're working with such veterans and artists as I was. Everything was so new and I worried about whether I would be able to do this character justice.
What were your impressions of Patsey when you read the book?
Patsey is described i the autobiography as having an "air of loftiness in her movement, that neither labor, nor weariness, nor punishment could destroy." I wanted to do her justice. It would never feel comfortable going to that place to play her, and I needed to be comfortable in my discomfort. Everything she went through is so painful that I had to move from sympathy to empathy for her. When I first read the script, I was in tears I felt so sorry for her. And that's no way to play a character, from a place of pity. So I had to move to a place where I could advocate for her. She's didn't have the luxury of sentimentalizing her abuse. Abuse was the norm for her.
You have to share some remarkably intense scenes with Michael Fassbender. What was that experience like?
Michael is such an electrifying actor, you never know what he's going to do next. So he forces you to be in the moment. Which is such a treasure. He's such a nice person and we had a lot of fun making this film. I think we understood we were making history, doing something vital. So going on set was always joyful, despite how painful the things we had to do were. Michael and I would make nice before and after a scene. I called it that, "make nice." Not necessarily say anything to each other, but just share a look or a moment to let each other know we were OK. I felt so safe his scene partner.
What's up next for you? Surely this film is opening all kinds of doors for you?
Hopefully they're just opening. I did a film a few months after "12 Years" with Liam Neeson called "Non-Stop" that comes out in February. Other than that, my plate is open and I'm looking for work!