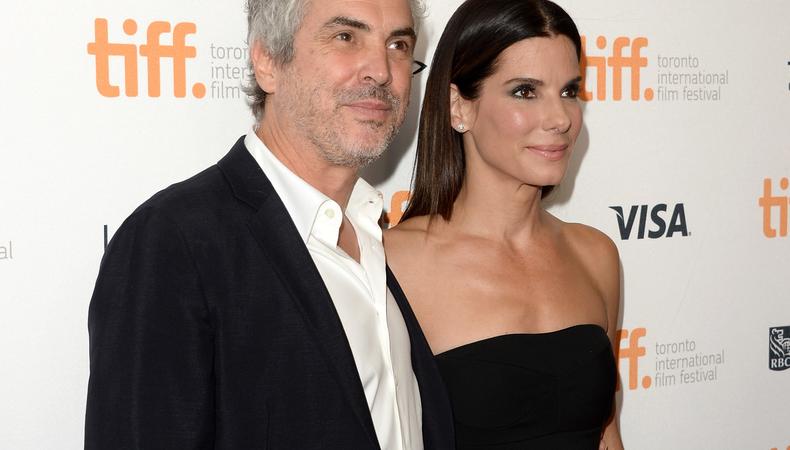 The big premieres at the Toronto International Film Festival continued Sunday night, where Oscar contenders "Rush" and "Gravity" premiered just down the street from each other—both earning raves.
Ron Howard's "Rush" is set during the 1976 Formula One racing season, where drivers James Hunt (Chris Hemsworth) and Niki Lauda (likely Oscar nominee Daniel Bruhl) were pitted against each other. Hunt was a British driver who relied on instinct, a charming playboy everybody liked. The Austrian Lauda relied more on intellect and science, and his caustic personality rubbed many people the wrong way. Their rivalry is the perfect fodder for screenwriter Peter Morgan, who earned an Oscar nod for scripting a similar two-hander with "Frost/Nixon."
Speaking to Morgan mere hours before the premiere, he was still riding high off the rapturous response "Rush" received at its London premiere a week ago. But he admitted he was nervous about how it would play outside of his home country, wondering how much interest Americans would have in Formula One racing and a story with no Americans. He needn't have worried—the film played to an ecstatic audience, one that went even crazier when Howard brought the real Lauda on stage after the screening.
Hours earlier, Alfonso Cuaron's "Gravity" had also featured a special guest at its premiere, as astronaut Chris Hadfield—the first Candaian to walk in space—was in attendance. During a post-screening Q&A, Hadfield praised the film, parituclarly leading lady Sandra Bullock, saying, "If I ever fly in space again, I want to fly with Sandra." Hadfield is on the same page with critics—Bullock is considered a lock for a best actress Oscar nomination, if not for the win. Many pundits are already calling the race as Bullock vs. Cate Blanchett, who was terriffic in Woody Allen's "Blue Jasmine." (Both give great performances, but bear in mind that Bullock does hers in zero gravity.) The film is contining to build deafening buzz, so look forward to lots of headlines like " 'Gravity' Takes Flight" over the next few weeks.
Unlike most stars who like to run fashionably late, Bullock was one of the first to arrive to the film's after party. She chatted graciously with her many well-wishers, as did Cuaron. Many believe the director behind such masterpieces as "Y Tu Mama Tambien" and "Children of Men" has been unjustly overlooked by the Academy, and has a good shot of cinching the director Oscar next year. Few directors can boast such a prolific resume, and I might have fawned a bit too much over him at the after party. When I told him he's sporting an amazing batting average and all his films are winners, he demurred, saying there might be one or two he could find fault in. "What movie of yours could you criticize?" I asked. "Let me guess—'A Little Princess'!" This was obviously a joke, as everyone adores that film. In fact, Cuaron revealed it's his favorite of all his movies; something we agree on (and that's saying a lot).