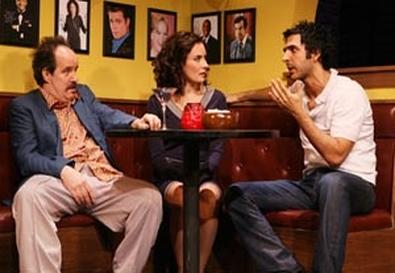 Christopher Durang refuses to grow up. For the American theatre, this is a very good thing. The puckish playwright (
Sister Mary Ignatius Explains It All for You, The Marriage of Bette and Boo
) takes on orthodoxy with a diffuse, smarty-pants counterpoint that is its negation. In the past, his chief targets have been the family and the Catholic Church; you can guess where he's aiming in the current
Why Torture Is Wrong, and the People Who Love Them
.
The screwball plot begins with Felicity (Laura Benanti) waking up next to a dark-skinned stranger named Zamir (Amir Arison). "It's Irish," he says. She can't remember how she got there, but apparently it involved drinking and Hooters and an impromptu wedding performed by a porno minister (John Pankow, insisting, logically, "God created sex. And He watches it; why shouldn't we?"). An annulment seems the appropriate course, but mere mention of the word sets off Zamir's temper, and his violent ranting leaves her unsure whether he's a fearsome terrorist or a simple scumbag. Felicity's father, a hawkish homebody (Richard Poe), brings in a couple of confederates code-named Scooby-Doo (Audrie Neenan) and Looney Tunes (David Aaron Baker) to get to the bottom of things. Meanwhile, mother Luella (Kristine Nielsen) handles this—and all other trauma—by delivering unprompted lectures on theatre. (She rather liked
Wicked
, but has a friend who thought the appropriate response to
The Coast of Utopia
was suicide by force of will.)
As satire,
Torture
is neither deep nor devastating. Of recent works,
The Lieutenant of Inishmore
(whose author, Martin McDonagh, is name-checked in one of Luella's rants) found a scarier, funnier take on the cycle of violence. But Durang makes a virtue of his scattershot brand of comedy. The antidote to narrow-mindedness is a retort that isn't so sure of itself. Oh, Durang's sure the world is maddeningly, dangerously absurd, but he doesn't know what we can do about it. Hence, he gives us a play that doubles back on itself, searching for a way to head off catastrophe and climaxing with a bizarre yet charming fantasy sequence at a version of Hooters you've never seen before. (The wonderful comic actor Brooks Ashmanskas is billed as Hooters consultant.)
Nicholas Martin directs with a keen comic eye, nestling the action in David Korins' perfectly detailed series of revolving rooms. Benanti, the radiant musical-theatre standout who recently picked up her first Tony (for
Gypsy
), makes for a skilled straight man. Durang regular Nielsen is at her loony best, suggesting in her rubber-faced grace a female counterpart to Zero Mostel. And Poe is peerless in his acid-etched cartoon of a right-wing zealot. The only weak spot is the usually dependable Arison, who isn't convincing as a menacing security threat; he comes off as too much of a mensch.
If Durang's absurdism—more
South Park
than Ionesco—hasn't previously been to your taste, this play isn't likely to convert you. But I found that about two-thirds of its jokes hit the mark. Given Durang's joke density, that's a lot of laughter.
Presented by and at the Public Theater
,
425 Lafayette St
.,
NYC
.
April 6
–
May 10. Tue
.,
7 p.m
.;
Wed
.–
Fri
.,
8 p.m
.;
Sat
.,
2 and 8 p.m
.;
Sun
.,
2 and 7 p.m
. (
No performance Tue
.,
April 7
.)
(
212
)
967-7555 or www.publictheater.org
.
Casting by Jordan Thaler and Heidi Griffiths
.