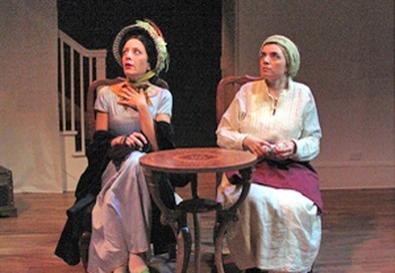 A saucy little two-character Italian comedy, astutely acted by Laura Caparrotti (who also directs) and Marta Mondelli, "Tosca e le altre due (Tosca and the Two Downstairs)" fabricates a funny, feminist-tinged side story to the famous Puccini opera. While horrific tortures, seduction, and cold-blooded murder, as detailed in the opera's second act, play out upstairs in Rome's Palazzo Farnese, we are privy only to what occurs downstairs. There, a saber-witted conversation between the fictional characters of Emilia, the doorkeeper for the evil police chief whom Tosca murders, and Emilia's visitor, Iride, the wife of a torturing officer, is taking place. With Emilia's help, Iride plots to leave her husband. The women's bright, breezy dialogue, delivered in Italian with English supertitles, is periodically punctuated, to splendid comic effect, by spine-tingling screams from above and recorded excerpts from the opera's most dramatic passages.
Presented by Kairos Italy Theater, a New York–based bilingual (Italian and English) theater company under the artistic direction of Caparrotti, the production constitutes the U.S. premiere of Franca Valeri's 1978 comedy. Valeri is renowned in her native Italy for creating satirically humorous female characters. As translated by Natasha Lardera and augmented by Milanese set designer Lucretia Moroni's sparely evocative scenic elements, the wee 75-minute play is well situated at the Cell, a newly converted Chelsea gallery space. When you walk in the door—the outside entrance leads directly into the extremely intimate theater space—it feels as if you're entering someone's private residence. You view the show seated on cushioned wooden benches that look like church pews but are unbelievably comfortable.
While the production is enormously pleasing on many levels, it may be best appreciated by those who speak Italian. The comedy is quickly played, sometimes wordy, and highly reliant on the timing of both text and movement. Having to constantly shift focus between watching the stage action and speed-reading the English projections, one can easily miss important facial expressions or gestures by the actors and lose the overall coordination of elements key to effective comic theater.
Presented by Kairos Italy Theater in association with Donatella Condonesu at the Cell, 338 W. 23rd St., NYC. Feb. 5–21. Wed.–Sat., 8 p.m.; Sat. and Sun., 3 p.m. (No performance Wed., Feb. 10, and Thu., Feb. 11.) (800) 838-3006 or www.brownpapertickets.com.