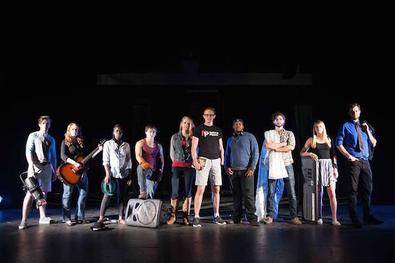 Touring is a rite of passage for many young performers, and an amazing way to see the country and impact communities far and wide. From full-fledged Shakespeare to "Berenstain Bears," here are 12 touring theater companies that make a difference across the United States.
The Acting Company
This highly respected touring repertory company has brought top-quality classical performances to over 3 million people nationally and internationally since 1972. Educational programming like artistic residencies, workshops, and master classes promote literacy and artistry throughout the country, and alumni actors include Kevin Kline, Patti LuPone, and Hamish Linklater. Currently on tour? "Macbeth" and "A Connecticut Yankee in King Arthur's Court," performed in rotating rep until late April.
Aquila Theatre
This New York-based company aims to bring "the greatest theatrical works to the greatest number" by presenting a sit-down season of classical plays in New York, and a national tour reaching over 50 U.S. cities every year. Aquila is currently wrapping up its six-month tour of "Wuthering Heights" and "The Tempest," bringing great plays, community engagement workshops, and more to small cities from coast to coast.
ArtsPower
ArtsPower has been bringing quality theatrical programming to kids and families in schools, regional theaters, and community centers for 30 years. The company aims to "actively engage and challenge children and adults" with its lively programming, inspiring audiences to "think more creatively, feel more deeply, and react more compassionately." Prominent children's authors including Judy Blume and Lois Lowry have partnered with ArtsPower to create stage adaptations of their work, and the company provides educational guides to teachers and community leaders to jump-start discussion. Look out for the 2015–2016 season, including kid-friendly classics like "Are You My Mother?" and "From the Mixed-Up Files of Mrs. Basil E. Frankweiler"
Birmingham Children's Theatre
Birmingham Children's Theatre—one of the largest theaters for young audiences in the country—reaches students beyond Alabama with the BCT On Tour program. Touring works include the MainStage Series for elementary through middle school-aged students and the Wee Folks Series for those younger than 2nd grade. Eighty-five thousand young people enjoy BCT tours such as "The Wizard of Oz" and "Rumpelstiltskin" each year, spanning 100 different cities across the Southeastern United States.
Bright Star Touring Theatre
This touring children's theater brings over 1000 educational, affordable performances to young audiences each year at venues across the country and in cities small and large. Bright Star emphasizes literature and curriculum-based works, and accessibility for all, exposing a wide audience of youngsters to the joy of live theater. Touring shows such as "Heroes of the Underground Railroad" and "Let it Shine: The American Civil Rights Movement" come with in-class study guides and feature post show discussions, helping students get the most out of Bright Star's carefully crafted programming.
Dallas Children's Theater
Another nationally recognized children's theater company with a prominent traveling arm, Dallas Children's Theater has been touring high-end productions locally since 1985 and nationally since 1996. Designated an "American Masterpieces Touring Artist" by the National Endowment for the Arts, DCT has a majorly positive impact on young audiences throughout the country. The 2014–2015 touring season features Broadway-style show "The Musical Adventures of Flat Stanley," based on the best-selling children's book from 1964.
National Players
At 66 years old, National Players is America's longest running touring theater company. NP was created out of Catholic University, and the Players now have a permanent home at Olney Theatre Center in Maryland. Its mission—to "present classical plays in surprisingly accessible ways"—has helped the company reach over 2.5 million audience members, and this season's "Exile and Reunion" tour (featuring "To Kill a Mockingbird," "As You Like It" and "The Tempest") is booking through May.
National Theatre for Children
This massive youth arts organization brings national tours of short, kids-geared shows to millions of students across the United States each year. Generous sponsorship allows NTC to present its educational programming to schools at no cost, bringing its energetic, message-driven performances to as many children as possible. NTC's actors get a serious workout, traveling throughout the country and generally performing up to four shows at two different schools each day. Original curriculum-based tours include titles such as "The Treasure Trove of Conservation Cove" and "The Aqua League and the Drought Dilemma."
Nebraska Theatre Caravan
Best known for its acclaimed yearly tour of "A Christmas Carol," this traveling wing of the Omaha Community Playhouse has been bringing quality professional theater to Kansas, Nebraska, Wyoming, and elsewhere since 1975. "A Christmas Carol" alone has toured more than 600 cities, 49 states, and four Canadian provinces—quite a reach for what started as a "small group of professional performer-teachers." Other Caravan tours include "The Lady with all the Answers" (a one-woman show about famed advice columnist Ann Landers) and "Little Women: The Musical."
Reduced Shakespeare Company
The legendary California-based company behind "The Complete Works of William Shakespeare (abridged)", "The Complete History of America (abridged)" and "The Bible: The Complete Word of God (abridged)" has been performing its smash hit comedies in the States, in major regional houses, and all over the world for decades. Its current tour, "The Complete History of Comedy (abridged)," is making the rounds in the U.S. through April, and will later tour the U.K. and Ireland.
Theatreworks USA
One of the farthest reaching touring theater organizations in the country, Theatreworks USA has brought live TYA performances to more than 90 million children in its 54 year history—many of them from financially and artistically underserved communities. Thousands of actors have gotten their starts (and their Equity cards!) touring with this national organization, including F. Murray Abraham, Henry Winkler, and Roger Bart. Tours visit schools, community centers, and larger-scale venues all over the country each year, entertaining kids and their families with shows such as "Charlotte's Web" and "Curious George."
Traveling Lantern Theatre Company
Traveling Lantern has been touring lively kid-focused shows since 1985, and has a portfolio of almost two dozen playsin its current repertoire. All of Lantern's shows are educational and interactive, with built-in opportunities for young audience members to participate. Like many touring TYA companies, Traveling Lantern's actors perform multiple duties from transporting props and set pieces to setting up and breaking down each show. Plays are divided into Northeastern, Northwestern, Midwestern, and Southwestern tours and include classics like "Peter Pan," "A Christmas Carol," and "The Lion, The Witch and the Wardrobe."
Inspired by this post? Check out our theater audition listings!