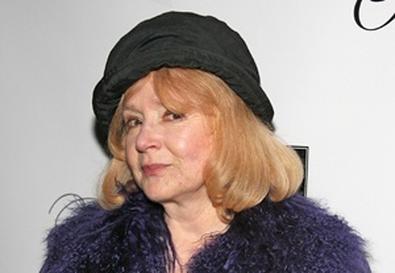 Veteran actor Piper Laurie has turned her talents to directing, most recently helming the Off-Broadway solo play "Zero Hour," written by and starring Jim Brochu, who plays the larger-than-life actor-painter Zero Mostel, and in 2006 directing the short film "Property," based on a James Lasdun story. But the Emmy-winning, Oscar-nominated Laurie is quick to point out, "I directed my first play when I was 11. I was asked if I would like to play the lead in the school play, and I said I'd rather direct." Having appeared in well over 100 films and TV programs, not to mention a host of stage plays, Laurie has strong opinions on the director's role.
"A light touch is always the best way to go," she says. "The best thing a director can do is give an actor a sense of freedom. Working with Jim, I was both editor and director, helping with the shape of the play and making sure there was variety, but that's about it." She adds, "I liked working with Sidney Lumet and Robert Rossen and John Frankenheimer, who was awfully good in getting the actor to use his own reality. But he never crossed the line into the personal area. I think you need a privileged relationship with the actor to do that. Some directors will presume to know how a person they never met before ticks. It's a waste of time and offensive. And yes, I do think it's more prevalent today.
"What turns me on in an actor is his focus on the character he's playing, the simplicity and lack of artifice, unless that's what's called for," she continues. "The actors I've most enjoyed working with are Victor Mature, Paul Newman, and especially Jason Robards. He was a fabulous actor: open, warm, and flexible. He gave you something fresh every time but always within the context of the scene. I worked with George C. Scott four times and I loved his intensity and honesty, and later on I discovered his sweetness. I was initially terrified of him."
Typecast: 'Sexy Bimbo'
Born Rosetta Jacobs in Detroit and raised in Tujunga, Calif., Laurie recalls being a shy, nonverbal child who was sent to elocution school. "But when I did a comic monologue, which I had memorized because I was so frightened, it was a smash hit, and that was it," she says. "I was bit by the acting bug." Within a few years she was studying with teachers she dubs the "Schneider Group." They were husband and wife Benno and Betomi Schneider, who started in Russia; later became members of Israel's national theater, Habima; and ultimately trained with the Group Theatre in New York. Says Laurie, "In California, they had classes for professional actors. I was 15 and lied. I said I was 18 and looked 12. They let me in for a trial week or two. I worked my butt off and they let me stay for three years."
Laurie auditioned for Universal and was brought on board as a contract player, an experience she regrets to this day. "I thought they'd give me interesting parts," she says, "but immediately they put me into cartoony roles, and it went downhill from there." She appeared in approximately 20 films but ultimately broke her contract with Universal and for a long time thereafter had to live down her image, which the studio had fostered. "That I was a sexy bimbo and not a serious actress," she says. "Also, that I ate flowers, took mud baths, and had my pictures in the paper every week."
When she heard about an interesting play that was being cast in New York, she got an appointment to audition. As she recalls, "I flew out to New York against the advice of my agent, and when I arrived at the office—I was told not to come to the theater—the playwright said, 'Oh, Miss Laurie, come out into the hallway. I'm sorry, but even if your reading is awfully good, we can't afford to have Piper Laurie and what she stands for in my play.' I was devastated. I flew back to L.A. and decided I had to change the meaning of what Piper Laurie stood for."
Laurie's first major break—and she says she had to "fight for it"—was in a General Electric Theater drama, "The Road That Led Afar," "a beautiful script that someone had stolen for me," Laurie says. "The directors and producers would not meet with me. They said I was not an actress but a sexy bimbo. I pushed my agent to set up a meeting, and they finally did."
Laurie violated all the standards of the era by arriving for her audition with messy hair and no makeup. Indeed, she came dressed for the role—a young hillbilly—instead of sporting the high heels and white gloves that women almost always wore to auditions. "I said I had just come back from horseback riding and didn't have time to change," she recalls. "I put on quite a performance, and when I got home I got a call from my agent, who said the producers changed their mind and I got the part."
Laurie started working on live television, and shortly thereafter she was cast in the 1961 American film classic "The Hustler," starring Paul Newman and Jackie Gleason. Her performance as a complex, rootless girl brought Laurie her first Oscar nod, though to this day she is still not impressed with her work in the role.
Following "The Hustler," she was offered similar parts, none of which were as well-written, she says. In the 1960s, for a variety of reasons, including the desire to raise her daughter, Laurie decided to retire from the business. Fifteen years later, Brian De Palma invited her to play Sissy Spacek's brutalizing, religious nut case of a mother in his horror flick "Carrie." She accepted the role, which turned out to be one of her best. "I took chances in that film that I usually didn't take," she says. "I was brave and did not censor myself." For her performance, she earned another Oscar nomination.
But over the years, the interesting parts dwindled—especially for mature women, she says. Still, Laurie is reluctant to write a role for herself, though she concedes that she might direct herself, especially in a stage production. At the moment, she is adapting two more stories by the author of her film "Property." She looks forward to more directing on screen and stage, assuming she finds something as interesting as "Zero Hour," she says: "Mostel was a brilliant actor and fascinating man, and I'm hopeful audiences have a great time spending the afternoon or evening with him." When Laurie is not acting or directing, she is busy as a sculptor, working in marble and clay.
She admits that if she were starting out today, she's not sure she'd be an actor. A sculptor definitely, and perhaps an archaeologist. "But given the kind of personality I have, which is not very aggressive—I let the aggressiveness out in my work—I don't know if I could make it today. The young actors today seem to be very gifted early on and so self-confident."
"Zero Hour" runs through Jan. 31, 2010, at the Theatre at St. Clement's, 423 W. 46th St., NYC. Tickets: (212) 239-6200 or www.zerohourshow.com.
Outtakes
-Has been nominated for nine Emmys and won in 1987 for her performance in the Hallmark Hall of Fame presentation "Promise"
-Earned a third Oscar nomination for her performance in "Children of a Lesser God"
-Appeared on Broadway in the 1965 revival of "The Glass Menagerie" and the 2002 revival of "Morning's at Seven"