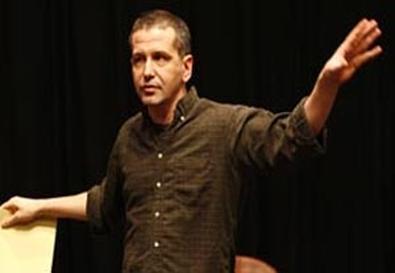 Spoiler Alert: Skip to the last sentence of this paragraph if you don't want a staging surprise to be revealed. Has a show ever come to New York based on the heavenly smell of bacon? I'm inclined to think the answer is now yes, for the third act of director David Cromer's production of Thornton Wilder's
Our Town
—which sent Chicago critics into such shivers of delight that it encouraged a New York transfer—is essentially a coup d'odor. After two-plus acts of affectless, accentless playing, the houselights are finally turned off and we're treated to honeyed hues and homey scents. It's a delicious piece of stage work—but a tragic example of too little, too late. By the time this ballyhooed sequence arrived, I'd already given up on Grover's Corners. In Cromer's hands, the cozy hamlet has become a frosty little town.
This, by the way, is not the effect I feel Cromer, who also plays the Stage Manager, intended. The staging brings the actors up close, with Michele Spadaro's scenic design reconfiguring the already intimate Barrow Street Theatre into a three-quarter thrust, with plenty of room for the cast to roam about the audience. Gone are period costumes, New England accents, and artificial stage accoutrements (ladders, sandbags, etc.). Like John Doyle, another lauded director from outside the New York bubble, Cromer—the Chicagoland helmer of last season's Off-Broadway musical
Adding Machine
—employs minimalism in the hunt for truth. But it's one thing to strip down a multimillion-dollar musical and quite another to denude an already minimalist work. (Kill the accents—find the soul!)
There is, of course, something gratifying about being close to the action. Though Jonathan Mastro completely misses Simon Stimson's darkness, and many of the female roles—in particular Emily (Jennifer Grace), Mrs. Webb (Kati Brazda), and Mrs. Gibbs (Lori Myers)—are pitched on an oddly strident note, George (James McMenamin), Mr. Webb (Ken Marks), and Dr. Gibbs (Jeff Still) are all sharply etched. And Cromer plays the Stage Manager far more like a stage manager than I've ever seen before.
There's nothing objectionable, either, about the physical implication that we're part of the town: neighbors, wedding guests, deceased ancestors. But Cromer's approach seems largely about underlining that the residents of Grover's Corners are us—and, well, they're not. Wilder's distinctly theatrical dialogue exaggerates American archetypes—sometimes for humor, sometimes for sentiment—and while his slice of life is laced with enough flinty wit to seem true, that's not the same thing as realistic.
Parked up close, watching the cast pass on Wilder's dialogue with a quick, contemporary delivery, I didn't feel like I was watching American life, but a foreign concept of it. The play may still be called
Our Town
, but it feels far from it.
Presented by Scott Morfee, Jean Doumanian, Tom Wirtshafter, Ted Snowdon, Eagle Productions, Dena Hammerstein/Pam Pariseau, and the Weinstein Companyat the Barrow Street Theatre, 27 Barrow St
.,
NYC
.
Opened Feb. 26 for an open run. Tue
.–
Sun
.,
7:30 p.m
.;
Sat. and Sun
.,
2:30 p.m
.
(
212
)
868-4444 or www.smarttix.com
.
Casting by Pat McCorkle/Joe Lopick
.