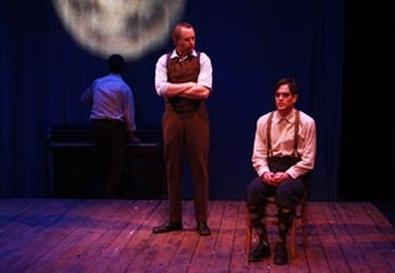 Yes, the Actors' Gang primarily produces cutting-edge theatre, long based in the Gang's particular "style." But the Culver City company proves its versatility and its respect for storytelling with a riveting and visually stunning version of Thornton Wilder's 1938, three-act classic—without sacrificing signature Gang touches. This
Our Town
is heavier on sarcasm than sentimentality, and it pushes more comedy and politics—with mixed results. But Steven M. Porter's masterful turn as the Stage Manager, and director Justin Zsebe's staging of the third act are unforgettable.
Porter, wearing a 1930s outfit and smoking a pipe, delivers the Stage Manager introduction while standing in front of a red curtain, an immediate indication that Zsebe's vision incorporates the play's original time periods of 1904, 1907, 1913 and 1938. The cast is seated to the sides of the raised, wood plank stage, collaborating on the sound effects when not part of the action. Though adhering to script, the first two acts are filled with pauses and sarcasm that add a subtle layer of modernity to the traditional form. Easy comedy comes from heightened performances, in particular those by Chris Schultz and Vanessa Mizzone, who flail and whine as young George and Emily, and Brian Kimmet's particularly biting portrayal of town drunk Simon Stimson.
The tone changes sharply with the third act. The graveyard residents are wearing white undergarments, seated on rope swings of various heights hanging over the stage. An upstage piano sounds somber tones throughout the scene, highlighted by Mizzone as the mature Emily, longing for one more glance at her life. Mizzone's palpable anguish and Schultz's final breakdown are heartbreaking. The anchor of the nearly three-hour production is Porter. His portrayal of the Stage Manager maintains an even tone, never veering toward sentimentality or cynicism. Instead, he's content, and that sense of inner peace adds gravitas to the proceedings. After 71 years,
Our Town
remains vibrant and meaningful—and after 28 years, so does the Actors' Gang.
Presented by the Actors' Gang at the Ivy Substation, 9070 Venice Blvd
.,
Culver City
.
April 5
–
May 30. Thu
.–
Sat
.,
8 p.m
.;
Sun
.,
2 p.m
. (
310
)
838-4264 or www.theactorsgang.com
.