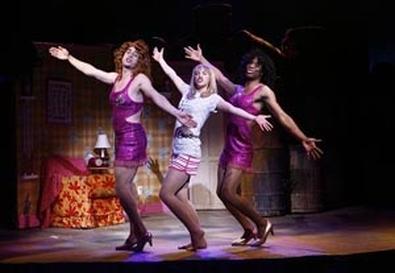 Apparently, jokes about New Jersey as the trash can of the Northeast are still funny, gentrification be damned. Equally still funny, for that matter, is making fun of the elderly, the blind, powerful women, musical theatre, Bob Dylan, environmentalism, gory violence, Oprah Winfrey, and anything worth sentimentalizing. The result of all this blasphemy is
The Toxic Avenger
, which delivers a riotously good time and proves again that talent and trash are not incompatible.
Anyone familiar with the low-budget 1985 Lloyd Kaufman film won't be surprised by all the severed limbs and shattered sanctimony of this musical; they may even find it tame. In translating the story of nerdy Melvin Ferd, dumped in a vat of acid for trying to save New Jersey from pollution and turned into Toxie, a terrifying but sweet-as-pie monster-hero, the show's creators—book writer and lyricist Joe DiPietro (
I Love You, You're Perfect, Now Change
), composer and lyricist David Bryan (keyboardist and co-founder of Bon Jovi), and director John Rando (
Urinetown
:
The Musical
)—have balanced the film's grimy aesthetic with the theatricality and clean production values of an Off-Broadway musical. There's less college humor but more wit, less repulsion but more charm.
And a lot more energy. Bryan shows a sophisticated ear for the theatre without losing his rock edge. One minute there's a loud rock ballad, the next there's a virtuoso set piece for Nancy Opel—in a star turn playing three roles—in which two of her characters have an onstage fight. Then the versatile Nick Cordero as Toxie roars, or tears off someone's arm, or smashes a decapitated head into a wall. Or Sara Chase, playing Toxie's conveniently blind and surprisingly randy love interest, Sarah, earns her stripes as a big-voiced comic rock-star ingénue. Or Matthew Saldivar and Demond Green—the musical's "ensemble"—tramp around the stage as any number of the fictional town's inhabitants. As played by Green, Sarah's bubble-gum-chewing girlfriend could walk off the stage and start her own talk show.
The Toxic Avenger
shares the premise of its titular hero: Nothing and no one is safe, but good—or in this case laughter—always prevails.
Presented by Jean Cheever and Tom Polumat New World Stages, 340 W. 50th St
.,
NYC
.
Opened April 6 for an open run. Mon
.,
Wed
.–
Fri
.,
8 p.m
.;
Sat
.,
2 and 8 p.m
.;
Sun
.,
3 and 7 p.m
.
(
212
)
239-6200
, (
800
)
432-7250, or www.telecharge.com
.
Casting by McCorkle Casting
.