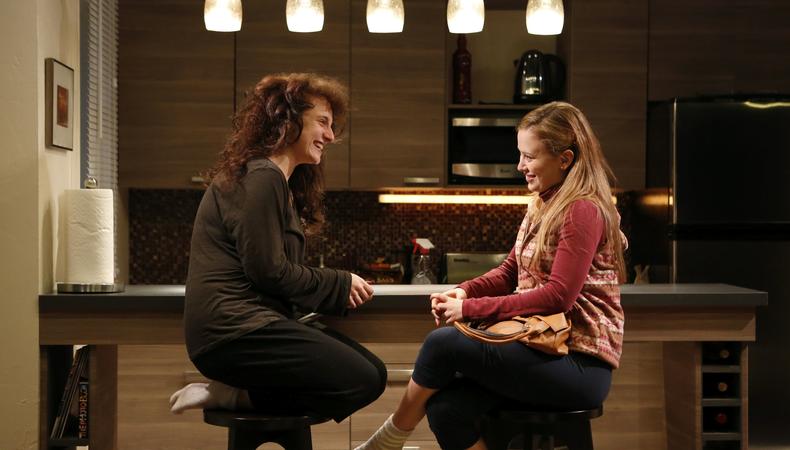 Yes, that is Tracee Chimo's real hair. The unmanageable mane of brown frizz—a few extensions are added to create the truly chaotic coiffure situation—is essential to Daphna Feygenbaum, the self-righteous, unapologetic college student who prides herself on her Jewish heritage to the point of disaster.
"I turned down a lot of stuff to do this play; I mean stuff that would have paid me a lot of money," Chimo says of Joshua Harmon's "Bad Jews," playing at the Roundabout Underground."I wanted to play this part more than anything. I hadn't connected with something like this in so long. I love it."
While the hair is hers, Chimo herself could not be more different from the headstrong character. While Daphna verbally demolishes everyone in her path, Chimo admits that she doesn't always have the same confidence.
"I'm constantly apologizing for my behavior in my everyday life," Chimo says. "I'm always embarrassed by things I say and do and I'm very attracted to characters who don't do that at all, who actually operate in the exact opposite way even to an extreme."
Chimo chatted with Backstage about working in downtown theater, the pressure to move to Los Angeles, and believing in yourself no matter what.
How did you get connected to the show?
Tracee Chimo: They asked me if I would do a reading of the play. I was not available, but I read it and I loved it. Then when they were holding auditions, they came to me again, and I was like, 'Oh my god, right, that play, that amazing play!" I happened to be in New York doing "Harvey" for the summer. I just hadn't felt that alive reading material in I can't tell you how long. Living in L.A. on and off for over a year, traveling back and forth and doing film, that was great, but it wasn't creatively fulfilling to me in the least bit. I had a great time on "Harvey," but I'm just going to go ahead and say this, it was like eating a salad every night as opposed to biting into a big juicy steak. I felt like I really needed something that was going to challenge me and push me, and I needed something that was going to feed me. I hadn't been fed like that in a really long time.
You've worked a lot with new writers: Annie Baker on "Circle Mirror Transformation," Leslye Headland on "Bachelorette," and now Joshua Harmon with "Bad Jews." As an actor, what do you enjoy about working on new plays?
Chimo: It's the best! It's a great way to get to know these folks and to have them be so accessible and be in the room with you every day is such a blessing. To just go up to them and go, "I don't know what this is about. I don't know what this means. I don't know why I'm doing this." And to have them just be so open. When they're young and fresh and new like that, they're open to really working with you.
You've played a lot of characters who are a lot younger than you. Is that challenging as an actor?
Chimo: I try not to think about it. I didn't even know Daphna was the age that she was until we got into rehearsals. It's not really specified in the script. And then one day someone was like, "She's 23." And then I just forgot about it. The audience is going to see what they see and believe what they believe and I kind of can't really concern myself with that. It was challenging with Lauren [in "Circle Mirror Transformation"] because she was so much younger than I was at the time. That's the only role that was challenging as far as age is concerned. I would go too far with trying to be young. And that was actually the show that I learned not to try to do that.
You mentioned living out in L.A. for a while. Do you feel pressure to work out there?
Chimo: When I started getting a lot of heat going here in New York, I started feeling pressure after I did my first movie ("The Five Year Engagement"), which happened to be a big-budget Universal Pictures film. And when I got on set, I was the only New Yorker. Everybody was from L.A. They were all like, "You have to get your ass to Los Angeles." It was actually John Krasinski—he's also from Boston, which is where I'm from. I know him, and I know his wife well. We were at dinner, and it was actually John who was the first person to really push me to go to L.A., and he was like "You have to give up theater for a little while." I took his advice because I thought that's what I needed to do and for me. It was not a mistake going there, but New York seems to respond to me a little bit better than Hollywood does. I get the whole, "She's not the pretty girl from Hollywood." It was so rough there. I'm a bit of a tomboy. I never wear makeup. I don't do my hair. When you're in Hollywood, you kind of have to do those things or you get your ass busted, and I did get my ass busted on a daily basis.
What advice do you have for actors who want to work in New York theater?
Chimo: I came here and I didn't know anybody. I had no contacts. I did not go to Juilliard. I did not go to NYU. I knew no one. My advice to them would be to not let anybody tell you that you can't do this. It doesn't matter where you went to school. Don't let anybody make you feel like you have to go someplace fancy. You just have to believe in yourself. That's what I do, and it seems to be working out.