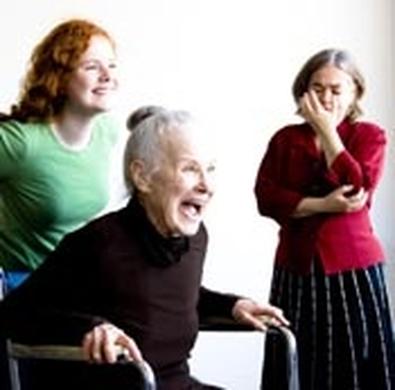 Lenora Champagne crams Traces/fades with enough material to fill two or three plays. It's little wonder, then, that given the piece's running time — just 60 minutes — much of the work feels only partially realized.
Traces/fades centers on Ann (Joanne Jacobson), an elderly woman suffering from Alzheimer's. Largely ignored by her workaholic daughter Claire (played with stilted intensity by Champagne), Ann is visited in her nursing home by Rose (a sweet but workmanlike performance from Amelie Champagne Lyons), who wants dearly to hold on to some piece of her increasingly distant grandmother. Rose's curiosity about the skills Ann once had, as well as the history that the older woman witnessed, makes Traces/fades a sporadically interesting investigation of how we sometimes attempt to hold on to our past even as our elders are losing their grip on it. In pointed contrast to Rose, Claire has no desire to remember the past, preferring to obsess about present-day issues.
Alongside these three women are three denizens of the nursing home and the nurse (an invigorating turn from Quanda Johnson) who cares for them. With these characters, Champagne reveals the sadly lonely final years that await some members of the "greatest generation." Not content to simply explore how these older people's lives relate to the principal story, Champagne also includes monologues in which the nurse expresses her frustrations with her job and life: a commentary on the conditions endured by health care workers today.
When Champagne's playwriting style — staccato words and phrases — is combined with sing-song Brechtian tunes, a portentous soundtrack (from Daniel Levy and Lisa Dove), and an abstract black-and-white videoscape (by Shaun Irons and Lauren Petty), the production (co-directed by Champagne and Robert Lyons) seems only more cluttered.
Traces/fades has traces of promise but has yet to become a moving, cohesively constructed multimedia drama.
Presented by Soho Think Thank as part of Ice Factory 2008 at the Ohio Theatre, 66 Wooster St., NYC. July 16-19. Wed.-Sat., 7 p.m. (212) 868-4444 or www.smarttix.com.