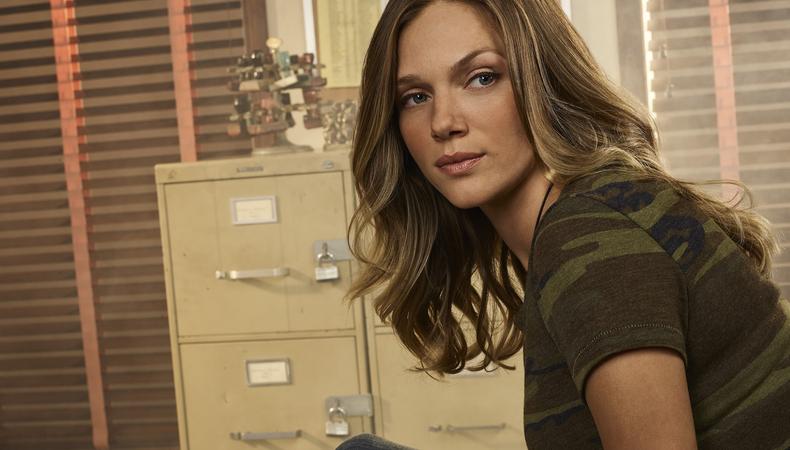 After joining the impressive ensemble behind Dick Wolf's "Chicago P.D." at the end of Season 4, Tracy Spiridakos' Hailey Upton has risen to become a fan-favorite series regular. "It's been a really great, positive experience," Spiridakos says of her run in the acclaimed "Chicago" universe. Sitting with Backstage prior to the Season 6 finale April 22, the actor reflects on her early years in Canada working three jobs while getting out and auditioning, and she reveals how she memorizes lines—including her series' tongue-twisting radio calls—on a dime.
The Canadian actor has lived and traveled all over, but Chicago has a special place in her heart.
"I love Chicago. I've visited Chicago before, but I've never lived there. I love it. I think it's one of my favorite cities that I've lived in, period. Just the people are incredible, the food is incredible, and it's just a really amazing city."
Hailey's characterization was a combination of what's on the page and personal backstory.
"They kind of let us create that part of everything ourselves. So for [Hailey], I'm a big tomboy myself, so I found the way that she walks, I just imagine that she carries herself a little tougher, a little broader than I do. I was allowed to explore in that. It sounds a little weird, but when I first stepped into it, I don't know that I had figured everything out yet. And then the more that I got to know her, the more backstory comes into it, because there's a lot of things that I don't know about until later. We don't get a full fleshed-out version of what's happening. You don't get a full backstory; I also made up a lot of stuff that I didn't know just to create my own backstory to give myself somewhere to go with that. And then as I found stuff out, I kind of colored that in later on."
She began pursuing acting seriously after following a friend to Vancouver.
"Initially, I wasn't going to go after [a career in acting]; I was living in Winnipeg and working at a bank. And a friend of mine was moving to Vancouver. She was going to do something totally different, and she was like, 'I feel like you should give it a go and you should move with me and you should try it.' And that was kind of the first moment where I was like, 'I guess maybe I could see if I could give it a go!' I was doing three jobs in Vancouver, booked the odd job here and there and started to build it up."
Memorizing lines is a muscle that needs building.
"For me, I need to say it and I need to hear myself saying it, so I can't just read it off of the page. I say it out loud, and I have to say it the night before. Memorizing dialogue back and forth feels a little bit easier for me because I've been doing it every day for a couple years, but for auditions, sometimes if it's really tough or stuff I don't normally say, I write it out. The tough ones for "P.D." are when we have to do the radio calls because those ones are usually pretty quick [and] you get amped up from being in the scene. I wanna have it in my head at least a couple days if I can."
Actors should always have something to look forward to.
"I just really believe that you just can't let [rejection] get to you. I mean, sometimes it does, and I'll have moments where I'll be deflated, and I let myself feel that and I'm OK if I'm bummed out by it, and then you just try to move onto the next. I think of auditions as an opportunity to try out that character and try to distance myself from if I'm gonna book it or not. Think of the audition as an opportunity to play as opposed to an opportunity to book a job. And if the job happens, that much better. I also would always have a backup travel plan, so I'm like, 'OK, if this ends up working out, great, then I can go do that. And if it doesn't, then maybe I can go visit my family in Canada.' That way, I always have something to look forward to."
Want more advice from the best in the biz? Check out all of our Backstage Live interviews here!