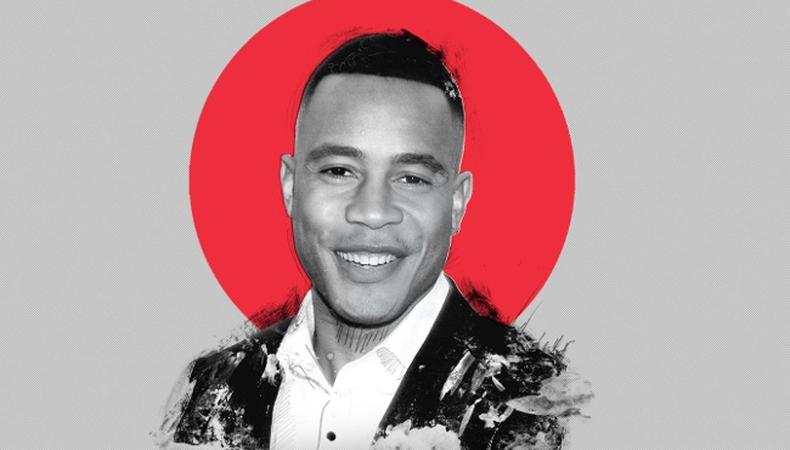 As the eldest Lyon son, Andre, on "Empire," Trai Byers plays just one of many people scheming for the top spot at his father's multimillion-dollar record label. But the Yale School of Drama grad's portrayal is about more than just a hunger for power; he also tackles issues surrounding bipolar disorder, estrangement, and grief. Here, he chats about his audition prep, finding his way into characters, and his personal favorite biopic performance.
What has playing Andre Lyon on 'Empire' added to your acting toolbox?
Subtlety. Great subtlety. I think in all three seasons, but especially the first two, Andre is the numbers guy. He's not a singer, he's not a rapper, he's not really in the business, outside of making everything go. He's the behind-the-scenes guy. It calls for a different approach…. With [my] theater background, I was used to playing a character out loud, whoever I was playing. And Andre, because he's not the type of character who wears his feelings on his sleeve—he'll try to curry his father's favor a lot, but that's the most emotional he gets outside of the tragedy that happens to him, his wife, and his kids—it's been exciting to play him in a more subtle way, more subtle than I've played any [other character]. It helped me get in tune with his identity even more.
READ: How to Get Cast on 'Empire'
How do you typically prepare for an audition?
I work a lot with music. I'll try and find a piece that I think elaborates on what it is that I'm trying to express. I don't try to think about what a casting director or director, whomever I'm meeting, what they want versus what it is that I've created. They'll tell me what they want and we're able to collaborate.
What advice would you give your younger self?
It's OK to be still at times when you see things moving around you at a faster pace than you feel you're allowed to go. It's all a part of the design, it's all part of the plan with regard to your journey and your being prepared, whether you know it or not, to be your greatest self when it's time to step up to bat.
What was your first headshot like?
[It was in] black and white. I didn't know the difference between a theater picture and I guess a film and television picture. Ever since I wanted to be an actor, I wanted to be in movies, so I didn't know the difference. I just took a shot with anybody who would shoot me. I had on a jersey, I was about 12 or 13 years old. Fresh face, buck teeth. It was pretty embarrassing, but I'm proud of it. I was a kid, so there you go.
How did you get your Equity and/or SAG-AFTRA card?
I got my Equity just by going to school. I went to Yale School of Drama for grad school and at the end of a student's time there, we've understudied a number of repertory roles—sometimes we get to play those repertory roles—and that all counts toward our Equity. So by the time we graduate, we're able to just buy in and go work. I went straight to film and TV [after I graduated]. "I wanna be on the big screen! I want my momma to see me." [Laughs]
READ: The Inside Scoop on Yale's Acting MFA
[My SAG-AFTRA card], I got out of school. My first gig, [which] I booked before I graduated, was on "All My Children," and then I did a few different indies, another television show, "90210." I won't say it was easy more than I'll say it was part of my journey. I was fortunate enough to get the roles that got me into the union. There are so many people who say, "You shouldn't join the union because they take away from the nonunion pieces that can give you experience to get you ready to the union roles." I wanted to jump in, I wanted to play with whomever would let me play.
What is your worst audition story?
"Empire." I was in the testing stages and generally, people go before the network to test, but we made a tape for the network. But right before I went to make the tape, I had a conversation with Lee Daniels. I was ready to go in, I had my take, and Lee just gave me so many notes on top of what I'd prepared that I felt like it wasn't my piece anymore. It was like, OK, OK, I want to do what he's telling me to do because I trust him. I think he's a genius, so alright. Fine. I'll take that and run with it. I went in and it was terrible. I bombed the audition. But lucky for me—or I should say the blessing in that situation—when they got to my segment, the volume cut out, so I had to do it again. This time I didn't have Lee. Nothing against Lee! I love Lee, he's great. It's just for that audition, I needed to go in my way. I prepped, I prayed, I felt like I had the angels with me. I went in, did my piece, and I got the job, that day or the next day. It becomes really technical when you try and put a different take, a different spin on your work. I really learned a big lesson there that, yeah, the collaboration is real, but it has to live in your body. It can't just be the words or something somebody else wants to see.
What special skills do you have listed on your résumé?
I tap dance!
What movie should every actor see?
I continue to watch "To Kill a Mockingbird." I love Gregory Peck. I watch "Malcolm X" on repeat because I think that the evolution that Denzel [Washington] went through, from Malcolm Little to Malcolm X to El-Hajj Malik El-Shabazz, is amazing. I think it's one of the best performances in a biopic because it gets the entirety of the man through all [his] different movements. It's important to watch that evolution process. I love "Rocky" because I enjoy the fact that Sylvester Stallone could create a character for himself, create a career for himself, and be a great writer, a great director, and a really great actor. Different movies for different reasons. You can take those three and really learn something and inspire yourself to take this journey.
Inspired? Check out our TV audition listings!