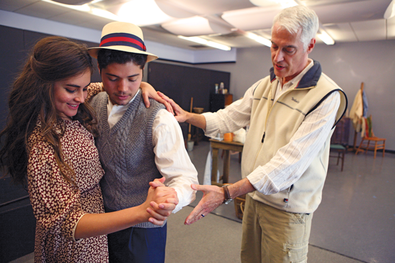 American Academy of Dramatic Arts
120 Madison Ave.
800-463-8990
www.aada.org
AADA offers training options each summer through its special two-week intensives and five-week conservatory programs, many of which focus on musical theater. And if you're thinking of applying to AADA's two-year full-time conservatory program, summer students are eligible for special scholarships for fall enrollment.
Admissions: Applications are due May 28 for the five-week program, or 30 days prior to the start of each two-week intensive. Auditions are held weekly and will be scheduled after the application is completed.
Cost: $1,500 (two-week program), $3,000-plus (five-week program)
American Theatre Wing's SpringboardNYC
570 Seventh Ave.
212-765-0606
americantheatrewing.org/springboardnyc
Each summer the American Theatre Wing's two-week college-to-career transition program helps graduating students turn their craft into a career. Training includes workshops, seminars, and master classes with professional actors, casting directors, and agents, as well as field trips to shows and events (such as rehearsals for the Tony Awards). Past mentors have included Broadway stars Audra McDonald and Katie Finneran and casting directors Daniel Swee and David Caparelliotis.
Admissions: The online application is due April 1. Video auditions and teacher recommendations must be submitted by April 9.
Cost: $1,800; need-based scholarships available
CAP21
18 W. 18th St.
212-807-0202
www.cap21.org
In addition to its two-year professional certificate program, CAP21 offers three separate summer training programs in musical theater. A six-week professional training program is for full- or part-time students who wish to further perfect their craft during and after college, and the four-week pre-college and five-week musical theater training and college audition prep programs are available for high school students preparing to take the next steps toward their careers. Also, CAP21's Musical Theatre Industry Practicum and Showcase provides three months of training with Broadway pros, culminating in an industry showcase performance.
Admissions: Auditions will be held through mid-April for the pre-college and college audition prep programs, while auditions for the practicum and showcase program are held until all slots are filled. Admission to the professional training program is based on a phone interview rather than an audition. Applications for all programs are considered on a rolling basis.
Cost: $2,800–$7,000
New York Film Academy Musical Theatre Workshop
100 E. 17th St.
212-674-4300
www.nyfa.edu
NYFA's four-week musical theater workshop, offered three times a year, introduces students of varying skill levels to a career in musical theater. Classes include acting technique, ballet and theater dance, music theory and sight-singing, song interpretation and text analysis, private voice instruction, and more. Prior onstage experience is not required. Participants in this program may be considered for the school's one- or two-year musical theater conservatory programs as well. NYFA also offers a four-week musical theater summer camp for teens.
Admissions: Like NYFA's conservatory programs, acceptance into the workshop is by audition only. Applicants may submit a video audition if an in-person audition is not possible.
Cost: $3,850
Stella Adler Studio of Acting Musical Theatre Intensive
31 W. 27th St.
212-689-0087 or 800-270-6775
www.stellaadler.com
For the first time, the renowned Stella Adler Studio of Acting is introducing a five-week musical theater summer program this year for professional actors to advance their song-and-dance skills. Classes combine musical theater history and analysis with performance training in voice and speech, musical interpretation, movement, Shakespeare, and audition technique, along with master classes with composer Seth Rudetsky, Tony-winning director Harold Prince, and more.
Admissions: The application deadline for this year's program is March 15. Admission is by interview and audition only. Auditions will be held Feb. 9 (for early-bird applicants), March 9, and April 13. Phone interviews and video auditions are accepted for out-of-town applicants.
Cost: $3,500
Inspired by this post? Check out our theater audition listings! And get ready for your next audition with the tips below!