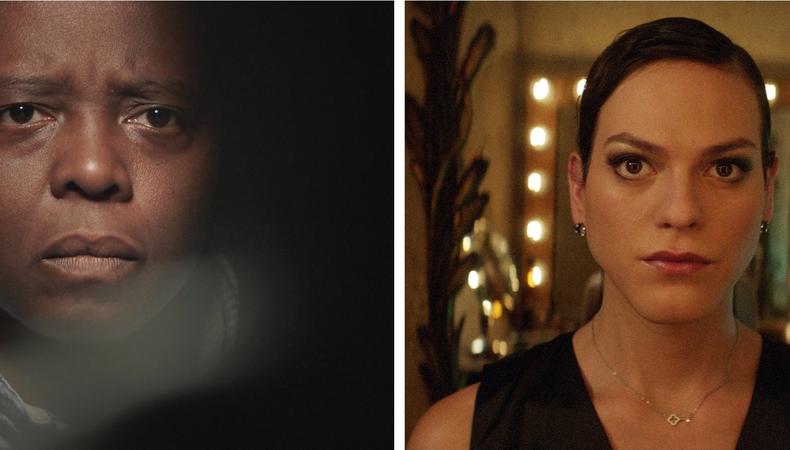 From the set of my first starring role in a major motion picture, I called my mom. I marveled at how I'm living my dream, expressing gratitude for the opportunity. When I finished, she replied: "So are you going to take that desk job when you get back? You've got to live in reality, darling."
Mom wanted me to take a day job because I'm married now, with Responsibilities. I started my acting career just like Leonardo DiCaprio, guest starring in 13 episodes on a soap opera ("The Bold and the Beautiful"), and have since received an acting award nomination in the same category as Emma Thompson. But there is simply no reality in which her transgender son gives the Oscar speech she's heard echoing from my bathroom since I was a child. So I'd better take the day job.
Imagine how it felt to call and tell her that in the 2018 Oscars, two films with transgender people in starring roles have a real chance at winning film's greatest honor. Daniela Vega stars in Sony Pictures Classics' "A Fantastic Woman," nominated for Best Foreign Film; Yance Ford is a trans man director who embodies a major onscreen role in Netflix's "Strong Island," up for Best Documentary. They are both people of color, and both would be recognized at the 90th Academy Awards as trans people—as opposed to trans people who blend in, whose difference goes unnoticed.
READ: Daniela Vega's Winding Path to Acting
To my mom, this is not a critical moment in film history. She's seen plenty of transgender themes in films because of me. She and her close friends wept at Hillary Swank in "Boys Don't Cry," rhapsodized about Jared Leto in "Dallas Buyers Club," loved Felicity Huffman in "TransAmerica," adored Eddie Redmayne in "The Danish Girl." So long as trans stories are being told and celebrated, what difference does it make whether it's an actual trans person in the work?
You don't know the difference until you see it. Both of this year's films representing transgender people offer objectively outstanding artistic experiences; "A Fantastic Woman" and "Strong Island" are vehicles for seeing a trans person in a fundamentally different way, more so than in any Oscar competition yet.
The nominated films deal less with transgender themes than with life happening to trans people. Everyone has or will suffer through an unexpected death of a loved one; in "Strong Island" and "A Fantastic Woman," we search the maze of grief, piecing together the last moments and meaning of lives lost. Families complicate any clarity, but the love of these transgender protagonists for their lost ones burns like a fuse that we follow, tensed in our seats for the emotional explosion.
All Oscar-worthy films are compelling, but none so far have revealed this: there is a dynamism to a trans actor that no non-trans actor can approach, and it fundamentally changes the film.
First, it's in whether the viewer believes in the reality of the man or woman they watch for those few hours. That's a tension (or, in my case, a relief) that adds to the experience, without taking away from the already fascinating story. With trans people, you start complex, and continue. Trans actors enrich every screen they're on.
Second, any actor will tell you that acting is, or at least utilizes, spirituality—it is not simply technical. When I watched Leto as Rayon in "Dallas Buyers Club," I looked in her eyes and I saw…Jared Leto, himself, doing vocal techniques and studied mannerisms while makeup and wardrobe made him appear fabulously flawless. But when I look into Vega's and Ford's eyes, there is no process or mediation. There's only reality and truth. It is pure, it is breathtaking, and at this level in Hollywood, it is new.
So far, I have only played transgender roles in television and film. While shooting those parts, I felt exhilarated, knowing I was helping to shape reality in a way that would have a positive impact and an expansive effect on the Industry, on trans people, and on those who love us. Ford, Vega, and Oscar voters too, are living that reality right now.
READ: Everything You'd Ever Need to Know About the Oscars
I can't wait to live in a post-2018 Oscars reality where these films win. But if neither of these films goes home with a trophy, their inclusion in this awards season has nonetheless shifted reality as we know it. Now my mom has to believe it could happen to me, if I achieve the same level of artistic merit. I suppose that means I have to believe it, too. This has already changed my view of what is possible for myself.
I did take that day job, by the way: part time with a flexible schedule, so I can stay free to act.
Scott Turner Schofield writes frequently about gender-related topics for various publications. His book, "Two Truths and a Lie," was a Finalist for two Lambda Literary Awards. Named by OUT as a "Trans Influencer of Hollywood," Scott acts in regular guest roles on CBS's "The Bold and The Beautiful" and Amazon's Pride: "The Series." He also stars in the forthcoming feature "The Conductor," directed by Maria Peters. The script of his award-winning play, "Becoming a Man in 127 EASY Steps," is set to become a feature film next year.