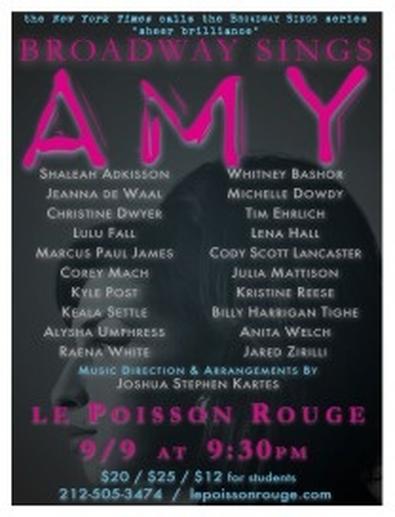 Broadway stars have been singing more than just show tunes lately, thanks to popular concert series "Broadway Sings." The new series celebrates the music of iconic artists in the music world, ranging from the music of Adele, which kicked off the series, to Beyoncé, Stevie Wonder and now, on Sept. 9 at (Le) Poisson Rouge, Amy Winehouse.
"Broadway Sings" was conceived and created by actor Corey Mach, during his time as an off-stage standby at "Godspell." Mach decided to pursue his idea of a concert series dedicated to artists outside the Broadway community because Mach was "bored with what was going on" in the concert scene, specifically what he says was the disorganization and blasé structure of the concerts.
"I thought there was an opportunity to create something extraordinary," Mach says. "There are theater concerts, there's solo concerts, there's benefits, there's all kinds of things, and it's actually a huge part of the New York City backstage life."
What makes "Broadway Sings" so special is that "it's not a night of cover songs. It's a complete transformation of the material to highlight the performer who sang the song," Mach says. Mach sits down with the performer and the music director, Joshua Steven Kartes, and together they create an arrangement of the song that best highlights the performer. "I think it's cool that the performers have a huge say in what happens for their song; for most concerts it's not like that," Mach says.
Mach is no stranger to the New York acting scene, having performed on Broadway as an understudy in both "Godspell" and the recent "Hands on a Hardbody," but he is also receiving recognition for his work directing and producing "Broadway Sings." More and more, strangers have come up to him to request different artists for the next concert installment.
In choosing artists, Mach tries to choose artists who write their own songs, which makes it easier for performers to inhabit. While Mach tries to please his audience by choosing popular and iconic artists to showcase, he uses a simple litmus test. "A lot of people have suggestions for future concerts, and I always say to them, 'Can you name 15 songs right now that that person sings?' I'd say 50 percent of the time their answer is no."
"Broadway Sings" has attracted great talents, including Rebecca Naomi Jones, Derek Klena, and Tony Award nominee and Mach's "Hands on a Hardbody" castmate Keala Settle.
"At the time our show was closing, they were doing a Stevie Wonder concert and I really, really wanted to be a part of that," Settle says. "Stevie Wonder was a big influence in my life. I got the opportunity to do it."
Performing in "Broadway Sings" was the first time Settle has performed as herself in New York City. "I was petrified to do it just because you let down a lot of walls to just be yourself and I had to learn a lot about that," Settle says. "If anything, that's what it helped me do, just kind of be a part of the music and not worry about having to be somebody else other than who I am and what I have to give towards the number. "
Settle, who will lend her voice to "Broadway Sings Amy Winehouse," has a deep relationship to the late singer's music. Winehouse's "Back to Black" album dropped while Settle was getting off tour and in a rocky relationship. "The number one song I wanted to hear every day, that was something that struck home with me as far as where my life was at the time, was 'Love is a Losing Game,'" Settle says. "There was just something…there still is something about the music that she has left us with that some people can't even put into any words other than the ones that she's created. And that voice will never be replicated, so it means a lot for me."
Mach chose Winehouse because of the raw nature of her songwriting. "I think her music serves actors really well because I think she was so straight up with how she felt and it was just all thrown out there," Mach says.
The success of "Broadway Sings" has taught Mach to take more chances as an actor, producer, and director. "I think a lot of people in New York City, as actors, get scared about conquering something that they think they can't do," Mach says. His advice? "Just go full out and not worry about failing because if you do that, it's not gonna happen."