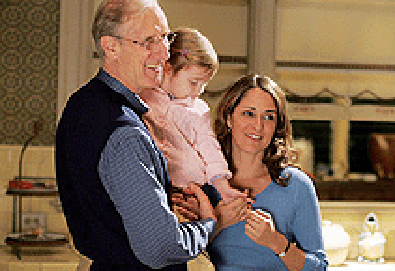 This year Tina Holmes achieved what most actors can only dream: She has taken her Six Feet Under character Maggie Sibley from one-day guest star to series regular on the fifth and final season of HBO's Emmy- and Golden Globe-winning hit series. And, evidently, the Fisher family will never be the same.
Holmes' character, the daughter of James Cromwell's George, is embroiled in an intense and ultrasecretive plot twist, which will remain under lock and key until Episode Nine (July 31). Website message boards are already abuzz with possible death scenarios ranging from Ruth's to Claire's or Billy's, to the entire dysfunctional family perishing in its own house. In one particularly ambitious scenario, the family realizes it's dead while patriarch Nathaniel is alive, Sixth Sense–style.
"That's funny. I haven't heard that one," Holmes says with a laugh. "In Episode Nine a lot of big stuff happens in the show for everybody. It was interesting how they took their time with a slow buildup, and then suddenly it's, like, 'Boom!' and the season just explodes."
Holmes can relate to going from slow burn to explosive, in part, because of this season. By the series' close, she will likely be presented with new, exciting opportunities. Already the actor has several supporting roles in unflinching, edgy indies such as Keane and Fixed. Coming up is Pretty Persuasion, in which she plays a silly TV reporter's (Jane Krakowski) lesbian lover and cameraperson. She has also appeared in Steven Spielberg's 2002 miniseries Taken and Todd Solondz's Storytelling. With roles like these Holmes is proving her mettle as a below-the-radar, vocally gifted actor who, when she smiles with her mouth closed, resembles a young Meryl Streep.
When she started out, acting couldn't have been farther from Holmes' mind. She bounced around, studying literature at Yale University, the Federal University of Pernambuco in Brazil, and the Sorbonne in Paris, finally earning her B.A. in comparative literature at Brown University. While there, after seeing her perform in a video with classmates for their final project, professor and adviser Arnold Weinstein asked Holmes if she'd ever thought about acting. That, says Holmes, planted the first seed in her mind.
After graduation she embarked on a series of adventures, starting with an internship at the Centre Pompidou in Paris. She served as research assistant on a documentary about novelist Jean Genet before moving to New York, where she interned at production company Good Machine, worked with photographer Bruce Weber, and traveled to Hong Kong, Beijing, Malaysia, and Singapore, researching General Stilwell for Shirley Sun's documentary Vinegar Joe. She even dabbled in producing music videos for artists such as Aphex Twin, Blonde Redhead, and Pavement before producing and directing her own documentary short, You're Nobody Until Somebody Loves You. Then Holmes finally realized her true calling.
"For a long time, I think I was afraid," she admits. "My family doesn't really come from the arts at all. I think I was terrified to kind of put it all on the line and go after the thing I really did want. I had all these different jobs that were 'good jobs' but that weren't fulfilling to me ultimately because I was helping somebody else make their thing or realize their vision, and I started to get depressed. I thought, 'I have to do something different.'"
The only professional actor in Holmes' address book was her acquaintance Jane Adams (Happiness, The Anniversary Party). Adams recommended Sheila Gray, a descendent of Stanislavsky who teaches a sensory-based class in New York. The class thrilled and scared Holmes to the point that she didn't return for a few months. When she went back, she was sold on the craft. Since then she has studied acting with New York coaches Wynn Handman, Tony Greco, and Sandra Seacat. She currently studies with L.A.'s Kim Gillingham and vocal coach David Farkas, whom Six Feet's Rachel Griffiths recommended.
"I studied with a lot of people, and I still believe that you should take what you like and leave the rest. So, the way that I work is kind of an amalgam of things I've learned from different people who have sparked totally conflicting and contradictory methods," Holmes says, laughing. "I think you find what works for you, and you stitch that together however you need to."
In the late 1990s, Holmes started sending out her headshot every Thursday when Back Stage came out. On her fifth audition, she landed a role as the reluctant fag-hag of a teenage boy who comes out of the closet in the small independent film Edge of Seventeen. "It was everybody's first thing, from the director, the producer, to the entire cast, except for Lea DeLaria, who played Angie. That movie ended up going to Sundance and having a pretty good life on the festival circuit, and it's what got me an agent and sort of got the ball rolling," she recalls.
As for the Six Feet saga, Holmes originally auditioned for the daughter of Kathy Bates' character, a small role in one episode of the show. She was disappointed when she didn't get the role, but then she was called back to play Maggie, George's jet-setting, pharmacy-rep daughter. She never thought she'd get to reprise it until one rainy New York day last October.
"I had actually been going through a really bad period where I felt very frustrated and really stuck," Holmes explains. "I wasn't auditioning much, and I was just feeling really discouraged. So, I went, 'F*** it, L.A. is too hard.' I was ready to move back and throw in the towel, and I was walking down Second Avenue, and I got this phone call. It was my agent saying, 'Are you sitting down? HBO just called to make you a deal. [Six Feet creator-executive producer] Alan Ball loved your character, and he wants to write you in for the season.'"
Walking into an established and award-winning ensemble is always a daunting task, but Holmes says the cast made her feel less like the new kid in school. "I made friendships that I hope will last," she says. "There wasn't the kind of hierarchical bulls*** that you feel sometimes, like, 'There's the producer's chair, and you better not sit in it.' From the first episode, it was clear that you're welcome to sit at the monitor. I would sit and watch Frannie [Conroy] do one amazing take after another and get to really soak it in."
Aside from Conroy, and Cromwell, with whom she shares most of her scenes, Holmes says she enjoyed working with Griffiths. "You know that stupid old thing about when you play tennis with people that are really good, it lifts your game. The entire cast is filled with wonderful actors," she says.
Holmes' globetrotting and academic background has injected a real-world gravity to her acting, and it shows onscreen. But many of her past characters have been sad and small, and Holmes longs for the meatier, larger-than-life parts she can sink her teeth into. She hopes her publicist Cara Tripicchio and agent Colleen Schlegel of Bauman, Redanty, & Shaul can help make that a reality. A step in that direction is her upcoming role as a recovering crack addict in Half Nelson, the feature version of writer-director Ryan Fleck's 2004 Sundance Best Short winner Gowanus, Brooklyn, which will star Ryan Gosling.
"This [role on Six Feet] has obviously done a lot for my confidence, and I have the feeling that I can play with the big boys," Holmes says, smiling. "If I want to; I can hold my own with someone like Frances Conroy. That's a big step for me to have that kind of experience.... I just want to be able to keep growing and push out against the fears that I have. I'm not one of these people who are superextroverted. It's not easy for me to show who I am, and, for whatever reason, I have a huge desire and need to do that. Acting is all worth it because it makes me feel more alive than anything else."