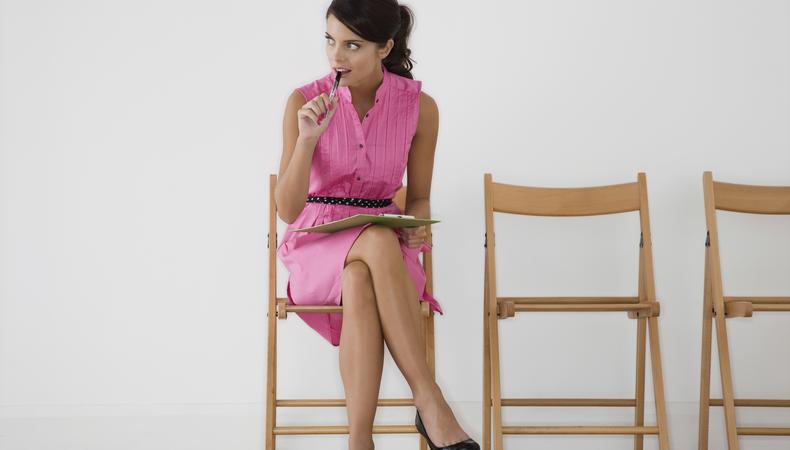 Actors may not often look at it this way, but the auditioning process is primarily a job interview. It's a professional meeting where you're being considered for a position. It's not meant to be a place to practice getting good. The casting office is where you show that you're already good. Don't train on hiring ground!
I've been interviewing casting directors for over 20 years and I usually ask them the same question: What percentage of actors in any given audition actually make a lasting impression on you? Their answer is a surprising, across the board, less than 20 percent! It sure doesn't sound good when you figure that more than 80 percent of actors going out on auditions shouldn't even be leaving their homes! A bit strong? Maybe. But still true.
Let's compare "show business" to more conventional business.
In conventional business dealings, when you have an idea for a new product that you're interested in selling, your business plan isn't:
Get excited
Go for it
That would be financial as well as career suicide! There are standard steps taken to help ensure your success. Here I've listed six core ones:
NEW PRODUCT LAUNCH

Product Analysis. Have a full understanding of the product you're bringing to market.
Market Research. Gather information about industry needs to better understand your market.
Research & Development (R&D) Continue to improve your product, keeping relevant with your existing market.
Advertising. Design attractive, quality product packaging to gain your market's attention.
Test Marketing. Continue to work out the bugs off-line in a safe space, before going to market.
Sales & Marketing. Get your product out there and claim your piece of the market share

SHOW BUSINESS TRANSLATION

Product Analysis. Know your instrument (you, the actor) and how to play you… extremely well.
Market Research. Be knowledgeable of what's out there. Know the shows and the casting directors for whom you'll be reading.
Research & Development (R&D). Continue to develop and evolve in a good acting class.
Advertising. Keep your brand up to date—look, image, social media, headshots, demo reels.
Test Marketing. Continue working out in a creatively saturated acting studio, perfecting your cold reading, scene study, character development, and script analysis skills.
Sales & Marketing. Showcases, meetings, and finally… auditioning!
Remember, you've only one shot at a first impression, and casting directors rarely forget a face. You need that first read to be a great one. That is, if you want them to continue to bring you back in.
I've found that one of the biggest reasons why more actors aren't all that effective in developing a successful career in show business is because they skip the steps proven necessary to ensure a successful overall outcome. In other words, they want it all now! Ready or not.
Wanting it now is in direct conflict to the Shoulds, Needs, Wants principle. When we make a practice of doing what we should do first, followed by what we need to do second, and allow our wants to come last, we're on track for long-term success!
The entertainment industry is not much different than that of more traditional businesses that have successfully been making the world go round for centuries. So ask yourself, Why wouldn't highly effective corporate business practices apply to me, the working actor, with my business?
They would and they do! You simply have to take the time to learn some effective business practices (beginning with the ones mentioned in this article) and apply them. My personal experiences working with thousands of actors over the years have shown me that most actors don't look at acting as a business. Actually, people often decide to become actors because they don't want to work. Which is quite ridiculous when the average day for a working actor is usually 14 hours!
Do your R&D before your sales and marketing. Do like the big guys do, and one day you might be big too!
Put these ideas into practice at the next audition you book after browsing our television audition listings! And for more great casting room advice, watch the video below!
Clay Banks is a former Fortune 500 Business & Life Empowerment Coach, a motivational speaker and consultant. He's presently a recurring Master Coach at SAG-AFTRA Headquarters as well as a guest Master Class Auditioning Coach with the American Academy of Dramatic Arts, Hollywood.
Banks owns Clay Banks Productions & Studio International (CBSI) where he conducts ongoing on-camera acting classes and actively produces all types of projects. Every Wednesday night at 7pm PST, 10pm EST, CBSI livestreams a 20-minute TED talk-like power teaching exclusively for actors. Clay just completed two books: "The Process: Technicalities of On-Camera Acting" and "The Actor's Freeway: 52 Free Weekly Exercises Actors Can Do To Develop & Keep Their Instruments Sharp When Not On-Set or in Acting Class.