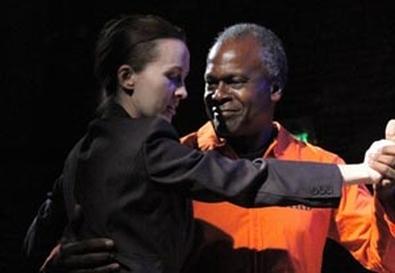 There's something disheartening about plays and movies that owe much of their identity to other plays and movies: They tend to be far removed from basic human reality. Playwright Rick Pagano attributes cosmic importance to Cary Grant and builds this play around his admiration for the urbane star. But it contains too many conflicting elements, and he never manages to make them mesh.
Attorney Roberta "Robbie" Farraday (Erin Carufel) is supposed to mount an effort to defend Thomas Kitay (Kim Estes), a black man who has been convicted and sentenced to die for the murder of his white wife (Christine Syron), whose wandering spirit hovers affectionately around him. Robbie almost immediately runs into trouble. Kitay insists, against all odds, that he is Cary Grant. He seems curiously uninterested in avoiding the death penalty and is an incorrigible manipulator bent on playing games with his defender. His main purpose in life, it appears, is—perhaps in emulation of the angel played by Grant in the movie "The Bishop's Wife"—playing Mr. Fixit and solving Robbie's problems with her boyfriend (Luke Sandifer) and her arrogant, demanding, and sternly disapproving father (Jan Munroe). Dad is a judge, who's improbably assigned to decide the merits of Robbie's appeal to introduce fresh evidence that might lead to a reopening of Kitay's case. He refuses to either recuse himself or grant Robbie's petition. Amid the proliferation of plot strands, Kitay practically disappears. No one seems to take his plight seriously—not even the playwright. And when his death sentence looms, nobody seems to care.
Pagano directs his play, but his direction does nothing to reconcile the meandering plot points or unify the script's disparate elements. Still, one can't blame the actors for the flaws in the script. Estes does a fair job of capturing Grant's cheery charm and familiar vocal mannerisms, Carufel's Robbie carries as much conviction as the script allows, Munroe radiates the requisite mean-spirited arrogance as the bigoted judge, Ray Pickering provides an interesting turn as an eccentric prison guard, and Sandifer makes the most of the largely undeveloped role of the boyfriend.
Presented by Elephant Stages and Rocket Propelled Ltd. at Elephant Stages' Lillian Theatre, 6322 Santa Monica Blvd., Hollywood. Aug. 19-Sept. 18. Fri.-Sat., 8 p.m.; Sun., 7 p.m. (323) 960-7745. www.plays411.com/carygrant.