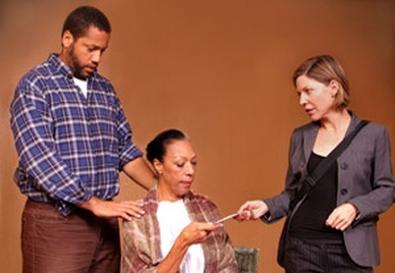 Familial bonds are seen as the roots of our spiritual essence as we strive to come to terms with self-identity and our emotional needs in Julie Hébert's hauntingly lovely new play, a seamless blend of lyrical reverie and kitchen-sink drama. Director Jessica Kubzansky eloquently illuminates the experiences of four vulnerable characters whose worlds are shaken up by an unexpected meeting. A remarkable cast and evocative designs beautifully support the play's incisive and deeply moving portrait of self-discovery and rebirth.
The story is set in Chicago's Southside in 2000, in a home that seems equal parts ethereal and down-to-earth (Brian Sidney Bembridge's masterful set and lighting designs and Bruno Louchouarn's wonderful original music). Didi (Jacqueline Wright), a white professor of gender studies, travels from her Louisiana home to the Chicago residence, seeking information about her deceased father after she discovers love letters he once wrote that indicate she has a half-brother. Holding the Chicago family together is African-American chef Leo (Chuma Gault), a divorcé caring for his elderly mother, Jessalyn (Sloan Robinson), who suffers from severe dementia; and his college-age daughter JJ (Tessa Thompson). Didi claims that her estranged father once had a romantic fling with Jessalyn, and that Leo is a product of that union. Among issues that are thoughtfully explored amid the tense encounters are the challenges of racially mixed families, the piecing together of unknown aspects of our loved ones' lives, and dealing with personal revelations.
The seriocomic riches of this imaginative piece come alive through the efforts of four sublime actors. The superb Robinson evokes humor and strong empathy as a dying woman desperately trying to piece together answers about her troubled past, often via poetic musings. Gault excels as a calming voice of reason in the turbulent exchanges. Wright offers a finely shaded characterization of a woman whose sexual identity remains ambiguous. She's particularly effective at depicting Didi's starchy demeanor and the emotions stirring within. Thompson tellingly conveys the frustrations of the younger generation, trying to fathom family baggage. Hébert's play is a gem, graced with a stunning premiere staging by EST-LA.
Presented by Ensemble Studio Theatre–LA at [Inside] the Ford, 2580 Cahuenga Blvd. East, Hollywood. Nov. 7–Dec. 13. Thu.-Sat., 8 p.m.; Sun., 3 and 7 p.m. (Also Wed., 8 p.m., Dec. 9. Dark Thu., 8 p.m., Nov. 26.) (323) 461-3673. www.fordtheatres.org.