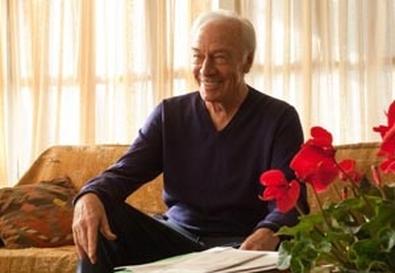 NEW YORK – "Beginners" and "The Tree of Life" tied for best feature at the 21st annual
Gotham Independent Awards
on Monday night in New York.
"Beginners" stars Christopher Plummer and Ewan McGregor in a comedy/drama about a young man rocked by news that his elderly father has terminal cancer and a young male lover.
Mike Mills directed, with Leslie Urdang, Dean Vanech, Miranda de Pencier, Jay Van Hoy and Lars Knudsen serving as producers of the Focus Features movie.
"Beginners," whose cast also includes Melanie Laurent, Goran Visnjic, Kai Lennox, Mary Page Keller and Keegan Boos, also won the best ensemble performance award.
"Tree of Life" is a Terrence Malick-directed family drama set in the 1950s and starring Brad Pitt, Sean Penn and Jessica Chastain. The film from Fox Searchlight Pictures had Sarah Green, Bill Pohlad, Pitt, Dede Gardner and Grant Hill as producers.
Of the joint win, Mills told "The Hollywood Reporter": "I'm really glad it's a tie. That is so nice. I wish it could be a five-way tie. You know, the competition thing is weird."
Pohlad and Green echoed that sentiment after the ceremony.
"It's stunning," Pohlad told "THR" of the joint win. "I know it sounds kind of disingenuous, but you don't come into something like this thinking we're going to get it or we're not going to get it. And the way they announced it was really special."
The two films were vying with "The Descendants," "Meek's Cutoff" and "Take Shelter" in the best feature category.
Meanwhile, Felicity Jones won breakthrough actor for her role in Paramount Vantage's "Like Crazy," a film about a British college student who falls for an American student (Anton Yelchin) only to be separated from him when she's banned from the U.S. after overstaying her visa.
She beat out the likes of Elizabeth Olsen ("Martha Marcy May Marlene"), Harmony Santana ("Gun Hill Road"), Shailene Woodley ("The Descendants") and Jacob Wysocki ("Terri") to take home the award.
Also competing in the ensemble category were the casts of "The Descendants," "Margin Call," Martha Marcy May Marlene" and "Take Shelter."
Also during the ceremony, "Pariah" helmer Dee Rees was named breakthrough director for the Focus Features drama, which centers on a gay African-American teenager living in Brooklyn who struggles with coming out.
Rees faced competition from "Another Earth's" Mike Cahill, "Martha Marcy May Marlene's" Sean Durkin, "Higher Ground's" Vera Farmiga and "Bellflower's" Evan Glodell in the category.
The best documentary award went to "Better This World," about a pair of childhood friends from Texas who set out to prove themselves in the post-9/11 world.
Katie Galloway and Kelly Duane de la Vega are the directors of the film, which was up against "Bill Cunningham New York," "Hell and Back Again," "The Interrupters" and "The Woodmans."
Meanwhile, "Girlfriend" won the first prize of the evening, the second annual Gotham Independent Film Audience Award.
The movie, about a young man with Down's syndrome who romantically pursues a small-town single mom, beat out "Buck," "Being Elmo: A Puppeteer's Journey," "The First Grader" and "Wild Horse, Wild Ride" to win the award, which is voted upon online by moviegoers.
"Girlfriend" is from director-producer Justin Lerner and producers Jerad Anderson, Kristina Lauren Anderson and Shaun O'Banion.
Following a special tribute to Fox Filmed Entertainment co-chairman and co-CEO Tom Rothman, the honor for best film not playing at a theater near you went to "Scenes of a Crime," a true-crime documentary about a nearly 10-hour interrogation that culminated in a disputed confession.
Blue Hadaegh and Grover Babcock accepted as the movie's directors and producers.
New this year, the Independent Filmmaker Project also presented the inaugural Euphoria Calvin Klein Spotlight on Women Filmmakers "Live the Dream" grant, a $25,000 cash award for an alumnus of IFP's Independent Filmmaker Labs. The grant aims to further the careers of emerging women directors by supporting the completion, distribution and audience engagement strategies of their first feature film.
The award went to Lucy Mulloy, director of "Una Noche."
Presented by the IFP, the Gothams shine a spotlight on indie filmmakers and their work. Awards are to be given out in six competitive categories at the ceremony, held at Cipriani Wall Street.
In addition to Rothman, career tributes also were presented to actors Charlize Theron and Gary Oldman and director David Cronenberg.
Oliver Platt and Edie Falco hosted the ceremony.
For more on this story, read Back Stage's Behind the Scenes blog.– The Hollywood Reporter