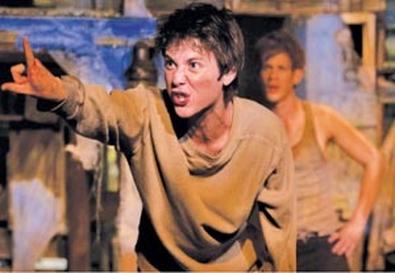 Henry Murray's debuting play offers intriguing new spins on the futuristic-thriller genre. Exploring the efforts that three teenage boys make to survive—emotionally as well as physically—in a world decimated by climate changes and other sinister forces, Murray ruminates on the ties that bind us more than we might realize. Harrowing moments alternate with surprisingly funny scenes in a piece that smartly sidesteps nihilism at its startling resolution. Director John Perrin Flynn and his designers conjure visceral wonderment, while four committed actors eloquently illuminate Murray's disturbing themes.
The action takes place primarily in a rustic cabin in the Pacific Northwest. A series of ecological events that occurred years earlier have greatly altered the earth's terrain, leaving only scattered pockets of civilization and severely limited food and water resources. Three young boys who have lost their parents have forged an uneasy familial bond, role-playing to cope. The embittered and combative August (West Liang) dons a wig and dress and takes on the matriarch persona, peacemaker Flynn (Brian Norris) is the father figure, and the effeminate Craig (Brian Pugach) is their precocious child, who plays out parental charades of his own with the rag doll he constantly talks to. Tensions often erupt, yet the boys quickly band together whenever a mysterious, unexplained force shakes up their domicile and threatens to invade it. When the boys come upon another person, Bug (Tania Verafield), and realize that she's female, their tenuous framework of self-identity, gender, and family is challenged.
Flynn elicits brave and intelligent portrayals from his ensemble. Liang and Norris offer powerful portraits of adolescents struggling to assert parental guidance while dealing with the immaturity of their years and the constant threat of danger. Pugach is a revelation as a hyperactive youngster, indulging in strident childish behavior that can't mask the fear and despair behind it. Verafield excels as the catalyst who stirs up the household's fragile status quo. Stephanie Kerley Schwartz's sprawling set, Leigh Allen's lighting, and Lauren Tyler's costumes compellingly support the play's electrifying ambiance.
Presented by Rogue Machine at Theatre/Theater, 5041 Pico Blvd., L.A. July 30–Sept. 6. Thu. and Sat., 8 p.m.; Sun., 3 p.m. (323) 960-7774. www.roguemachinetheatre.com.