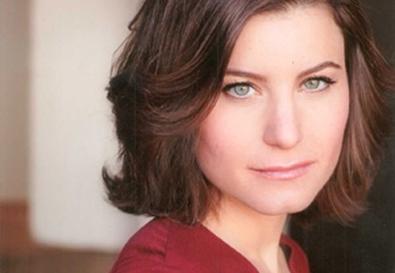 For her role in "Tribes," Susan Pourfar had to learn more than just her lines.

Pourfar plays Sylvia, a young woman losing her hearing, and for the part, she needed to speak with a British accent, plus learn American Sign Language and the piano. Setting the play in motion is Sylvia's meeting with Billy (Russell Harvard), who grew up in a hearing family and never learned to sign until Sylvia teaches him.

However, unlike Sylvia, Pourfar didn't know any sign language before landing this role, aside from one song she learned in the fifth grade. Candace Broecker-Penn was her ASL teacher, as well as the interpreter for Harvard, who is deaf. Pourfar learned by repetition—going over the lines with Broecker-Penn again and again. Now Pourfar says she knows enough ASL to look credible in the show, but is by no means fluent. When Harvard is signing with friends, for example, it's too fast for her to follow along. "It's like if you had a fourth, fifth, or sixth grade level of a foreign language, but you never went to spend any time in that country," she says.
Pourfar also had to learn to play "Claire de Lune" on the piano, which she does in a pivotal moment in the show. Daniel Kluger, responsible for the much-lauded sound design of the show, was her piano teacher. "I still make mistakes every once in a while," she says, "but the cast is always really sweet and says, 'It's fine. She can't hear anyway.'"

The accent, on the other hand, came easily to Pourfar. She says she "basically ripped off" playwright Nina Raine's accent. She also incorporated Broecker-Penn's physical body language into her performance. "I remember watching her translate Russell to the cast in rehearsal," Pourfar says. "And I remember how she would do that in terms of who she was looking at and how she was facing and pointing at various people and making sure we all knew where her focus was." She borrowed those mannerisms for a scene in which she translates Billy to his family.

All her preparation paid off. She received positive reviews, an Obie award, the Actors' Equity's Clarence Derwent Award, and the 2012 Theatre World Award's Dorothy Loudon Award for Excellence in Theatre. But initially, Pourfar was on the fence about whether to take the job. She had just moved to Los Angeles and wasn't sure if she should pack up and move back to New York so soon. But her love and trust of director David Cromer, who she has worked with before, was the ultimate deciding factor. "I'd rather live with the questions in the room with David," she says.

Cromer staged the show in the round in the intimate Barrow Street Theatre. "What he likes is that idea that not everybody is always going to have access to your face, so it encourages you to do your acting with all of your body," Pourfar says. A theme in this play is how frustrating it is for someone who lip-reads to not be able to see somebody's face, so the audience is occasionally in the same position as the characters.

Pourfar says there were moments when Harvard felt frustrated in the rehearsal room because there would be multiple conversations happening at once and only one being translated, which is exactly what his character goes through in the play. Similarly, Pourfar, who plays the only character in the play not in Billy's immediate family, would sometimes watch the rest of the cast run through lines and bond as an family. "I had that feeling of that looks fun, but I'm a little bit on the outside," she says. "I think instead of fighting that, it's quite useful to let the dynamic bleed a little bit into your life because you're getting the bonus of experiencing what the character is experiencing."

Even though she still has her hearing, Pourfar can also relate to the loss of something precious, as well as Sylvia's views on her small community. "We all know what it feels like to be a member of a tribe," she says. "There's the closeness and intimacy that it provides, but there's also the feeling of I'm trapped."

And finally, there's the sensation of falling in love. "I get that. Having that instant chemistry with someone and that feeling of 'Oh gosh I get you and you get me' and it's that rare moment of looking at something and going, 'Oh shit,'" she says. "I understand that."