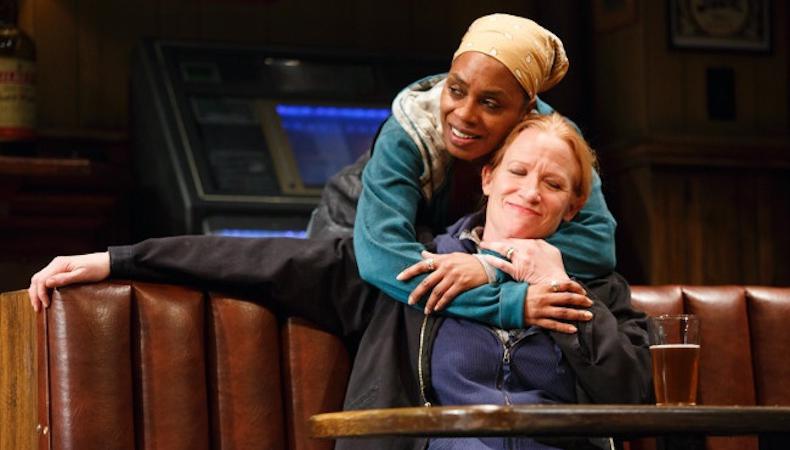 Stories of the working class are becoming increasingly essential, and Pulitzer Prize–winning playwright Lynn Nottage and director Kate Whoriskey are pushing hard to bring them to the stage. Following 2008's "Ruined," the duo's depiction of women living in the war-torn Democratic Republic of Congo, their latest effort, "Sweat," similarly aims to give voice to society's marginalized. Set in the factories of Pennsylvania at the turn of the millennium, they intimately portray workers suffering from a changing economy and a series of layoffs.
"Lynn has a habit of finding the people who are not represented and putting them onstage," Whoriskey says on a phone call between preview performances at Studio 54. " 'Ruined' was more obvious, [but] I think the plight of the working class in America has also in the past been overlooked."
Working closely ahead of the production's 2016 Off-Broadway run at the Public Theater, Whoriskey and Nottage pieced together a picture of working-class America through a series of interviews conducted in Reading, Pennsylvania. Now, the production resonates even more in Trump's America.
"Since the election, we are looking at the power of the arts differently, and this play is really speaking to the marrow of American life," she says. "It has become only more important to look at now."
Over the play's two hours, deep-seated friendships are put to the test and characters' escalating tensions, combined with desires for security, underline the stakes: They're more than just co-workers; they're neighbors, friends, and regular drinking buddies. They're family.
READ: How to Be a Generous Actor—and Succeed
Led by Johanna Day (Tracey) and Michelle Wilson (Cynthia), it was the "Sweat" ensemble's job to build a believable camaraderie, primarily in their characters' local watering hole. Whoriskey says it's because of the actors' shared connection and trust that they are able to show an "uglier side" of themselves. "It seems easy, it really does," she says, "but then not a lot of people want to reveal themselves in that way."
Together, the players—all of whom are from the original New York cast at the Public with the exception of Alison Wright, who has replaced "Younger" star Miriam Shor as Jessie—showcase an unfettered generosity.
"They have built a very firm, trusting environment and they've all decided to be generous with each other," Whoriskey says. "And because it is a very tight community, they can be more open and be more vulnerable to the parts of the story that are complicated and more raw. They have to bring that."
Even in the weeks leading up to the production's March 26 opening, marking Nottage's Broadway debut, Whoriskey is in constant contact with her cast to collaboratively tweak their well-trod material to perfection.
"I just got a text from Johanna last night saying, 'Oh, I have an idea for this one little moment,' " Whoriskey says. "There's so much texting and conversation about how to consistently improve and refine what we're doing."
Such practices mirror the well-balanced, group-minded enthusiasm Whoriskey set out to cultivate alongside Nottage from their very first auditions.
"In this particular show, we were really interested in [casting] people who were believably working-class," she says. "That was really important to me, just so that the story felt like it was an authentic story. And then we were also looking for people who were truthful [and] who were able to work in an ensemble setting—people who were willing to show [that] uglier side."
Ready for the Great White Way? Check out our Broadway audition listings!