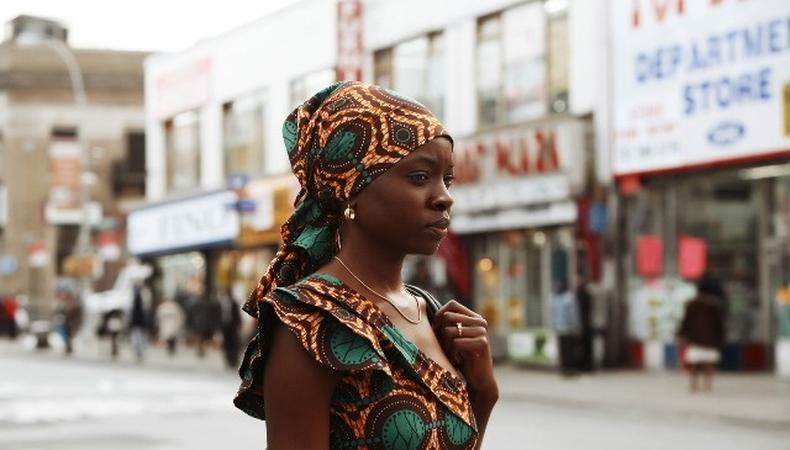 Danai Gurira is busy shooting the upcoming season of "The Walking Dead," but she shows a softer side in her latest film, "Mother of George," in theaters in New York Sept. 13 and in L.A. Sept. 20. Andrew Dosumnu's movie provides a heartfelt and emotional story of the lengths one woman goes to in order to preserve her marriage as an immigrant in New York City. The Tisch-trained, multi-talented actor also stays active in the theater; she's written several plays, including "The Convert," "Eclipsed," and "In the Continuum" while juggling her film and television work. Gurira shared a few tips on finding roles and creating characters.
Find something you're passionate about.
Having previously worked with director Andrew Dosumnu on "Restless City," Gurira knew his aesthetic and trusted him. However, the most important factor in her decision to take the leading role in "Mother of George" was that it was a story she wanted to tell. "I have to really feel engaged in an artistic way, in a spiritual way, really. To be like, 'I want to tell the story. It needs to be in existence. I want to be part of that existence,'" she says.
Trust the collaborative process.
Gurira embraced the collaborative process on "Mother of George" and from that came several of her favorite moments in the film. "There were several moments that I really enjoyed that were collaborated, that were discovered, and that's what made the whole process very, very special," she says. "Some things I didn't think of doing and then Andrew would say 'Do it this way.' and I'd be like 'Oh, that's so much smarter.' Or some things I would say this way and he would be like 'Oh, that's great.' So it was a real great collaboration."
Research the world.
Gurira grew up in Zimbabwe, but she did a lot of research on the Nigerian culture to prepare. "I used a lot of visual research to gain an understanding of Yoruba. They're very proud, they're very colorful. They have a fiery pride and color to them. The Shona where I'm from were far more reserved, so it was really about tapping into the specifics of who they are." She watched films and studied and learned from Nigerians, including a recent immigrant. Studying the accent was also an important part of her preparation. "You're listening to them speak on film and you're listening to them speak in real life…Going over what I say in the script, going over it with them, listening to how they change their vowel sounds versus us. Understanding their intonations, how they reflect, how they exclaim, how that would naturally fall into this script."
Connect with the character.
Playing Adenike in "Mother of George" was a challenge because Gurira says she's very different from the character. "I'm not much traditional at all. She has a great pride in the tradition she was holding close, so that was different, but I understood it." Gurira takes a cerebral approach to her acting, so the key was understanding Adenike. "Her determination was something I could connect to, but her literal actions to get to where she needed to go, that's where me and her are a little different, but I think she even surprised herself with the choices she made."
Give it your all.
Gurira may have been offered "Mother of George" because the director knew what she could do, but she's been through plenty of arduous auditions, including several for "The Walking Dead." Gurira says she's learned that actors have limited control in the room. "You don't know how things will go in the room regardless of how well you've prepared. It's just this unknown entity you're stepping into. You can only do the best that you can and kind of let it go at the end and know that you gave it all you could give." Gurira feels an actor's key responsibility is to prepare and give it your best. "Just to prepare to the utmost level that we could have and really set goals and priorities for ourselves and for our craft when we walk in that room so that we walk out still in ownership of our choices and who we are regardless of the outcome." And don't give up. "It is a process where you just keep going. You get 2-5 percent of what you audition for… and that's people who made it somewhere. Those are people whose names you might know."
Be prepared.
Gurira says she finds preparation is especially important for television. "When [you] come to the madness of a set with a hundred other people there doing a hundred different things and [you're] meeting costuming and fixing your sound wire and your hair and you're in make-up and they put you on mark... it's not like it's an environment that nurtures your finding things very easily. So you really have to come there having an understanding of what you're trying to enact and where the character is and what the event of the scene is because it's not like you get a rehearsal process like you do in theater."
Never stop training.
As Michonne on "The Walking Dead," Gurira wields her sword with authority, but says, "It was not a skill I already possessed. I was trained with a different type of sword in grad school that's extremely different, used extremely differently, so it was kind of training from scratch." Luckily, Gurira is athletic and was able to pick it up quickly after she understood the mechanics of the weapon. But she says, "It's always a learning process because the guru samurais of Japan are doing a lot of things I can't do, so it's always a learning process that I'm in."
Make sure you're in it for the right reasons.
Acting is not an easy career choice. Gurira offer some advice: "Be sure this is what you really want to do. There are a lot of people who are starting out [basing it] on things other than really loving the craft. If you don't love the craft, you're probably in it for the wrong reason. And there are a lot of folks like that. So be sure this is what you really want to do."